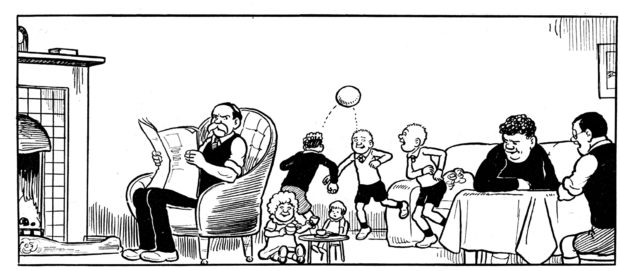 The prospect of weeks cooped up with loved ones is not necessarily one to relish for many.
But Scotland's most famous family have got more going on than most as Glebe Street locks down.
But fear not. Help is on hand for The Broons and every family feeling the strain during Scotland's enforced isolation.
Here, we've rounded up expert advice for all the Broons, young and old, discovering how everyone from Grandpaw to The Bairn can keep calm and carry on.
The Kids
Children, like The Bairn or The Twins, who don't understand what's happening might start to feel the strain of quarantine if a regular routine isn't put in place. Dr Elaine Lockhart advised there are plenty of resources to keep small children stay happy and healthy.
"How primary school age children deal with quarantine is very much going to depend on how their parents or carers are managing," explained Dr Lockhart, a consultant child and adolescent mental health services psychiatrist from the Royal College of Psychiatrists in Scotland.
"If their parents are really stressed and anxious and completely not coping, that's going to be the biggest factor for children.
"The Young Scot website (young.scot) has lots of advice for mental health support during covid-19, so I would advise starting there. The important thing is to maintain a routine. Get up at a normal time, get dressed, have a little bit of 'school' for structure, and get a bit of fresh air and exercise. If you've done all of that, and you're eating OK, you can be fairly relaxed about the rest of the day.
"Usually we always advise to limit screen time, but right now technology can relieve a little bit of pressure."
Dr Lockhart added: "Now is also a good opportunity to get back to the things we don't usually have time for – baking, cooking, doing crafts. Take advantage and spend some quality time together."
The Teens
Dr Lockhart said: "More now than ever teenagers will be hanging out in their room, and the challenge might be getting them to join in with family meals and activities or persuading them to do exercise."
Dr Lockhart, a consultant child and adolescent psychiatrist, added: "High school pupils need to have a bit of routine, but they also do need a bit of leeway – it's important for them to be able to go online and chat to their friends.
"However, teenagers are full of hormones and also primed to be physically active. If they are staying in and not burning off any steam, it's a recipe for disaster. So, maybe create a gym in the house or encourage them to exercise."
The Young Adults
Many young adults in their 20s and 30s have made the decision to move back home with their parents, either to save money or provide care. And like other Scots in the same situation, Hen, Daphne, Joe and Maggie might find living at Glebe Street a bit of a challenge after enjoying their independence.
Clinical psychologist Michaela Thomas explained: "Someone in their 20s or early-30s is living an adult life, and they may not see their parents as much anymore. So, suddenly, if they move back home, it can throw up a lot of issues. Is there going to be an expectation to follow the same rules that applied when they were teenagers? Some young people might even revert back into teenage patterns as a result.
"They might also be quite worried about their parents during this uncertain time, telling them they can't go to the shops or shouldn't visit friends, creating a sense of 'who is the parent and who is the child?'
"And on the other side, parents have also gotten used to having their own space for maybe even a decade at this point."
She advised: "It's important to make conscious decisions around time together versus time apart. Everyone needs to be open about what space they need – don't just move in and hope for the best.
"Set basic ground rules around what each day will look like – not a regimented routine but a rhythm. In communication, listening is more important than speaking, so try to understand what the other person needs.
"And take any pressure off yourself – both parents and older children will be doing the best they can in a hard situation nobody has experienced before."
The Couples
It's normal for couples to bicker or argue at the best of time, but living in each others pockets can throw up more issues than usual. And Glasgow-based psychotherapist Lesley Shearer admits ructions at the top of the family can quickly effect other members.
"Maw and Paw Broon are the foundation of the family, so if they aren't getting on that will trickle down to other people in the house," explained Lesley, who is a member of the Counselling Directory.
"Lots of couples will be feeling strained at the moment because we are all going through such a massive change. All the little things that might have triggered an argument or a disagreement in the past are still there, and now we don't have much time away for ourselves.
"When the body is stressed – which most of us are right now – it goes through a fight or flight response, which usually results in people going in a huff or withdrawing. And most people don't tune in and realise the other person is going through the same emotions."
Lesley's advice for couples struggling to cope is to listen to their partner, rather than retreating from the situation.
She explained: "Yes, you can take time out – but it's more important to take time in. Ask yourself, 'What am I upset about?' and check in with what's going on inside your head. When disagreements turn into insults, the conversation is no longer productive. So, focus on the problem at hand and don't blame anyone.
"There are three parts; focus on the problem, reflect and listen, and then know when it's time to take a step back."
The Grandpaws and Grandmaws
Whether living alone or with adult children and grandkids, isolation can be a tricky time for older members of the family like Granpaw.
Brian Sloan, chief executive of Age Scotland, said: "Keeping physically active is important for older people. Even a few simple stretches and getting up to walk around the house at regular intervals can keep you active. And keeping mentally active, too, is good for older people.
"If older people do grow tired of having the same conversation with the same people, they can call the Age Scotland Helpline on 0800 12 44 222 for a chat, advice or information."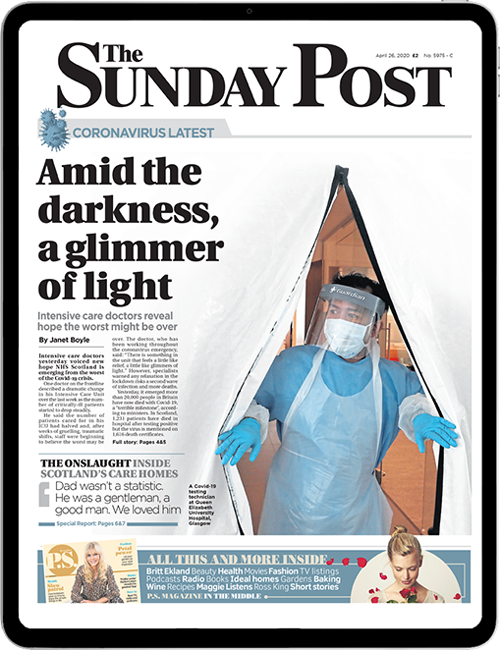 Enjoy the convenience of having The Sunday Post delivered as a digital ePaper straight to your smartphone, tablet or computer.
Subscribe for only £5.49 a month and enjoy all the benefits of the printed paper as a digital replica.
Subscribe