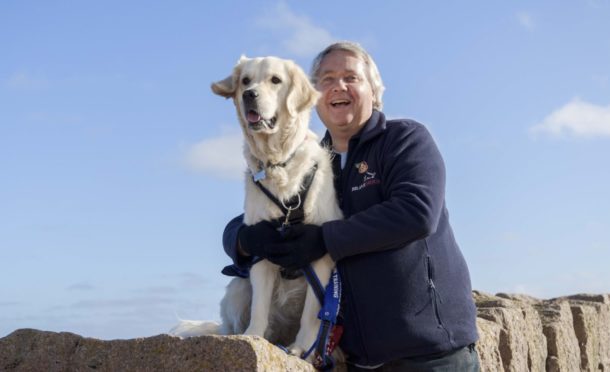 It's often said dogs are a man's best friend, but the relationship Chris Buswell has with his two-year-old golden retriever, Lyn, means so much more.
Four years ago, Chris, a former Army medic, suffered the sudden death of his son, Angus, triggering not only grief for the loss of his child, but also post-traumatic stress disorder (PTSD) from his time working overseas.
As well as providing the companionship and routine enjoyed by most dog owners, Lyn supports Chris when he's at his lowest, having been trained to comfort the 50-year-old during periods of anxiety and depression – and, despite having Lyn in his life for only 18 months, Chris admits he now can't imagine a time without her.
"Lyn is a stabilising presence for me, and definitely gives me purpose," said Chris, who lives near Peterhead, Aberdeenshire, with his wife, Karla, 51, and is also dad to Abigail, 25.
"I suffer from anxiety and depression, and my anxiety levels just plummeted as soon as I got Lyn.
"When you stroke a dog, you feel relaxed and your blood pressure goes down. She's also been trained to cuddle me on command, so if I'm having a flashback, I just say the word 'cuddle' and she wraps her paws around my shoulders and snuggles right into my neck.
"She's a reassuring, warm presence who has brought fun and joy into our lives again."
Although not stationed in warzones during his time with the Armed Forces, as an Army medic Chris was often the first responder to accidents and emergencies, which led him to witness horrific scenes.
At the time, he coped by busying himself with family and work life – however, the loss of Angus, who took his own life at 22, brought up Chris' decades-old trauma, and he began to struggle with PTSD.
He said: "The worst experience I had was in Cyprus, where a fighter jet crashed. The navigator and pilot died, and seeing that was quite a challenge.
"That stayed with me for a long time. I knew that I had some form of PTSD because I would have nightmares and flashbacks. But my children were really young at the time – Angus was only two months when it happened – so I was really busy with married life and my job.
"It's typical that the average soldier, airman and even ambulance paramedic can experience PTSD five years later, in my case it was 20 years before it got out of control."
On July 13, 2016, Chris and Karla had just returned from holiday when the police arrived at their door to inform them Angus had died. He said: "It was completely out of the blue. The devastation was just catastrophic, it's hard to describe.
"I was overwhelmed. I don't know how we all got through it. It was day-to-day and still is, really."
In the weeks and months after his son's death, Chris continued to suffer from poor mental health. Knowing he had always had a special bond with dogs, his GP recommended he reach out to Bravehound, an East Dunbartonshire-based charity that provides support dogs for former service personnel and their families.
After being matched with Lyn, Chris felt his life start to turn around. He said: "Having Lyn has been a big game changer for me. It's been nice to have someone to look after again. She makes me get out of my bed each day, even if it's just to go in the garden or take her for a little stroll. Before, I didn't like going into crowded places, but having Lyn by my side I feel better. I've also got a special vest for her and an ID card so I can take her into shops, too. She's made a huge difference to my life."
---
Strokes of genius
According to various studies, the simple act of stroking a pet can relieve everything from stress and anxiety to depression and loneliness.
For example, research conducted in 2019, by scientists at Washington State University, found petting or playing with dogs and cats produced a significant reduction in participants' levels of stress hormone cortisol.
Bravehound founder Fiona MacDonald said: "It is no exaggeration when I say that Bravehound dogs have changed, indeed saved, lives. More than one veteran has said that they would not still be here if it were not for their Bravehound. As all dog lovers know, just having that furry presence and constant companion makes you feel better and gets you out and about, interacting with others. It's a life-changer."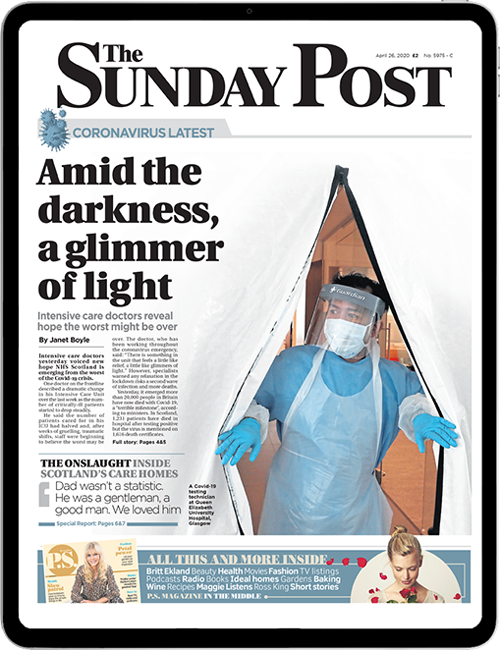 Enjoy the convenience of having The Sunday Post delivered as a digital ePaper straight to your smartphone, tablet or computer.
Subscribe for only £5.49 a month and enjoy all the benefits of the printed paper as a digital replica.
Subscribe