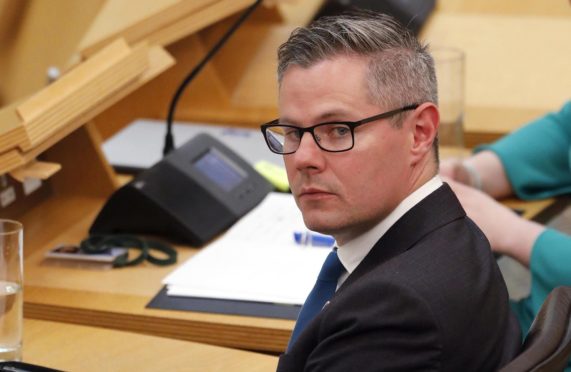 I am still trying to compute the news that Scotland's now former Finance Secretary bombarded a teenage boy on social media with more than 270 messages in what many observers, inside Holyrood and out, have suggested was a pattern of predatory grooming. This man was not just a government minister but a man I counted as a friend.
There is no excuse, no justification, no rationale that can be applied to the obscenity of what Derek Mackay has done.
As a 42-year-old gay man, he targeted a random young boy on social media and made social media friends based on an image and of a stated attraction to the lad being "cute". And despite no clear indication that the 16-year-old boy was in any way interested in Mackay's attention, the texts were relentless.
And it is in the persistence with which Mackay tries to get the boy to engage with him, the excruciating attempts to persuade him to meet, the repeated offers of a lift in his car, or even in the attempts to just find out where he lives and who he is with, that expose Mackay.
What is it about a politician at the top of his game, tipped as future first minister, and who has already gone through the agonies of opening up publicly about his own sexuality, and gone on to ensure the happiness of his own two boys when his marriage fell apart, that he considers it appropriate to abuse his position or to take such risks?
Up until late last Wednesday night, Mackay seemed destined for the very top. It was his name that was most frequently cited as being the most likely successor to Nicola Sturgeon and even as he prepared to present his annual Scottish budget the next day, he remained the bookies' favourite.
But less than 24 hours later, he was no longer a minister, suspended from the SNP, and facing calls to resign as an MSP.
Mackay's behaviour was completely unacceptable and there should be no sugar-coating of that.
As Jackson Carlaw so powerfully pointed out by reading the NSPCC's definition of child grooming, this is what Mackay has done, and there are no words strong enough to condemn it.
The tragedy is, that he hasn't just harmed himself. The damage that Mackay leaves in his self-absorbed wake to the young boy, to his own family and to his party, is unimaginable.
Mackay talked to me about the SNP being his family but, in his hubris, that bond has been irretrievably severed. He has been the master of his own destruction.
I don't believe politicians are sexually-driven monsters any more than the next man (and we are talking men) but they live in such an artificial world, an insular environment, rooted in power and privilege, that they can begin to feel they are gods. And that, coupled with an adoring fanbase, and an unequal relationship dynamic, can be a toxic mix when fuelled by an inflated view of self.
The question for Mackay and all the others is, and will always remain, "what on earth was he thinking?" The answer is simple, he wasn't.