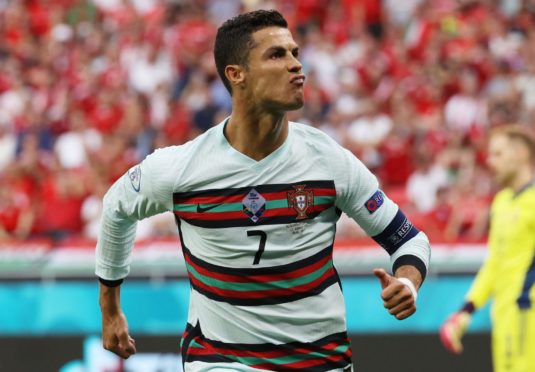 Having pushed the virtues of drinking water last Monday, Cristiano Ronaldo took just 24 hours to remind us he can walk on the stuff too.
With his double in Portugal's win over Hungary, the 36-year-old footballing icon became the European Championship's all-time leading goalscorer with 11 goals.
In the process, he became the first-ever player to score at five Finals – every one of the last five, spanning 17 years.
And his tally rose by one with another goal in yesterday's 4-2 defeat against Germany.
Big events need their leading lights shining bright if they are to hold the world's attention.
And if you are talking players, CR7 is the biggest brand of them all.
UEFA – under flak for their role in Finland-Denmark being played to a conclusion when the shock of Christian Eriksen's cardiac arrest was still raw – would certainly have welcomed the distraction of some positive news.
Especially as Ronaldo's previous contribution to the Finals had been to embroil the governing body in a controversy involving one of Euro 2020's official sponsors.
The health and fitness enthusiast removed two Coca-Cola bottles during a media conference, then held up a bottle of water, shouting its name in his native Portuguese.
"Agua" is Ronaldo's Real Thing, and the fact his stance saw the carbonated drinks company's share price dip by $4-billion was missed by no one.
He's been the focal point wherever his career has taken him since he left his native Madeira, the island which now sports a bust of the great man outside Cristiano Ronaldo International Airport.
Ronaldo, a lifestyle icon with 500 million social-media followers, has history with sugary drinks which – and forgive the pun – tend to bubble up from time to time.
He did adverts for Coca-Cola back in 2006 – when in his early 20s with Manchester United – posing happily, can in hand.
And seven years later, he received a personal apology from their rivals, Pepsi, following a bizarre episode.
The firm's Swedish branch had seen their country's World Cup qualifier against Portugal as a chance to have what they saw as a bit of fun.
Their advert of a Ronaldo voodoo doll strapped to a train track, having its head crushed by a Pepsi can, went viral.
The Portuguese were not amused, with a social-media call for a Pepsi boycott picking up 130,000 members in a day.
A contrite apology followed.
For some players, being drawn into any sort of row on the eve of their first game in the Finals would have been the stuff of nightmares.
For Ronaldo, it had the opposite effect.
He dispatched his penalty with authority for his first goal, then danced round the Hungary keeper in trademark style before shooting into the empty net.
The BBC's entertaining documentary, Cristiano Ronaldo: Impossible To Ignore, provides insight into what makes the man tick.
In it, Rio Ferdinand – one of the players behind Manchester United's instant signing of the forward following a pre-season friendly against his first club, Sporting Lisbon – insists his former team-mate thrives on negativity.
Specifically, on laying to waste the claims of those who doubt him.
Small wonder, then, that United's legendary manager, Sir Alex Ferguson, became one of his greatest supporters and allies.
"Ronaldo came as young skinny kid at 17. They used to criticise him about his diving, and all the rest. But once the players got about him at training ground, he was fantastic," said Ferguson, dropping in a Govan euphemism that Phil Neville cheerfully translated to mean the Portuguese protege got kicked every day.
"He was tough," Fergie continued. "Ronaldo could play at Millwall, QPR or Doncaster Rovers, and score a hat-trick in the game.
"I am not sure Messi could do that."
Other celebrities, Gary Lineker among them, chimed in to confirm two well-known wisdoms about the player.
One, it is all about him. Two, he really doesn't care what you think.
The highlight, though, was a clip of Chelsea and England's Mason Mount, watching a mini Mason – then aged 13 and with floppy hair – squeakily enthusing how watching Ronaldo inspired him to practise free-kicks endlessly.
It confirmed something we have all known for a while now, of which Coca-Cola, UEFA and fans everywhere have just been reminded.
This is Cristiano Ronaldo's world. The rest of us are just passing through.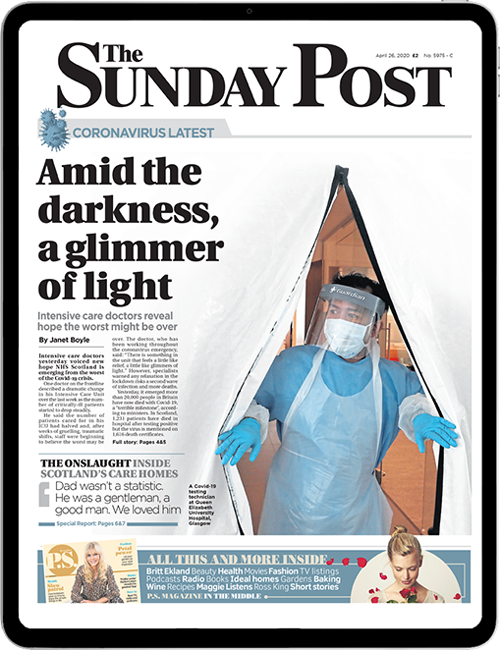 Enjoy the convenience of having The Sunday Post delivered as a digital ePaper straight to your smartphone, tablet or computer.
Subscribe for only £5.49 a month and enjoy all the benefits of the printed paper as a digital replica.
Subscribe