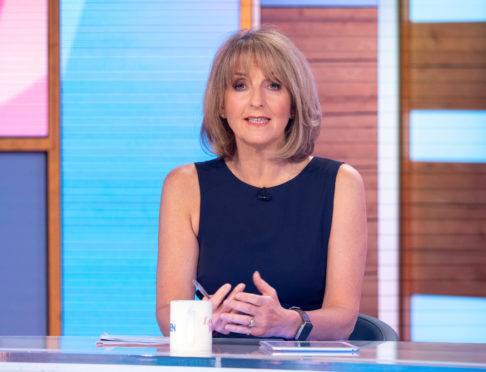 Kaye Adams knows a ­little about the lessons of life but the most important is also the saddest.
"My mum and dad taught me about life," says the broadcaster. "My parents were amazing, very resourceful, incredible and strong people and great role models.
"Both mum and dad were great for all those wee couthy sayings about life, like 'never be afraid to ask a silly question' or 'never be afraid to admit you are wrong' – but when I think about them now, they're not couthy at all. They are actually pretty profound."
Kaye's mum Cathie passed away in July last year, just 17 months after the death of her father, Duncan, who had endured dementia.
The loss of her parents was a terrible blow but Kaye says she's reached a point where happy memories are beginning to crowd out the pain of grief.
Mum-of-two Kaye reflects on life lessons in a new book, Loose Women Let Loose!, written in ­collaboration with her fellow panellists on the ITV talk show.
In it, the women share their ­intimate thoughts, fears, memories and anecdotes ranging across all aspects of life, from dating and relationships to childbirth and motherhood.
It's a celebration of 20 years of the show, which Kaye joined at its launch in 1999. She took a six-year break when youngest daughter Bonnie was born but returned in 2013 and has never looked back.
"It's fair to say I've been there a long, long time – and I've loved every minute," says Kaye, 56. "Particularly in the media, you have jobs you do because you need the money– and jobs you do because they are more than just a job, they offer a different dimension. And, for me, Loose Women is the latter.
"It's about relationships and interaction and we all end up immersed in each other's lives. But we are a great team of women and it just works so well. I can't ever imagine not doing Loose Women. It's become a way of life for me."
Presenting the show has seen Kaye meet many famous faces but, for her, the glitz and glamour is far from the best bit of the job.
In fact, the highlight is the morning meetings before the cameras start to roll. "We all stumble in looking like we've been dragged through a hedge backwards, but that's when the show is created," she says.
"We work through the topics we'll discuss over breakfast and decide what we have the best opinions on. It could be any canteen in any office – but four hours later we've been through the car wash and made a TV show. I'm always amazed at that process."
And the worst bits?
"The thing that sticks in my mind was once being persuaded to lie semi-naked in a bed of cabbage holding a leek, like a demented Statue of Liberty. I have no idea what that was all about – but I wince every time I think about it.
"But that's one of the things about the show. Sometimes we do ridiculous things but then you realise it really doesn't matter. If there's one thing I've learned it's not to take yourself too seriously."
And that's a life lesson that has helped her deal with the teenage angst of daughters Charly, 17 and Bonnie, 12.
"Living with two teens is intense," Kaye laughs. "Everything is heightened. They're either up or down – or you can't get a word out of them.
"With younger children, your word is law. You can put your foot down. But when one of your children is the same height as you and the other is taller, it ain't that easy.
"Everything is a negotiation.
"I have no power whatsoever. It's challenging, but they are great fun.
"Of course, they're at that age where they think I'm embarrassing all the time.
"I'm okay with that, though. I make no effort to be a 'cool' mum because I would be doomed.
"I don't think parents are there to be cool. I am there to be ­embarrassing. It's my role in life – and I have to say I do it really well!"
Kaye, who juggles Loose Women with her morning call-in show on BBC Radio Scotland, added: "Being a mum is a way of life.
"You can decide to go to exercise classes or not, whether to learn how to drive or not. But once you have children, that's it. There's no point in debating it.
"You have a responsibility and your life has to adapt to that.
"Motherhood is just a complete leveller. You can have a degree or a fancy car but, when it comes to parenthood, all bets are off and everyone starts equal.
"I found it difficult at the start. Initially I was a basket case because I felt like I lost control. I would hear the theme of Corrie and all I wanted to do was sit down with a glass of wine and watch it, but I had this little baby to walk around the garden.
"It was tough – and a shock to the system when you've enjoyed a lot of time doing as you please because the idea of looking after another person is quite terrifying."
Despite catching the sleeper from Glasgow to London a few times a week, Kaye manages to balance the commute with motherly duties.
"It doesn't upset home life too much," she says. "I don't need to leave until 10.45pm, so I have dinner with the family and make sure everyone is organised for the next morning and in bed before I leave.
"But it does affect my sleep. The Sleeper is a real science…the berth you get determines whether you're going to get a good nights' sleep or not! I'm a great sleeper, but it can be a challenge.
"Sometimes I get home on the Friday and am so tired I feel like I've been to LA and back!"
The bright lights of Glasgow and London will have to do for now, but Kaye is happy with that.
"I've had a varied career, but I've loved every minute of it. The thing about a media career is that you never know exactly where you are going to go.
"Initially I did political ­journalism, then more news which I discovered wasn't for me.
"I realised what I wanted to do when I got the job on Scottish Women. I literally begged them for the job. That's when I thought 'This is my thing! This is what I really want to do'.
"When I was a kid at school, I was always known for being nosey and asking so many ­questions. When I look back, I realise it was probably written in the stars!"
Kaye's Life Lessons
Happiness is over-rated
There are times in life when we have to be resilient, but times when we need to absorb the sadness too and just accept the full range of emotions life throws at us.
I think in the longer term this makes us happier people overall.
Love will find you when you least expect it
When I met my partner Ian I didn't really think he was my type. I was looking for a conventionally handsome, suited-and-booted guy.
Ian dressed like a complete beatnik. He had wild Brian May-style hair, he wore an East German army surplus coat – he was as opposite to what I thought I wanted as you could get. Then we went out for pizza one night, everything just clicked into place, and we fell in love.
Never be afraid to say you are wrong or you're sorry
I'm better at this in my professional life than in my personal life.
At work I have no problem at all holding my hands up and admitting I made a mistake, but at home, I'm incredibly stubborn.
It's something I have to work on.
Life has a way of taking over
When I was younger, I was ambitious and it was important to always be at the top of the tree I was climbing.
That's something that hasn't stayed with me. Not because I don't care any more, but because I have a different idea of what's important.
I am still somebody who will give 100%, but I've realised that doesn't necessarily mean I need to be at the top of the tree any more. At a younger age, I had a heightened sense of achievement, but when I look at it a few years down the road, I realise that all raindrops make it to the bottom of the window, even if they all take a different route. This realisation is what time and experience can bring.
Never be afraid to ask a silly question
If you have a question, just ask it – and listen to the answer. Don't worry about sounding silly, if you have a question the information is obviously relevant to you.
If I hadn't asked some daft questions, I certainly wouldn't be where I am today.
---
Loose Women, Let Loose! Octopus Books, is out now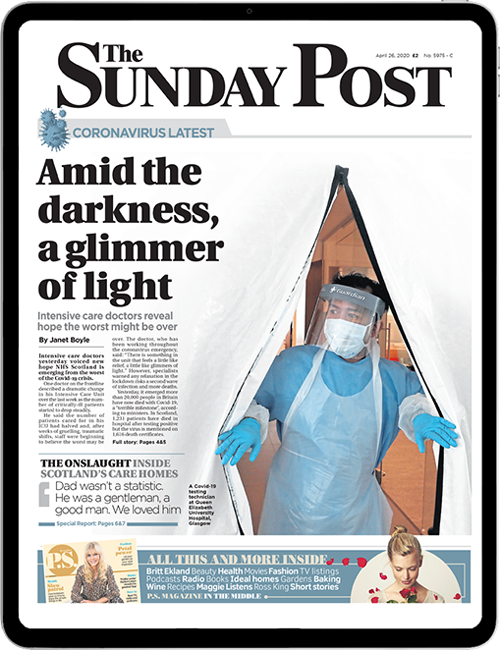 Enjoy the convenience of having The Sunday Post delivered as a digital ePaper straight to your smartphone, tablet or computer.
Subscribe for only £5.49 a month and enjoy all the benefits of the printed paper as a digital replica.
Subscribe