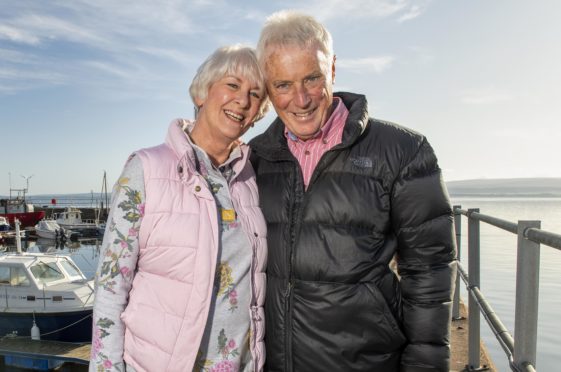 Primary school sweethearts will get married tomorrow – 55 years after being separated as 10-year-olds.
Brenda Ritchie and Brian Patience sat beside each other in class, where they would etch their names in a love heart on pencil cases and pass notes to one another during lessons.
The pair were so close, they were often teased about their friendship by schoolmates and their parents and, at their home village gala day in 1962, they were an obvious choice to be bridesmaid and page boy.
But their young hearts were broken when Brenda's father took a job as a baker in England and her family moved south from Avoch in Inverness-shire.
Before their reunion, the last time they saw each other was when Brenda's family car drove over the bridge on their way out of the harbour village for good.
"I could see Brenda's face at the car window and we just waved at each other until she disappeared from sight," said Brian, 65, a retired Aberdeen Royal Infirmary catering manager.
"I was heartbroken, as we had been inseparable until then.
"Brenda used to pass notes to me in class but our teacher, Miss Noble, caught us. My family used to tease me that I would marry Brenda when I grew up. Then when she left we didn't really get a chance to say our goodbyes."
So youngsters went on to lead separate lives. Brenda modelled for charity pageants as a student. She later trained as a nurse, married, and had a son and daughter, before divorcing.
Brian also got married, but was widowed. It was Brenda who, curious about what had happened to her close friend decades after they last saw one another, decided to track Brian down.
She recalled: "I was looking for old school friends on the social media site Friends Reunited and came across Brian. When we got in touch, I realised this was my first love.
We arranged to meet for a catch-up. I felt my feelings were as strong as ever."
But true love never runs smooth and their big reunion was almost scuppered.
"I was staying in the Isle of Man with my mother and sister and almost missed the flight to Inverness the day of the reunion," said Brenda. "My alarm didn't go off and I was running late to the airport, arriving at the last minute. I caught the flight with moments to spare.
"But all my plans to spend time looking my best had to be abandoned. So it was a quick touch of my make-up in the toilets to try to look my best before landing."
Brenda needn't have worried as Brian revealed she was lovely as he could have imagined. "She had a smile that made me go weak at the knees," he said.
It didn't take long for the pair to become a couple and, on a trip to the Canadian Rockies, Brian popped the question.
"Other tourists just applauded," Brian added. "We felt like kids again. "It was pretty sore parting as children but it has all worked out. I firmly believe that life is for the living. We're all only here a short time. You have to make the best of it."
The couple will tie the knot at Muckrach Country House in Dulnain Bridge, Grantown-on-Spey.
Brenda felt they were destined to meet again one day.
"Some things are just meant. We just picked up our lives from the special friendship we had 55 years ago. I guess we're truly inseparable."
The couple will set up home in Culbokie, less than 10 miles from where they met at school.