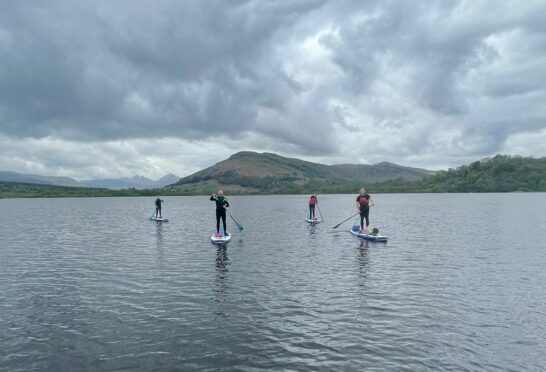 Driving along Loch Tay to our departure point at Killin, it suddenly struck me that this is a really long loch.
At 24km (15 miles) long, 1.5km (one mile) wide and 150 metres (490ft) at its deepest, it's the sixth largest loch in Scotland by area. And I was about to paddleboard the length of it over a weekend.
I must admit, the initial attraction of this trip for me was the opportunity to wild camp in hammock tents, but I was also very keen to become more confident at paddleboarding.
I'd taken a few lessons near my home in Fife with Willowgate Activity Centre, and a session with East Neuk Outdoors, but the sight of this magnificent stretch of water was still a little daunting.
However, once I was on the board and paddling along the River Lochay towards the western mouth of Loch Tay, I began to relax and get excited for the adventures ahead.
Our guide, Chris Potts from Fearless Adventure, led the trip organised by outdoor activity company SUP2SUMMIT and quickly put the group at ease by explaining we would have regular rests and explore the loch at a relaxed pace.
Paddling along, the river was very still and calm, but as it flowed into the loch there was more of a breeze and sections of slightly choppy water to deal with.
We planned to paddle from Killin to Kenmore as the wind was forecast to be behind us, however, it appeared to have changed its mind at the last minute and was swirling around us or blasting us head on.
For the first couple of hours we found our pace and balance, dropping to our knees when it got a bit rough. We made steady and pleasant headway along the scenic loch, pausing to take photos and admire the Ben Lawers mountain range to the north and forested hills to the south.
There are seven Munros – Scotland's mountains of more than 3,000ft (9144m) – in the range that fit and experienced hillwalkers can tackle in one day.
As we paddled, I thought of all the wild creatures living in this stunning environment and was thrilled to be out in the middle of it. Loch Tay is famous for its salmon fishing, and we frequently saw ringlets on the surface as the fish popped up to snack on unwitting flies.
As we approached a peninsula to stop for lunch, we were excited to see an impressive osprey take off from its nest and circle the area while we pulled our boards ashore.
We quickly ate our lunch near the tall tree which hosted the fabulous osprey nest and noted the ground covered with feathers, droppings and an acrid stench of bird and carcasses.
There were many pairs of geese nesting on the quiet shoreline, which is largely inaccessible except by boat. We were careful to leave no trace of our visit.
Coming to land in shallow water on a paddleboard, it's important to jump off and not damage the fin on the bottom of the board. This often caused some amusing falls and stumbles, but none of the group fell off their board while out on the loch. I feel we deserved an award for this, considering the wind and rain that whipped up after lunch on the first day.
Fortunately, the exertion kept us cosy and with our energy levels fresh, the rain was simply part of the adventure. It felt great to be battling against the elements in the middle of this vast loch.
The rougher conditions forced me to quickly become more skilled on the board and when the sun broke through the clouds, we sat back, took a breath, and watched in awe as the world transformed into stillness and calm once more.
I've always been amazed by Scotland's changeable weather – wait 20 minutes and it'll change completely – but never more so than on a paddleboard in the middle of Loch Tay.
Chris showed us how to see a gust of wind coming towards us over the water so we could be prepared. It was particularly fun on the rare occasions when it shoved us along like a sailboat.
The afternoon saw fast progress and I was delighted to see our camp in the distance. The hammock tents looked awesome set up along the shore next to a sandy bay.
I couldn't wait for bedtime – partly due to the excitement of a night in the hammock but also because I was exhausted!
Our wild camping spot had been prearranged with a farmer to enable access to the shoreline and a short steep walk up to the road led us to Ben Lawers Hotel where we had a tremendous meal before returning to camp.
The tent hammocks have a mosquito net attached but apart from that and the tarpaulin overhead it's open to the fresh air and I was able to relax and look out over the loch as darkness fell.
I found it surprisingly comfortable and easy to get in and out – in fact I had to be woken up in the morning!
The next day started with a chilly swim in the loch to really waken us up, coffee and porridge and then we were back on our boards heading for Kenmore at the eastern end of the loch.
The sun was warm, and a gentle breeze pushed us along as we were mesmerised by the reflections of mountains and blue skies in the calm water.
At our first rest stop we found a swing on a remote bay, one of the few hints of visitors and I had another swim – this time to cool down – before setting off again.
Chris showed us how to make use of eddies – sheltered areas of water – and how to create a raft with two paddleboards to reduce the effort expended if one person is struggling or during tough conditions.
We put this into practice as we rounded a corner and encountered gusts that pushed us towards the shore. They were so hard to fight that we gave in and let the wind guide us to land for a snack.
It was a good decision, as the wind soon died down again and we had a pleasant paddle towards Priory Island.
After a wander around the spectacularly overgrown ruins of the priory, founded by Alexander I in 1122, we paddled south-east across the loch to resist the current pulling us towards the River Tay outlet and came ashore on a small beach where our support team was waiting.
I was full of pride at having completed the challenge and great sadness that my Loch Tay adventure was over.
It was thrilling and freeing to spend time in these wild places, propelled by our own efforts.
The wildflowers, fuzzy moss, twisted tree trunks and vines were all there for their own reasons – and I could enjoy imagining they were unseen by anyone else.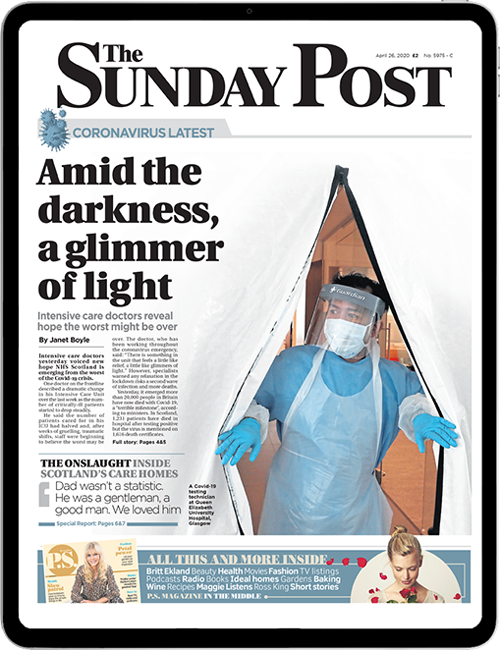 Enjoy the convenience of having The Sunday Post delivered as a digital ePaper straight to your smartphone, tablet or computer.
Subscribe for only £5.49 a month and enjoy all the benefits of the printed paper as a digital replica.
Subscribe