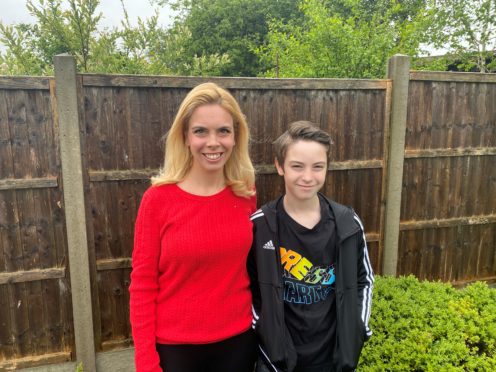 Many of us are getting used to being hyper-vigilant as a result of the current pandemic. But it's nothing new for Keren Greene.
Her 11-year-old son Oliver has severe allergies and, having had three anaphylactic reactions in a short space of time last summer, Keren's accustomed to being on constant high alert.
She says: "Oliver's going to start secondary school in September, which obviously is a strange situation with everything that's going on now.
"He's allergic to soya and nuts. He was born allergic to a lot of things up to the age of six – I could list them but there are a lot!
"He then outgrew a lot of the allergies until it was just nuts, which was fine, until last year when his body started changing and he was very ill a lot of the time.
"We kept going to the doctor's but nobody really understood what was going on, and then he had an anaphylactic shock in school."
Anaphylaxis is a severe and potentially life-threatening reaction to a trigger such as an allergy.
A mild reaction may be treated with antihistamines but a more severe one, known as an anaphylactic shock, can make someone lose consciousness or compromise their airway and needs adrenaline to be administered by an auto-injector which they should be carrying.
The good thing is that it doesn't seem as if having severe allergies makes you more at risk from Covid-19, or that they would make the symptoms worse.
Keren adds: "Obviously the school is nut-free so they did a whole investigation and it turned out he'd developed a new allergy to soya which nobody knew about so they couldn't have done anything about it.
"So that came out of the diet, and about two months later Oliver went on a school residential weekend trip and had another anaphylactic shock.
"It turned out he had a new allergy to celery, which came out of nowhere, and then a few weeks later he had a third one which actually turned out to be a panic attack.
"It was a result of getting the first two in school, although they reacted completely correctly, so then we started getting some help from a psychologist to make order of that was going on, all the new things he's worried he can't control – you think you're fine and then you're not."
That's one of the things people with severe allergy talk about a lot, the background anxiety and constantly being on the alert.
"Completely. All the time. It's scary enough sending your son to secondary which is quite hard without the added worry of knowing it's now down to him to be vigilant.
"But he's very sensible, he's very good. When we goes out, he doesn't really eat anything that's not from home.
"It can be hard. He often wishes he could have things and when his friends go to restaurants he says: 'I'd love to join them but I can't' because now it's beginning to affect everything, really."
Keren is a special needs co-ordinator in a London primary school, and she's currently balancing working from home, keeping in touch with all her families, with looking after Oliver and his younger brother.
When it comes to the lockdown and Oliver's allergies, Keren says: "We've got a little bit of cabin fever but our house is completely Oliver-friendly anyway.
"What I found difficult at the beginning of the lockdown was everyone went a bit crazy with the food, and all the things that are safe for him to eat vanished from the supermarkets.
"I couldn't get the bread we eat, because soya-free bread is very specific and it was all gone. So I had to make my own, and invent ways to feed everyone without risk so we changed the way we eat.
"But now it's calmed down and ironically it's much more relaxing because we know exactly what we're eating because we can't go out, it's a sort of silver lining."
It's been pointed out that a lot of restaurants and cafes have started doing takeaways but, because they're new to it, they won't perhaps have the awareness of allergy risks.
"We only have one restaurant that we go to that we know is fine," says Keren. "We did get takeaway from there once but I wasn't comfortable with it because when I'm there I can see what's going on so we just don't do takeaways.
"When he had those three episodes last year it was the first time in his life and hopefully it won't happen again.
"And with the pressure the NHS is under, you wouldn't want to risk anything because while I'm sure they would look after Oliver very well, you don't want to be another burden.
"We should say thank you to the NHS for everything. They are just amazing and Oliver's doctor must be really busy but she still sends messages to see how we're doing."
This week is Anaphylaxis Awareness Week. For more information visit the Anaphylaxis Campaign at www.anaphylaxis.org.uk.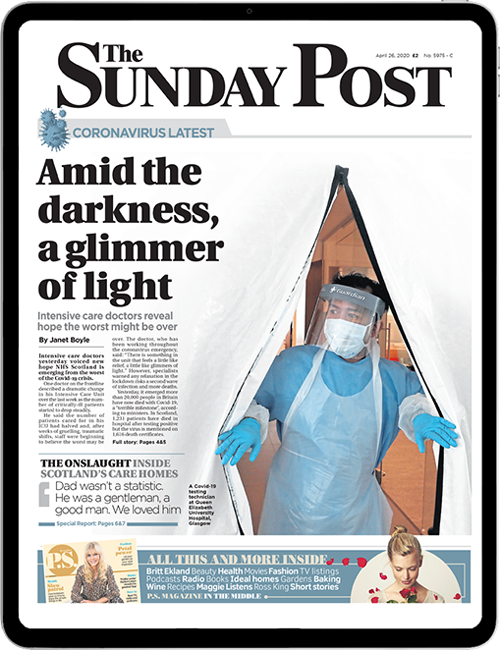 Enjoy the convenience of having The Sunday Post delivered as a digital ePaper straight to your smartphone, tablet or computer.
Subscribe for only £5.49 a month and enjoy all the benefits of the printed paper as a digital replica.
Subscribe