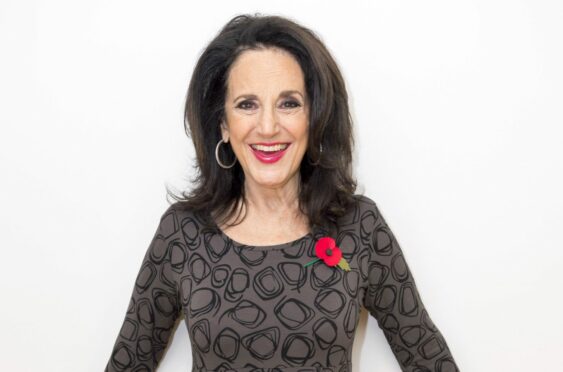 When Lesley Joseph speaks of retirement, it isn't with one eye towards lazy afternoons spent in front of the TV or down the allotment.
For the perpetually busy former Birds Of A Feather star, it simply means that she might – might – look at slowing down her pace ever so slightly at some undetermined point in the future.
To be honest, it's a surprise to hear her even mention, without prompting, the prospect of retirement, such is her energy and enthusiasm for the job, some 55 years after she graduated from drama school. But, hearing her definition of the word, it's clear she will not be going anywhere anytime soon.
"I will retire at some point, maybe sooner rather than later," she said. "But when I talk about retiring, I just mean I will no longer do long tours and I will be slightly more selective about what I do. And when I say sooner rather than later, I don't mean next year but at some point in time I will reassess what I can do. I feel fine right now, though, so I will keep on going."
The 77-year-old actor is currently touring the UK in the physically-demanding, high-spirited stage version of Sister Act, playing the role of Mother Superior, memorably performed by Dame Maggie Smith in the hit films. It's a tough schedule to keep but Joseph says she has plenty of energy left in the tank.
"My mother died four weeks away from her 104th birthday, and she did yoga and played tennis into her 90s. I think I have her energy. I walk everywhere and I keep fit with exercise but I also keep my brain very active through work and I think that's really important.
"I was at drama school with Maureen Lipman from 1964 to 1967 and we often reminisce about the early days. I can't believe how quickly life goes, so I don't want to waste a minute of it."
She could never be accused of failing to live life to the fullest. In the past 10 years, she became the oldest contestant to appear on Strictly Come Dancing, was nominated for an Olivier Award for her role in the West End production of Mel Brook's Young Frankenstein, met the Pope in the culmination of a pilgrimage to Rome, and successfully revived her most famous character, the man-eating Dorien Green, for a successful stage and screen comeback of Birds Of A Feather.
"I feel privileged to still be working in the business. I started in a very different way. We had to work for 42 weeks in theatre in order to work in the West End or on TV, and that's all changed now.
"The main difference, though, is reality TV wasn't around when I came in. You have to welcome people who might have come through via a different route. For instance, a lot of reality TV people are really good actors. Life changes, and it's a case of welcoming that change with open arms."
Mum-of-two Joseph is no stranger to reality TV herself, and embraces the opportunities it has given her to try new things, like Celebrity MasterChef a few weeks ago.
"I loved that but it was exhausting and I was quite glad when I left because it was full-on and I was due to start Sister Act. You spend a lot of time thinking that you better practise making a sauce or a dessert," she continued.
"I had a friend who was ill, so I told him, 'Right, I'll cook for you every day but you have to be really honest about what you think of it', and so I made all sorts of dishes and took them round to him.
"Being on the show was great fun. Cooking is not my favourite thing so I was pleased with how I did. I haven't watched it yet, though. I rarely watch myself on TV because I'm too self-critical.
"As much as I love acting, I love the other things that being well-known can bring. You might be asked to do something like MasterChef and then you consider whether you would like to do it. I could never do I'm A Celebrity, for example, because I'm frightened of heights and of being underground, so I couldn't deal with being in a coffin with rats running over me.
"I used to do Wish You Were Here, travelling around the world to places like Jamaica, Australia, Israel and Miami, and having those different learning experiences. Linda Robson and I, once we came out of Birds, did Coach Trip last year, which was three weeks of touring in Portugal. What wasn't to love about that, getting to mix with lots of different people after being in lockdown?
"When I first came into the business, I said I only wanted to do serious work. I started off in Shakespeare and Chekhov, which I still love, but I moved into musical theatre and comedy."
Joseph remembers her parents being called into school, where the headmistress encouraged them to send their daughter to stage school, because the teacher had no doubts she was going to become an actor.
"My first time on stage was when I was seven, at the New Theatre in Northampton where I sang a song from Hansel And Gretel. I did am-dram work and at school. I think it was always on the cards, from when I went to ballet when I was four. My mother kept so many of the early cuttings from when I was at school – a timeline of my work, which is fascinating and lovely to look back on."
A varied stage and TV career followed, but her defining role came along in 1989 with Birds Of A Feather, a sitcom following the adventures of two sisters – Pauline Quirke and Linda Robson – who moved in together after their husbands were sent to jail, and their glam next-door neighbour, who constantly had affairs with younger men.
It was an immediate hit and ran for nine years on the BBC, followed by a 2012 stage revival, and then a return to television, this time on ITV, from 2014 until a final episode filmed during lockdown for Christmas 2020.
Joseph says it was the right moment to end it a second time.
"It was fantastic and we all loved it, but we had come to an end. I was ready, Pauline wanted to do serious acting and has her drama schools, and Linda loves Loose Women.
"I remember when we first did it, my father said to one of the creators, Maurice Gran, 'Do you think this will work?' And Maurice told him we would still be here in 10 years' time, and we were, and then we took a break and came back.
"It was quite hard keeping skinny to wear the clothes that Dorien wore. I have most of them in my wardrobe and I can still get into the majority of them, so I'm not doing too badly, although quite a lot of them have big shoulder pads so look old-fashioned now."
She's unlikely to get much future wear from her current costume, the nun's habit of Mother Superior in Sister Act. The story of a nightclub singer forced to join a convent after being placed in a witness protection programme was a huge hit for Whoopi Goldberg in 1992 and there was talk of the Oscar winner joining the West End version before Covid struck and those plans were cancelled.
Joseph played another character, Mary Lazarus, in the West End before settling in as Mother Superior for the tour.
"I play her very sternly but she softens over time and sees the good side in this woman, so she goes on a bit of a journey, too. I feel it's the story of lockdown, in a way, because it ends with a huge sense of community and I think a lot of people found that during the pandemic, so it resonates with people at the moment.
"It looks beautiful too and has fabulous music, and we've been playing to packed houses. Everyone says its joyous and I think that's true."
Despite the tiring nature of life on the road, Joseph – who will take time out from the tour to star in a panto – says she loves it.
"I couldn't do it all the time but I haven't done it for a while and I enjoy getting to see other towns and cities," she added. "I've always enjoyed touring because it's a lovely way to see the country. I enjoy discovering a new town.
"I'm thrilled to be coming back to Glasgow and Aberdeen, which I've played in the past and I know Scottish audiences can be amazing. I love Scotland but, then again, who doesn't? My cousin lives just north of Glasgow and has a new grandchild, so I'm looking forward to meeting more of my extended family while I'm here."
From nun to meeting the Pope
There could be no better preparation for playing Mother Superior than meeting the Pope at the Vatican.
Lesley Joseph was one of eight stars to take part in BBC series Pilgrimage: The Road To Rome, in which celebrities of different faiths and non-believers (Joseph is Jewish) followed the Via Francigena, an ancient road from Canterbury to Italy, where an audience with Pope Francis awaited them.
"I had never been to Rome, which is why I was so excited about the pilgrimage – getting to walk on an old route," she said. "I didn't sleep for two nights when I was told about it. It was extraordinary. We were backstage, as I call it, at the Vatican. It was the eight of us, as well as our director and producer, the Vatican's camera team, an interpreter and the Pope. He had come back from Argentina the day before, so we couldn't believe he had got up at 7am to meet us. He was so humble.
"We had half an hour with him and I made him laugh and ended up blessing him!
"Whether you are religious or not – and there were many in the group who were not – it was an awe-inspiring experience. He talked to us about the pilgrimage, religion and all sorts.
"When we left him and went outside, we all burst into tears."
---
Sister Act, His Majesty's Theatre, Aberdeen, Monday-Saturday, and King's Theatre, Glasgow, November 9-14.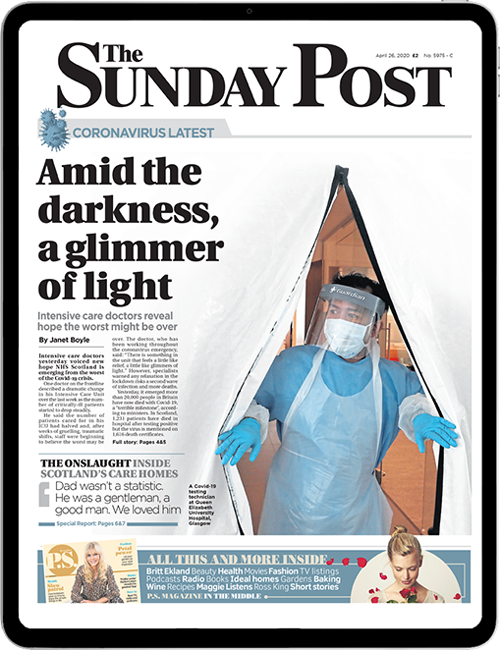 Enjoy the convenience of having The Sunday Post delivered as a digital ePaper straight to your smartphone, tablet or computer.
Subscribe for only £5.49 a month and enjoy all the benefits of the printed paper as a digital replica.
Subscribe