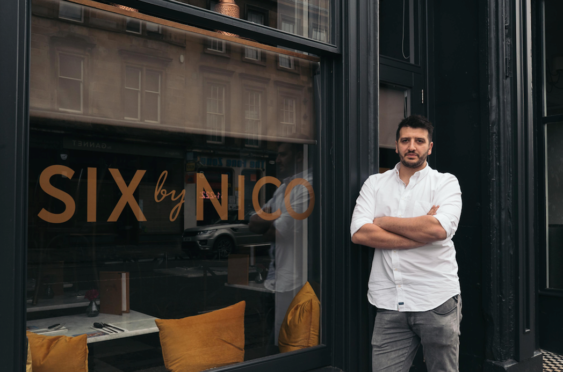 He's already conquered Glasgow, Edinburgh and Belfast.
And now, renowned Scottish-Italian chef Nico Simeone is setting his sights a little bit further south.
Six by Nico Manchester will be the seventh addition to his growing restaurant portfolio, taking his admired culinary skills south of the border.
The Mancurian addition joins his award-winning portfolio of Six by Nico Glasgow, Six by Nico Edinburgh, Six by Nico Belfast, Public House by Nico, 111 by Nico, The Hebridean and Supper Club by Nico.
The 3000 square foot restaurant will be Nico Simeone's first venture in England, with plans to expand the brand further across the UK in the pipeline.
The new Spring Gardens restaurant occupying the former Roc & Rye site will replicate the concept of his Six by Nico restaurants in Glasgow, Edinburgh and Belfast, and will be home to a series of carefully curated and constantly evolving menu concepts.
Pioneering a revolving culinary hub, every six weeks, Nico and his team will re-invent the dining experience – serving a brand new six-course tasting-menu – each one themed upon a different place, memory or idea.
Drawing inspiration from both home and abroad, from the street markets of the Middle East to a journey across Route 66 in America, the Six by Nico team will combine different ingredients, flavours, and dishes, to bring memories and stories creating a brand new dining experience every six weeks.
Using food as a narrative, each menu will tell a different story, taking guests on a new and exciting journey each time they visit.
Each new chapter will be kept a surprise and new menus will be published two-weeks prior to the next theme.
Chef Nico Simeone said: "We are very excited to bring an unforgettable culinary experience to Manchester.
It was the obvious choice when looking for our first site in England thanks to its thriving food and drink scene.
We have been overwhelmed by the success and the appeal of our first 'Six by Nico' sites in Glasgow, Edinburgh and Belfast, and we couldn't be more delighted about bringing a completely new offering and dining experience to the people of Manchester"
The concept was born in Glasgow in 2017 from a passion of experimenting with new ingredients and developing and creating unique dishes.
Six by Nico Manchester will open its doors in July 2019 becoming the latest addition to the city's burgeoning restaurant and bar scene.
---