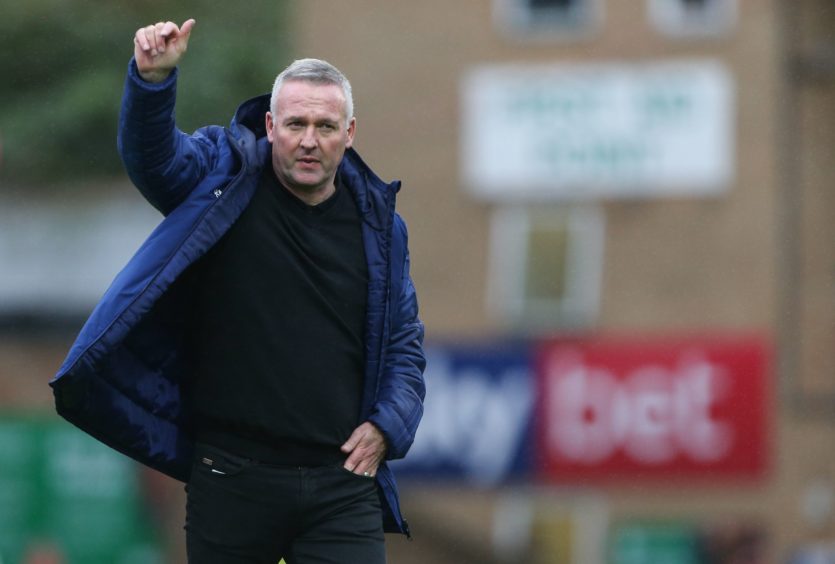 Paul Lambert can't quite believe he is edging towards his 600th game as a manager, in his 15th year in the dugout.
Since being appointed as Livingston manager in 2005, he has been in charge at Wycombe, Colchester, Norwich Aston Villa, Blackburn, Wolves, Stoke and Ipswich Town.
The 50-year-old enjoyed some fine success at Carrow Road and Villa Park, but feels his best – and most-productive – days have still to come.
When they do, experience has taught him to enjoy the moment.
Lambert told The Sunday Post: "I want as many of the players I have managed as possible to reflect on their careers – whether it's five years or 25 years from now – and be able to smile and have lovely memories.
"We are all aware that football has changed in the past 10 years or so, and that the dressing-room culture is not the same as it was back in my days as a player.
"Some will argue it's for the better, others will disagree.
"But the overall aims of every player and manager remain the same – enjoy as best you can being part of this amazing sport and try to win as many games as you can."
Lambert's current focus is to get Ipswich Town out of League One, and they are expected to be there or thereabouts come May.
Along with his assistant, Stuart Taylor, Lambert is quietly confident his group of young, talented footballers will deliver.
But he knows the schedule is demanding, and that avoiding injuries and suspensions are every bit as important as form.
Lambert has just signed a new five-year contract, and he enjoys a solid working relationship with club owner, Marcus Evans.
That's as vital, as it is rare, these days in football.
"Marcus asked me to stay and I was delighted to do so," Lambert continued.
"I'm excited at what we are building at Ipswich, and seeing the development and improvement in our young players makes me positive about the future.
"We will try our very best to win promotion back to the Championship. If we do it this year, then that will be great.
"But we are well aware we can take nothing for granted.
"Having the backing of Marcus is good. Managers are maybe lucky if they get a full season in a job because of the demands for instant success.
"Thankfully, some owners see the sense in building something, bringing back stability and putting down foundations.
"We are doing that at Ipswich, and also trying to get the success as quickly as we can.
"The fans know what we are trying to do, and they are right behind it.
"They have been brilliant to me. We get more than 20,000 at our home games and the atmosphere they create is brilliant. What a buzz.
"I want to give them as much as I can. The players are the same.
"I've been fortunate to have had some really good times. I've been 15 years as a manager and that is decent longevity. I'm proud, I have to say.
"It really flies in, and I hope there is more success to come. I have to believe that my best days are ahead of me.
"Why not? There are lots of things still to be done and I'm as hungry and determined as ever.
"I want to see my players improve and to help them go to the highest level possible. I will be as proud as ever if they do that.
"Just as importantly, I want to help them become the best people they can possibly be."
Before taking the leap into management, Lambert enjoyed a successful 20-year career as a player.
A cultured and clever midfielder, he had wonderful success at Borussia Dortmund and Celtic, winning the Champions League in 1997 with the German side and being part of the Hoops team that stopped 10-in-a-row in 1998.
He also won 40 caps for Scotland and played in the 1998 World Cup Finals in France.
It was a period he remains thankful for, and hasn't forgotten the roots he had at St Mirren as a teenager.
Lambert said: "I can remember signing on an S-Form when I was 13.
"I then made my first team debut in a friendly match against Dumbarton at Boghead when I was 15 and Alex Miller was manager.
"St Mirren was a great place to start. I was so lucky to have guys in the dressing room such as Jimmy Rooney, Tommy Wilson, Steve Clarke, Campbell Money, Jim Stewart and Tony Fitzpatrick.
"They were great professionals and taught the youngsters good habits.
"They went out of their way to help the youths and reserves to push on, and give an insight as to what was required to play in the first team every week.
"I worked as hard as I could and tried to take in as much as possible.
"I moved to Motherwell, then Dortmund, and I can't quite believe it's almost 25 years since we won the European Cup.
"To then be given the opportunity to play for Celtic at such a crucial period will never leave me.
"It goes to show that the most unlikely of things can be achieved."