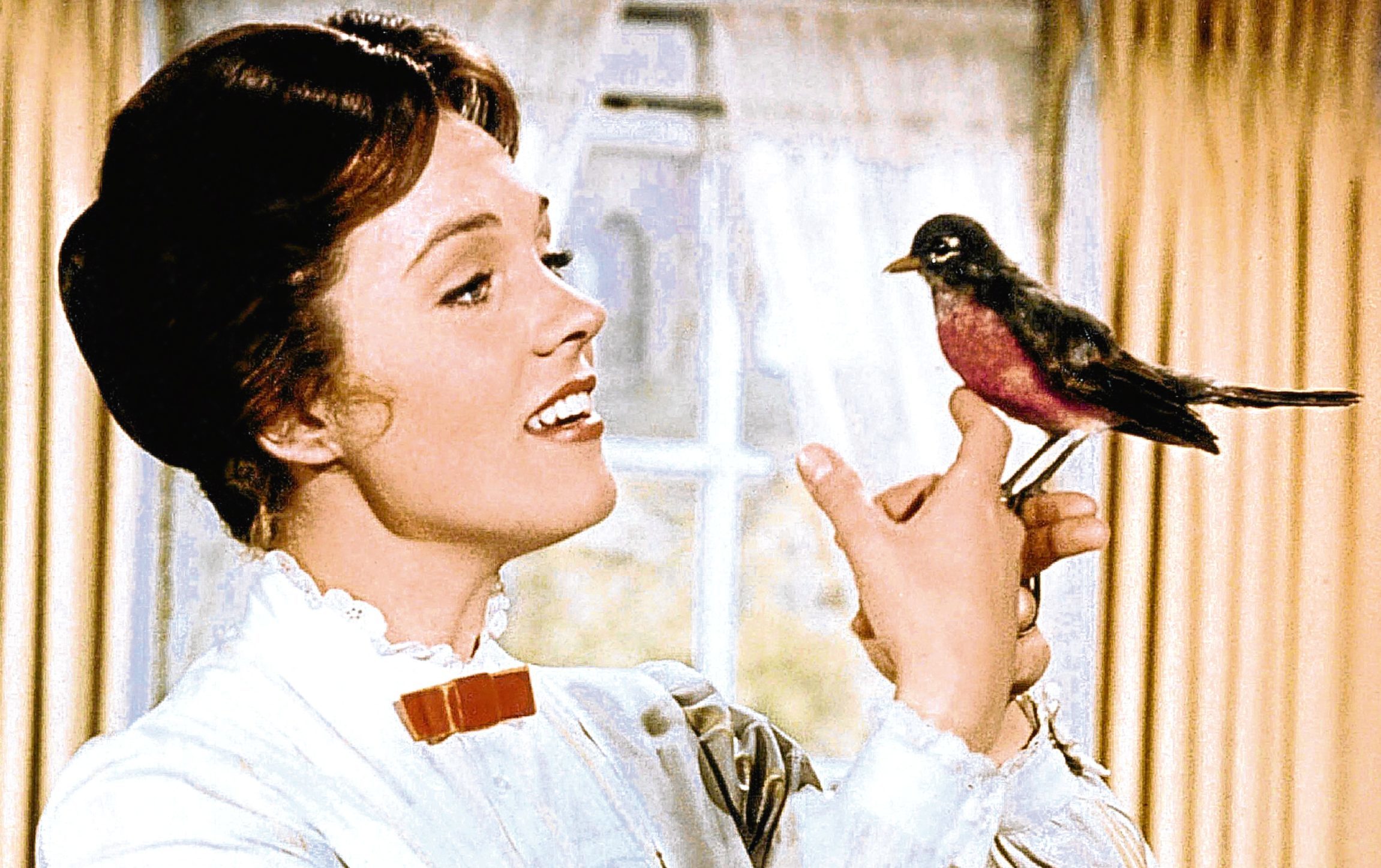 CALL her Mary Poppins if you wish. Call her Maria if you prefer. Best of all, call her Dame Julie Andrews, singer, dancer and actress. In fact, you could just call her in every sense of the word — a star!
Julie hasn't long turned 82, which means that she has been entertaining for 75 years. Yes, 75 years!
She started when she was around seven, singing on stage with her mother and stepfather.
"We lived out of a suitcase going from theatre to theatre and I used to sing for fun," said Julie.
"I had such an unusual voice that my mother had a throat specialist look at me.
"He said I had the larynx of an adult. I hoped that was a compliment. Anyway, one evening, I was told to go to bed during the afternoon.
"I hadn't done anything wrong, so I was a bit puzzled until my mother explained that I was to be allowed to sing with Mummy and Pop in the evening.
"That was where it started, really, looking back. I must have been awful and since I had to stand on a beer crate to reach the microphone, it must have looked even more bizarre.
"My mother played the piano and I sang solo or in duet with Pop."
It was her stepfather who introduced Julie to Val Parnell, who found a spot for her in a show he was producing in London. It was called Starlight Roof.
"It was my first real professional engagment," said Julie.
"It was October, 1947, and I had just become 12.
"There was a marvellous American entertainer called Wally Boag. He was a comedian who did balloon modelling as part of his act.
"He'd say: 'Is there any little girl or boy in the audience who'd like one of these?'
"I'd then rush up and say: 'I'd like one, please.' He chatted to me and I told him — and the audience of course — that I could sing.
"Then I sang an aria, Je suis Titania, and every performance, it stopped the show. The audience went crazy, partly because it was a beautiful aria and I could sing it and partly because I was just a kid.
"I think I was overwhelmed inside, but seeing my mother and pop on stage every night, I was already into the whole showbusiness ethos.
"I was still amazed to find myself on stage with Danny Kaye, though, at the London Palladium on November 1, 1948 for the Royal Variety Show in front of King George VI and Queen Elizabeth.
"I was the youngest-ever performer in the annual show and totally amazed by it all. It was a moment I have always cherished, though."
It's hard to believe all that was happening nearly 70 years ago and here we are today with that little girl having conquered the entertainment world in so many different ways.
"My parents went into radio and TV and I followed them which is how I spent a couple of years in Educating Archie with Peter Brough, Max Bygraves, Beryl Reid and the others," recalled Julie.
"I am surprised at how many people still remember that, but it was great."
On the eve of her 19th birthday, she made her Broadway debut playing Polly Browne in The Boyfriend.
"That was a big step — going to America, playing on Broadway and turning 19 all at the same time was incredible, but it got even better when I was asked to audition for the part of Eliza Doolittle in a new Lerner and Loewe musical called My Fair Lady.
"I really wanted the part. I was an English girl wanting to play the part of a Cockney girl.
"I had some experience, but I was still quite young and there was a lot of other talent available.
"I remember the butterflies and trying to tell myself that it was not a matter of life or death.
"Needless to say, I did my best and I was just so thrilled when I got the job."
My Fair Lady was a massive success on Broadway and all over again when it came to London in 1958. Julie made Eliza her own and was devastated when the film role went to Audrey Hepburn.
"I must confess that I threw a few tantrums," she said. "I loved playing Eliza. I didn't blame Audrey, it was not her fault and we always got along well."
Julie Andrews has been entwined with Eliza ever since those days on Broadway and at Drury Lane. She has even directed a production of My Fair Lady in Australia and still speaks affectionately of Eliza Doolittle.
"She was so lovely and she still is. She had ambition to break away from the life all the Cockney girls had and wanted to be a lady in a flower shop.
"She wanted to talk properly and respects Henry Higgins for that. At the end of this whole process she's been through, she's a different woman.
"Some people find that at the end, they'd like to have seen them marry or that Eliza would go her own way, but really it is clear that she can manage without him now. If he bullies her again, she's gone, but if he respects her and perhaps even loves her, they will be together for life.
"My favourite moment that's the most moving for me in the whole show is when Eliza says: 'I don't want you to make love to me, but I want you to be more friendly like.' Higgins could seal it with a kiss right there, but he can't.
"He's too locked up and immature. Suddenly she is in the driving seat for a moment, Eliza has grown up and has become a lady."
Mary Poppins in 1964 changed Julie's movie status — and her entire life.
"Mary Poppins was wonderful and so nice that I found her a little too sweet and rebelled," she said.
"For a while, I had a sticker on my car which said: 'Mary Poppins is a junkie.'
"I was approached by Walt Disney to play Mary Poppins after he saw me playing Guinevere in Camelot on stage.
"I was four months pregnant with Emma. I turned him down and explained the reason. He simply smiled and said: 'That's OK, we can wait.' And they did."
Julie was handed a Best Actress Oscar for her iconic role.
"I was amazed and all I could think of saying was to thank Walt Disney," she said. "I took it home and put it in the attic as I just didn't feel that I deserved such an honour and didn't want it to seem that I was showing off.
"When people kept on saing nice things about the film and it just moved on from generation to generation, I got it out again and gave it a polish."
The Sound of Music in 1965 provided another iconic moment when Julie as Maria ran across a mountain top to sing the title song.
"I was being chased by a film crew on a helicopter. Whenever it came near me, to go back to his end of the field, the downdraft from the engines of that helicopter threw me into the grass.
"It just knocked me flat every time and I was getting angrier, spitting mud and dust and grass. Very un-Maria like."
Thoroughly Modern Millie and countless other successful films and stage productions followed, but Julie has had her setbacks.
Her first marriage to Tony Walton ended in divorce after eight years and she married again to legendary producer Blake Edwards. They were wed for 41 years until his death in 2010.
A throat operation in the late 1990s went wrong and virtually ended her singing career. The hospital concerned settled the matter with a vast payment, but that was little compensation for the loss of her singing ability.
"We all have our setbacks in life, but we come back fighting," said Julie.
"They always say that you are only as good as your last film or stage show, so I am looking forward to my next one — and the one after.
"After making Mary Poppins, I once said in an interview: 'I'm the lucky lady that was asked to do this wonderful movie.
"'It's one of those breaks in life, one of those breaks in your career.'
"I knew it then and I know it now. I'm waiting for my next break."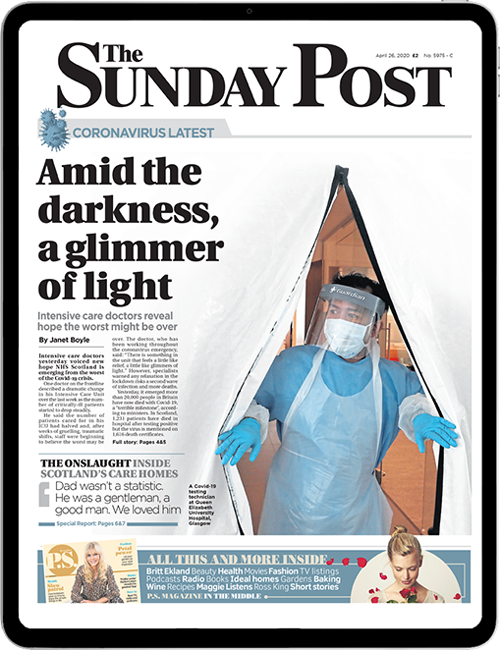 Enjoy the convenience of having The Sunday Post delivered as a digital ePaper straight to your smartphone, tablet or computer.
Subscribe for only £5.49 a month and enjoy all the benefits of the printed paper as a digital replica.
Subscribe