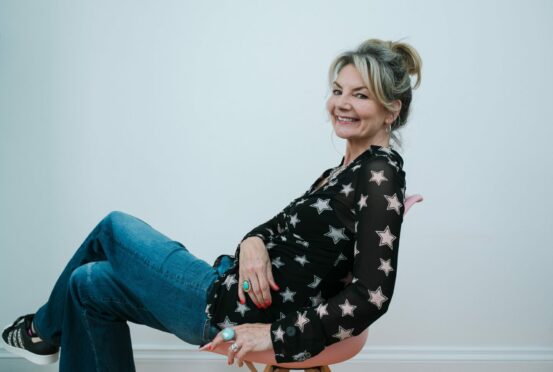 This is what you need to know. The comedian Jo Caulfield had an older sister called Annie. Annie was a writer.
Annie wrote radio plays and books and for television, working as a scriptwriter for Sir Lenny Henry and on the drama This Life.
Annie was one of life's adventurers. Annie was smart. Annie was chatty. Annie let you know what she thought.
Annie also made mistakes and she had her problems (for a time one of those problems was alcohol). That's what you call being human.
And then Annie got ill. In February 2015 she sent her sister an email: "The back pain weirdness turns out to be a bit of cancer in my right lung…"
Annie Caulfield died in November 2016.
On the last day of July in 2023, Jo Caulfield is sitting in the front room in her home in Edinburgh talking to me about her sister, and about loss and grief and love.
A few days after we meet, Caulfield will go on stage at the Stand Comedy Club in the capital for the start of her run at this year's Fringe. For the next month she will try to make people laugh. And she will succeed, because, as anyone who has seen her live or on TV, or heard one of her regular appearances on Radio 4 will know, Jo Caulfield is good at what she does. Like her sister, she is quick and sharp and sometimes caustic.
But this Monday morning I'm talking to Jo the writer. Her first book, The Funny Thing About Death, is the story of Annie's life. It's Jo Caulfield's story too. And it manages to both break your heart and get you giggling.
"I actually really enjoyed it," Jo says of writing the book.
It made her realise why Annie loved writing so much, she says. "It's so nice, just you and the paper. Never bored."
Writing the book was a chance to remember the sister she had lost and spend some more time in her company. And what is clear from both the book and Jo's conversation this morning is that Annie was often a joy to be around.
"She was very funny. She was very good at impressions of people. That side of her was great fun to be with," Jo said.
"She was very intelligent, spiky. She would always question things. It might make you unpopular, but say the thing."
Annie was one of life's natural rebels. At school she would question the nuns. Later in life she would attend AA meetings and she had issues with that too. Her attitude was "question everything," Jo writes.
"I liked watching it," Jo recalls now. "I liked the show. I was proud because at school she was this person that people would talk about. She was called Tom then [her nickname]. 'Tom said this,' and 'Tom's doing that.' Being very rebellious.
"But at the same time mixed in with that was angst. They would go to the boys' school and Annie was always falling in love. 'Why can't I be one of those nice, quiet girls they seem to like?'
"So there was always the mixture of being loud and rebellious with low self-esteem."
Annie was four-and-a-half years older than Jo. Always the big sister. Jo looked up to her, although there were times when that wasn't necessarily a good idea.
Because sometimes Annie got things wrong. When she took her 16-year-old sister on a holiday in Europe she didn't plan any of it. Annie decided that they would hitchhike.
"Two young women alone, it did occur to me that maybe it wasn't a great idea, but Annie knew best. It was only when we were jumping out of a moving lorry as it slowed down on a hairpin bend in the Swiss Alps that I thought, 'Maybe Annie doesn't always know best'," Jo writes in The Funny Thing About Death…
But that was just who Annie was, Jo says now. "Later, it dawned on me it was about the adventures," she says. "It's not about being prepared and making the sensible decision."
And maybe, she thinks, Annie was uncomfortable with comfort throughout her life.
"When she had good jobs writing for television she stopped and went, 'No, I think I'd like to write my stories. I'll do radio plays for not very much money and a lot more work'. She did want to follow her own voice."
Near the beginning of the book Jo writes that "cancer was the least interesting thing about Annie." And yet it brought out the best in her.
"Everyone is brave in different ways, but with her it was, 'Carry on. There is nothing to see here'," Jo suggests.
Annie wasn't in denial, however. She even decided to plan her own funeral. But she did try to treat it as another adventure.
"Talking about her funeral," Jo admits, "made my blood run cold. But at the same time we were laughing at how much she enjoyed it. 'I want to have this lovely funeral'. And it was. She organised it with her crazy ego.
"When we went to the hospice at some point she must have known what was happening. She made a decision about how she was going to be there. 'Oh, we're all having a great time. Come in, have tea, what a laugh, I absolutely love it here'.
"And then the morphine takes over, which is great." After Annie's death Jo had a tour to do. "I didn't process it at all." That only started when Jo went on holiday to Florida. "Lying down on a beach, my head just full of thoughts about her, about why did it happen to her, what was I going to be like now without her. And then just the actual feelings of grief and them being so much more consuming than I imagined. They don't go. And that was only early on."
Everyone grieves differently. For some, counselling can help. Jo didn't find that, however. "I did have one session. I found it overwhelming and I blurted everything out and the counsellor said, 'How do you feel?' Well, awful obviously. I want you to help me but you're not going to. You are just going to keep asking me how I feel. And that's not going to help me. And I went to Zara and I bought a new top and I felt a bit better."
Grief, Jo admits, is not what she thought it would be. "You don't get over things and you don't want to get over things. It's just a maelstrom of stuff being chucked at you."
But it does become bearable, she says. And yet that can prompt a new fear. "I'm frightened of not remembering her because it's getting further away."
Writing the book eased that concern a little because it allowed her to live with Annie in her head.
"In that way it was a really cathartic process to spend time with her."
But now Jo Caulfield is 57 and living in a world without her big sister. She is still getting used to that. "I suppose I thought Annie would go on forever. We would talk about that and plan that old age. And to feel you are not getting that…"
Later, she returns to this idea: "I don't have any more footsteps to follow now. Menopause, I knew. She would tell me. What's happening now? I don't know.
"But then weirdly she left me her two best friends who are her age and I do feel they are there if I need that advice."
These days Jo Caulfield gardens and goes to the gym. She is making the most of things, prompted by Annie's absence. "Without being too Pollyannaish, make the best of it because she didn't have this," she said. She raises funds for Macmillan Cancer Support and money from the book will also go to the charity, all in Annie's name. "She would like to be useful," Jo suggests.
And Jo has her work. She can still get up on stage and make people laugh.
"It made me much more aware that you don't know what's going on in these people's lives. There's a whole audience full of people. Things might be happening that could be terrible. But they've come out to have a laugh."
---
Stand-up and being counted
Stand-up and writing books are very different things, Jo Caulfield says. When it comes to her stand-up, she says: "People come to have a laugh with me and to forget."
Even so, she has decided that she is going to read a little bit from her memoir in her current Fringe show.
"I thought of my audience and I thought a lot of them are around my age. They will have lost people. And what you don't realise until you lose someone is you don't mind talking about it. And especially if the other people get it, if they are in the same club.
"The lovely thing about stand-up is that, though people don't know you, they feel they know you. And I feel I know them."
Jo doesn't think she could do a whole show about her sister Annie, however. "I did it once in a club I know really well in London. And then I thought, 'No I don't want to do that. I don't want to revisit that every night. That's not who I am.'
"I thought, 'much better keep with the funnies'."
After Edinburgh, she is going to do a nationwide tour, something she hasn't done since Annie died. "I felt it's probably a long enough time.
"I'm a little apprehensive about it," she admits. "We'll do three, four nights away, and then have a little break. You really do need to be more careful of yourself."
But it's another adventure. And her sister gave her a taste for those.
---
The Funny Thing About Death by Jo Caulfield is published by Polygon, £17.99. Jo Caulfield: Razor Sharp is on at Stand 3, The Stand Comedy Club, Edinburgh, until August 27 (except August 14 & 21)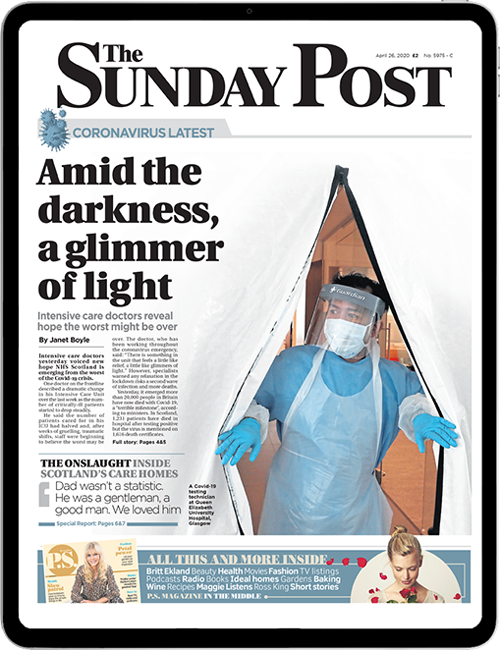 Enjoy the convenience of having The Sunday Post delivered as a digital ePaper straight to your smartphone, tablet or computer.
Subscribe for only £5.49 a month and enjoy all the benefits of the printed paper as a digital replica.
Subscribe