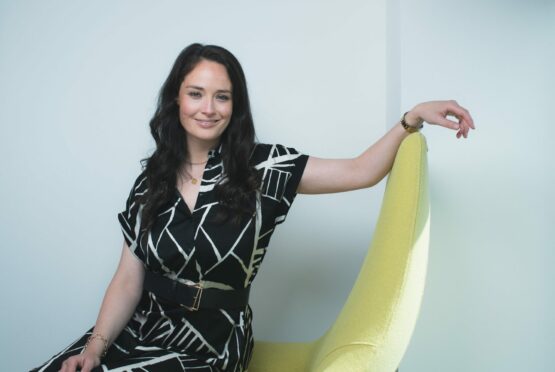 There aren't many people Jennifer Reoch looks up to; and not just because she's over 6ft in heels.
For over a decade since winning Miss Scotland – and probably becoming its most high-profile victor – she has carved her own glittering path.
After winning the tiara she finished seventh in Miss World, then became a presenter on various STV and BBC shows. Now, after a few years hosting the drivetime show, Jennifer and co-host Des Clarke are spearheading Heart Scotland's new flagship breakfast radio programme.
Listeners heard, in the first episode, Reoch speaking to the hero she's had since she was a young girl; one who started her career before the 33-year-old former beauty queen was even born.
"Lorraine Kelly is the Queen," beams Jennifer, as we sit in the swanky new Heart Scotland studios in Glasgow city centre.
"I love her. She's a broadcasting legend and the queen of the morning, isn't she? She told me she'd been broadcasting in some form or another for 40 years, and much of that in the morning. Whereas I've been doing it for a few days…
"She's been nothing but nice and supportive and lovely and I reached out quite early on in my career for some advice. There was no need to get back in touch necessarily but she did.
"And she kept in touch. Having brilliant Scottish broadcasters like that is something that you can look up to and aspire to. And she's also just nice to chat to."
Early starts
The advice chat show host Lorraine gave Jennifer was sage, if not welcome.
"I asked her if it gets easier getting up in the mornings," explains Reoch.
"She said, 'no, of course not.' But she did say I'd love it. She told me to get to bed early and have a night-time routine and don't booze. Which is disappointing. It's a shame, I did like to have a wee glass of wine with dinner throughout the week but that's a no-no now…"
She is, however, committed to making the best of these very early starts, both for herself and the listeners.
"I'm excited – all right, maybe not when my alarm goes off at 5.30am," she says. "But, and this is weird to say, I'm excited to explore a new part of the day. That sounds cheesy but it's not. It's the time of day I only see if I'm getting up to go on holiday. But now I get to interact with all the people who get up at that time.
"We've spoken to a woman who does wild swimming at Portobello Beach, a woman feeding her horses at 6am, and couples who have new babies. They're all part of this exclusive Breakfast Club.
"It's important to have the right energy to start the day. We want to be your pals whether you're dragging yourself out of bed or winding down from the night shift. I want to feel the same way the listeners are feeling."
Jennifer lives with her partner, Jamie Hunter, a doctor with whom she's been together since her pageant days. As well as dinners which stretch into the evening, she also has to contend with going to bed earlier than shift-working medic Jamie.
Some couples, I suggest, actually appreciate having time away from each other.
"Strangely enough, we do enjoy each other's company," she laughs. "So it'll be a wee bit of an adjustment. I'll just have to master the art of napping.
"I'm a night owl. I usually go to bed about 1am but I'm not sure that's sustainable. We're now on slightly different shifts. I go to bed before him and leave him watching the telly."
On air
We're speaking following the first morning show, and the stellar line-up of guests includes, as well as Lorraine Kelly, Rita Ora and Peter Andre, the latter of whom is celebrating 30 years in showbusiness.
He is, it is disappointing to hear, nice: Jennifer explains most celebrities she's met are.
"It's probably their production team who get the brunt of their wrath," she ponders, wondering if getting a coffee order wrong is enough for a runner to earn a row from an A-lister.
Not that Jennifer seems like she'd give anyone a row for accidentally putting oat rather than almond milk in her flat white.
Asking those who work with Jennifer if she's pleasant behind the scenes reveals she is, in fact, as lovely as you would expect. She is, of course, as you would expect for someone crowned the most beautiful in Scotland in 2011, striking. It's lunchtime but she's been up since 5.30am; you'd never be able to tell.
However, there is a pressure that comes with being expected to look a certain way.
"I'm quite comfortable being…comfy?" she ponders when asked if she feels any of that expectation. "I'm going to keep it real – not everyone is glammed up for a night out at 5.30am, you know?
"I'll maybe try doing something like not showering for four days. And what adds a bit of extra excitement and pressure is our studio has had a facelift. There are some cameras in there now which capture some moments…"
Jennifer doesn't appear to feel pressure, although there are times she insists she has suffered blips. As a student studying law and French she travelled to Lyon.
"It was brilliant in lots of ways. It was tough, though, and I wanted to come home at first," she says. "I realised I didn't speak French as well as I thought, and I had to sit in law lectures and pass exams in another language.
"These days you could have an app translate it all, but I'm too old for that. I was handwriting them all. May as well have been writing with a quill…"
Career options
Having a law degree on her wall gives Jennifer options. But, even if she does become tired of early starts, it's not a career in which she sees herself exploring.
"No, I don't think I'll be a lawyer. I was never passionate about it," she explains. "I didn't ever want to be a lawyer when I started doing it. I took it on because I wasn't 100% sure where I wanted to be." Jennifer speaks well, is engaging and thoughtful, and is obviously clever – did I mention going to study law, in French?
I expect to be rebuffed when I suggest she might one day make a good politician. Is it something she has ever considered?
"Yeah," she replies with quiet surprise which I'm not sure is at the question or her own answer. "At this moment everybody thinks they could be a politician and do a better job. The reality is of course very different, it's a real challenge.
"I like the idea but when it comes down to it… I like the lighthearted side of life, and that my job is fun. I spoke to Rita Ora with Des this morning.
"I'm not sure being a politician is much fun at the moment. I'm so lucky and privileged to do a fun job, people out there do these important and serious jobs and are much more important than me. But maybe I can help them wake up and have a wee bit of a nicer morning.
"I'd miss that if I went into the legal or political world."
So far she hasn't really put a foot wrong with the path she's made for herself but this is, she thinks, an accident rather than a grand design.
When I ask what is next, both for her career and her personal life, she has no idea.
"None! I have no plan and I think that's the best way to be," she adds. "If you'd asked me when I was younger, or working at STV four years ago if I'd planned to go to a breakfast show I wouldn't have foreseen that. The investment in Scottish media with Heart is exciting.
"When you see media – whether it's TV or radio or newspapers – that is local and reflects your life, that's important.
"You've got to chuck yourself into anything you do. I've been so lucky, and I don't care what anyone says, luck plays a part.
"I tried to make a plan. But it doesn't really work in life. I genuinely don't know where I'll be."
---
How it felt to be Miss Scotland
Twelve years on from Miss Scotland has given Jennifer Reoch a sense of perspective about her reign.
She has, over the years, heard the voices who say beauty pageants are outmoded; offensive, even.
"The power of Miss Scotland is you can make it what you want to do with it. I felt I didn't… lose myself," she says. "I stayed myself throughout.
"I can understand creating this idea that women are just about aesthetics isn't a healthy thing to do. I would argue that it's more than that now, as someone who's been on the inside.
"I'm not saying that it's the case for every single person but I didn't feel it was all about how I looked. Of course it's about having pride in your appearance and, listen, I'm not your perfect model, believe me."
While she believes both Miss Scotland and Miss World are positive, she thinks those who criticise have a valid point. Yet, compared to the world of fashion, the contests are progressive.
"The word pageant comes with a lot of negative connotations," she adds, "but I think that world is more supportive of diversity and how women really look than perhaps the high fashion world.
"Look at the pageant world and it's full of women with a lot to say about things. I understand not everyone likes it and all power to them. But telling women what they can't do? That's the opposite of empowering women."
---
Listen to Des Clarke & Jennifer Reoch, weekday mornings on Heart Scotland from 6.30am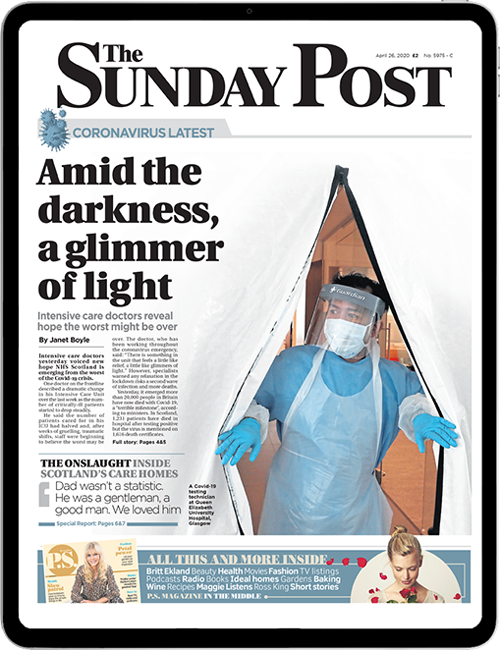 Enjoy the convenience of having The Sunday Post delivered as a digital ePaper straight to your smartphone, tablet or computer.
Subscribe for only £5.49 a month and enjoy all the benefits of the printed paper as a digital replica.
Subscribe