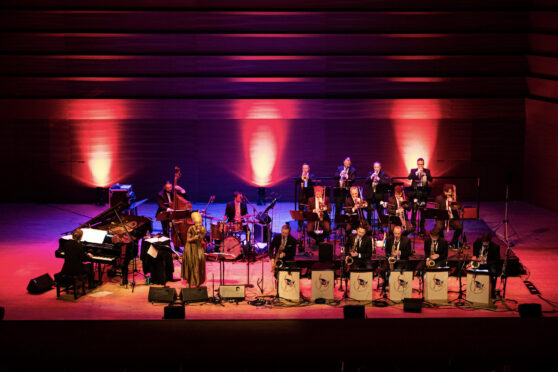 When the Scottish National Jazz Orchestra takes to the stage at their upcoming 25th anniversary concert, it won't just be an occasion for looking back but also one for looking to the future.
LIVE at 25, at Edinburgh's Queen's Hall later this month, will feature music from across the ensemble's lifespan and shine a spotlight on the continuing emergence of young Scottish talent in the genre.
It will be the first time the SNJO has played in front of a live, in-person audience since a trip to Norway just as the pandemic began to take a grip of the world and performances became limited to online live streams.
"Since March 2020, the orchestra hasn't seen the audience's faces," said founder and director Tommy Smith. "When we get back, we're going to be really excited to play a wide spectrum of music, covering a lot of jazz styles through history for the people who support us.
"Some musicians feed off other musicians and don't really care who's in the audience, then there are those who will play to their best of their ability whatever the audience.
"Then there are some who feed off the crowd. I remember we played at Montreal Jazz Festival with 11,000 at the first set.
"We riled them up and they did the same to us. It was like a conspiracy to make us go to a different level and that was fun. The second set was only to 9,000 but it was a pretty amazing experience to have an audience on our side, screaming and shouting."
Saxophonist Smith, 54, admits he's not a big fan of marking milestones, but that the return to live performances gives an opportunity to reflect on how jazz has grown in Scotland.
Up until fairly recently, talents were moving to London or beyond to progress their careers, but many are now choosing to stay north of the border now that there's an infrastructure in place for them.
"Scotland really was the last place on the planet to have a few things which everyone took for granted," Smith explained. "Things like a full time jazz course, a national orchestra, a federation and the structure and relationships between all these links and pathways a musician can go through.
"The SNJO was founded in 1995 and we had no money for a couple of years, we had to prove ourselves worthy for funding.
"Because it's jazz, we've always been fighting against other well-supported organisations. We had no manager for 15 years, I had to do all the jobs and still do some of them, like driving the gear to shows."
After lobbying for the best part of two decades, a jazz course was finally set up at the Royal Conservatoire in Glasgow in 2009.
At the time there were over 500 courses in the world, but none in Scotland. Many schools, Smith said, overlooked the genre completely.
"There's always been talent. Before 2009, it went away to England, Europe and other places. I went to school in America, and so did many others.
"But the new crop, like young trombonists Liam Shortall and Anoushka Nanguy went to school in Scotland at the Conservatoire.
"When we started the course in Glasgow there was no real community. The first cohort found that they needed somewhere to play. They went out and got gigs.
"By year four, we had 26 jazz students in Glasgow wanting to play. They created a little scene which has grown and grown, everybody kind of knows everybody and inspires everybody."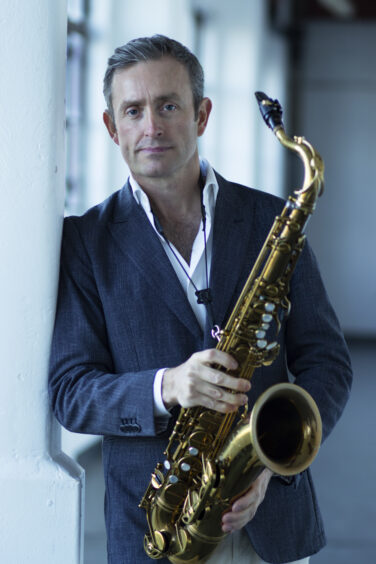 Smith, who was awarded an OBE for services to jazz in 2019, sees the role he's played in the flourishing Scottish jazz scene as a way of paying back for the support he's been given throughout his career.
Born in Edinburgh, he was raised in the city's housing schemes and began his prolific career aged 14 after award winning performances at the city's 1981 Jazz Festival.
He'd go on to study at Berklee, with financial assistance from Sir Sean Connery, and would tour the world, releasing over 30 albums.
In 1995 he established the SNJO and founded the Tommy Smith Youth Jazz Orchestra in 2002 to provide an educational opportunity for the country's best young talents.
In 2009 Smith was appointed head of Jazz at the Royal Conservatoire of Scotland and became Professor in 2010.
"I never wanted to run a big band or start a school," he laughed. "In the 1990s, when I was on a Blue Note record contract and a lot of money, I didn't have to do anything.
"A lot of the work I've done for the SNJO and my youth orchestra is because you feel you're due to pay back. You have to sacrifice some of your own stuff. I used to release a record every year, sometimes up to four. Now it's every four or five years.
"I don't have time to focus on myself as much as I used to. But somebody's got to do it. And anybody could've. Somebody just needs to bite the bullet and pay forward.
"I wish more people did. There's lots of opportunity and you never know, maybe some of the people we're teaching now will get involved."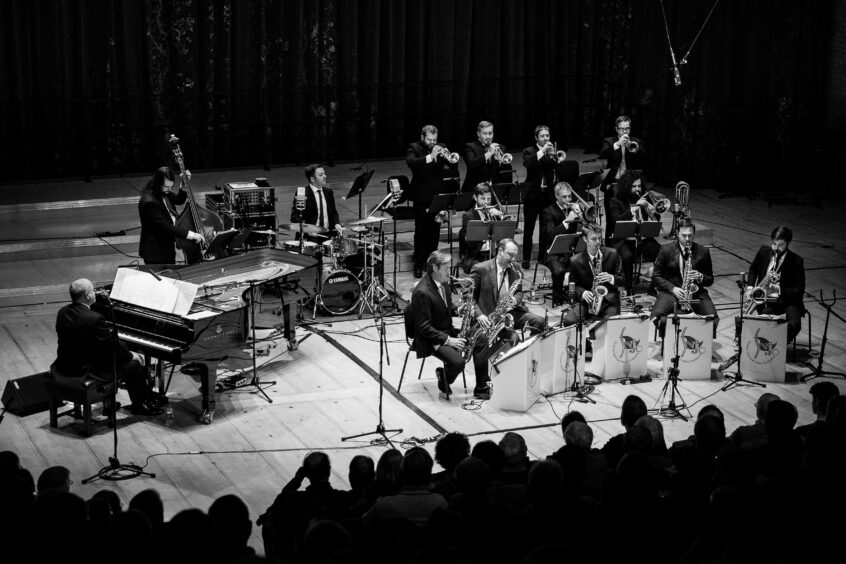 To that end, while the scene is thriving there is still a while to go to match what goes on in other parts of the world.
Many countries of a similar size have more than just one orchestra, and places like Norway have six full-time jazz courses and almost ten times as many festivals.
"We've got a long way to go but we're getting somewhere," Smith said. "Being a jazz musician is tough in Scotland. The pathway is pretty limited, we've got less seats than in a classical orchestra.
"Being in lockdown was tough, but a lot of the musicians we have compose, write, they have bands, they sell clothing lines, they're ingenious at trying to make a living and a jazz musician has to be a chameleon in a way, different genres and styles.
"If you play jazz music, you've got the tools to break down music into its finer components and understand how its created. Jazz people are very creative and can fit into all different kinds of places.
"When you put that together with someone who's proactive and knows they have to work hard to get themselves out there, a lot of these young players are doing really well."
The connections stick forever

– Trombonist Anoushka Nanguy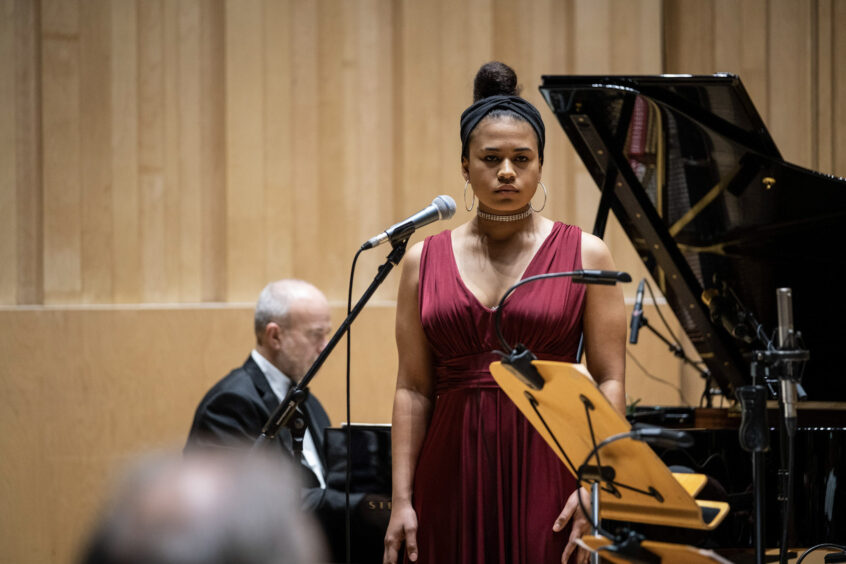 Anoushka Nanguy won the Rising Star title at the Scottish Jazz Awards 2020 and has firmly established herself in Glasgow's vibrant jazz scene.
The 22-year-old, who grew up in Govanhill and then Newton Mearns, is best known as Noushy, leading her own quartet.
She'll be playing alongside the SNJO at LIVE at 25, and is relishing the chance to connect with a live audience again.
"When you switch back to in-person again, you realise how much of the magic you miss when it's just through a screen," she said.
"It's great that things have started up again and I'm able to see some of my friends play, other bands play, go to festivals again. It's quite uplifting.
"LIVE at 25 will be amazing. This'll be my first live concert playing trombone with them. As much as I'm very nervous I'm very excited. The live stream gave me a flavour of what's in store, and when there's an audience it'll be absolutely insane."
Nanguy describes jazz performance as "an overwhelming feeling of pure rawness, when it's loud and in your face but very articulate. It's on the spot."
She first started to get into the genre when she was around 16, spending hours listening to playlists on YouTube of some of the greatest artists.
It was at school she'd first picked up a trombone. "I was involved in a lot of classical ensembles and brass bands at first, that was the introduction. I didn't really know what jazz was at that age. A lot of the pop and hip-hop I liked at the time was influenced by it though.
"I did a lot of stuff on the classical side to begin with, which I didn't really enjoy that much to be honest. I don't know if I fitted in with the crowd, they all knew each other and had been playing for a while. I just wasn't into it and a few times I told my mum I wanted to quit, but she encouraged me to keep going."
It was when Nanguy started to get involved with school jazz bands that she started to enjoy the music a little more.
"I started playing some swinging numbers, music that was grooving and I felt like I could dance to or bop my head to. That's the kind of music I like. It was a completely different vibe to the straightforward stuff I'd been doing before, there was a lot more room to allow your personality to shine through.
"The people that went there were more relaxed and easy-going like me. There was a workshop with Brassjaw which was super inspiring. It was about improvisation and rhythm.
"They came up with a riff and we all stood up and played it and we were all walking around playing in time with each other. It was a really special moment, it was really fun and I was smiling through my mouthpiece."
Nanguy made friends for life through being a part of various ensembles, and is delighted to be part of a flourishing scene having studied the jazz course at the Conservatoire.
"It set a standard and showed me what I wanted to aim for, and the work that had to be put in to reach a certain level.
"There was no adversity or anyone thinking they were better than anyone else, they were there to play. These connections you make during these times stick forever."
It's such an encouraging scene

– Musician Liam Shortall
Musician and producer Liam Shortall won Best Band and Best Album at last year's Scottish Jazz Awards with his group corto.alto.
The 24-year-old will also be joining the SNJO on stage at LIVE at 25 having got back into the swing of things with festival appearances and gigs in recent weeks.
He said: "Time with the SNJO is always great. It's such a dream of mine. I've done lots of cool stuff with them. I'm usually quite nervous because it's full of people I've looked up to so much when I was younger. It's all the heavyweights of Scottish jazz.
"It's such a fun programme of music. Mark Nightingale is in the trombone section and he's one of the best in the world. This is the first time I'll play with him so I'm looking forward to that. Anoushka's in the trombone section too and she's one of my best friends.
"It makes all of the difference if you're friends with them and feel open about playing together. There's a connection you get."
Shortall has played the guitar since he was eight. As part of a project at primary school in Dumfries, he got the option to pick an instrument. On his list were alto sax, tenor sax, trumpet and drums as reserve.
But he was off school when the instruments were handed out – and only the trombone was left on his return.
"I was raging," he laughed. "I thought it was the lamest thing ever – kind of still do! I'm the only person out of the 30 who still plays, so maybe it was meant to be.
"When I first took it home, my mum was like 'what is that?'. I was really small and couldn't reach the bottom position on the slider and just hated it for a while.
"I think because my guitar teacher taught me how to read music, which is quite rare as most people just learn songs and tab, I took to trombone quite well and ended up really loving it."
At first he was playing in a traditional brass band, the Dumfries Town Band, but then joined the Dumfries Youth Jazz Group.
"It doesn't exist anymore which is a shame, because there are so many people from Dumfries who are still playing," he said. "Loads of musicians my age and a little bit older went through that and it was such a positive thing but there's nothing like that in Dumfries anymore.
"I then joined Tommy's youth band when I was 12 or 13, and met people who are some of my really good friends now. I think being around people that are a bit older than you that are really cool makes you want to do it."
Shortall is influenced by the likes of John Coltrane, Stevie Wonder and James Brown, as well as artists from the world of rap and reggae.
"Jazz is the root of a tree that goes into a lot of other directions," he said. "I love a lot of sub-genres, hip-hop, soul, funk. I play a lot of reggae, make a lot of hip-hop. I love all music, classical music too.
"The best musicians are experienced in so many genres. You can never play everything, but trying to spread yourself as broadly is possible is so important, especially when starting out.
"When I moved to Glasgow, I just said yes to everything. I was playing Latin, reggae, funk, soul, loads of different stuff and I think that drove my interest."
Shortall reckons there's "something so special" happening in the Scottish jazz scene.
He said: "The community is amazing. It's so supportive, everyone has their own projects and bands but we all record for each other. It's such a nice community and there's so much interest in music.
"Everyone's project is so different, it's not like there's a certain sound or thing that we do. Our stuff is so different but we all play on each other's projects. It's wildly broad and dynamic. It's such an encouraging scene."
He added: "Glasgow as a city for musicians to grow and learn in is just on point. It's fairly cheap to live here, there's a lot of venues, lots of jam sessions, not too many people and you can get everywhere in 15 minutes. It makes it a bit more relaxed, you're not trying to pay huge rent like you would in London."
---
SNJO – LIVE at 25, Queen's Hall, Edinburgh, September 24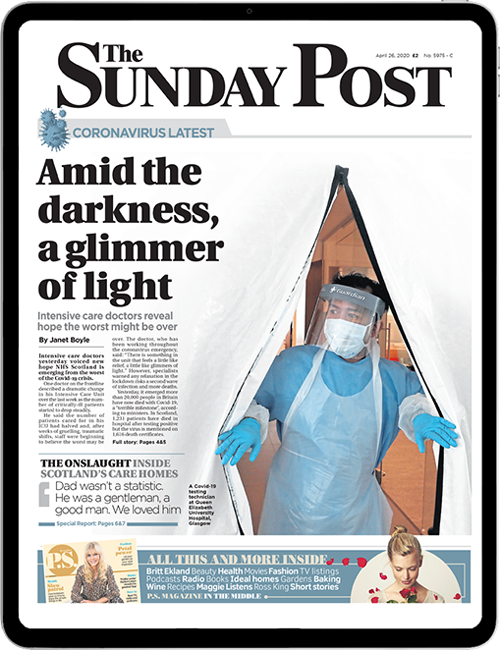 Enjoy the convenience of having The Sunday Post delivered as a digital ePaper straight to your smartphone, tablet or computer.
Subscribe for only £5.49 a month and enjoy all the benefits of the printed paper as a digital replica.
Subscribe