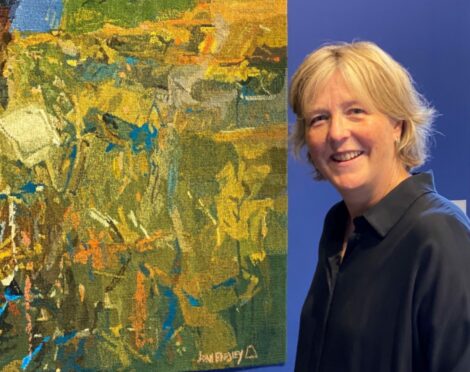 As a wee girl, I was all about words and pictures.
There wasn't much to choose between the two. When I wasn't reading or drawing, I was pouring over illustrations in books, or in comics like Debbie and later, 1980s' teenage girl catnip, Jackie.
I was always fascinated by art and artists and studied both all the way through school.
When it came to choosing a career, my late dad encouraged me to pursue the "words" path, rather than go to art school. So I went to university to study English before becoming a journalist, working for national tabloids, broadsheets and magazines.
In between, although I went to galleries and kept up my drawing for a long while, real life got in the way of my love of art.
Then, some 15 years ago, by then a freelance journalist with a young family, I was asked to write a feature about "50 Scottish artists to invest in" for a newspaper weekend supplement.
As I made phone calls by day and sat online late at night as my children slept, it was as though a dam had burst. I went down many art alleyways, rekindling my passion for art in the process.
I had forgotten how much art nourished me and made my synapses sizzle.
The feature was published and I was asked to write another similar feature. After a few months, despite me insisting to all and sundry that I wasn't an "art critic" like the ones who really knew what they were talking about, I was invited to write a regular column about Scottish art.
After a couple of years, an art critic for a major broadsheet told me off for insisting I wasn't an art critic. But I still think of myself as an art lover rather than a critic.
The Scottish art scene is vibrant and sprawling, covering every corner of the country and every style of art; from painting to sculpture, installation to conceptual and video to performance. My philosophy is that art is for everyone. You don't need so-called experts to tell you what to think about it.
Now I'm going to be writing a weekly column for The Sunday Post; guiding you to the art and artists which excite me on a daily basis. I can't wait to share it with you.
---
Jan's favourites:
Antony Gormley's GRIP at Saddell Bay, Kintyre
My children are 20 and 18, but four years ago, on the cusp of adulthood and beginning to baulk at the idea of going anywhere with their parents, we spent a weekend in a cottage at Saddell Bay, on the Kintyre peninsula.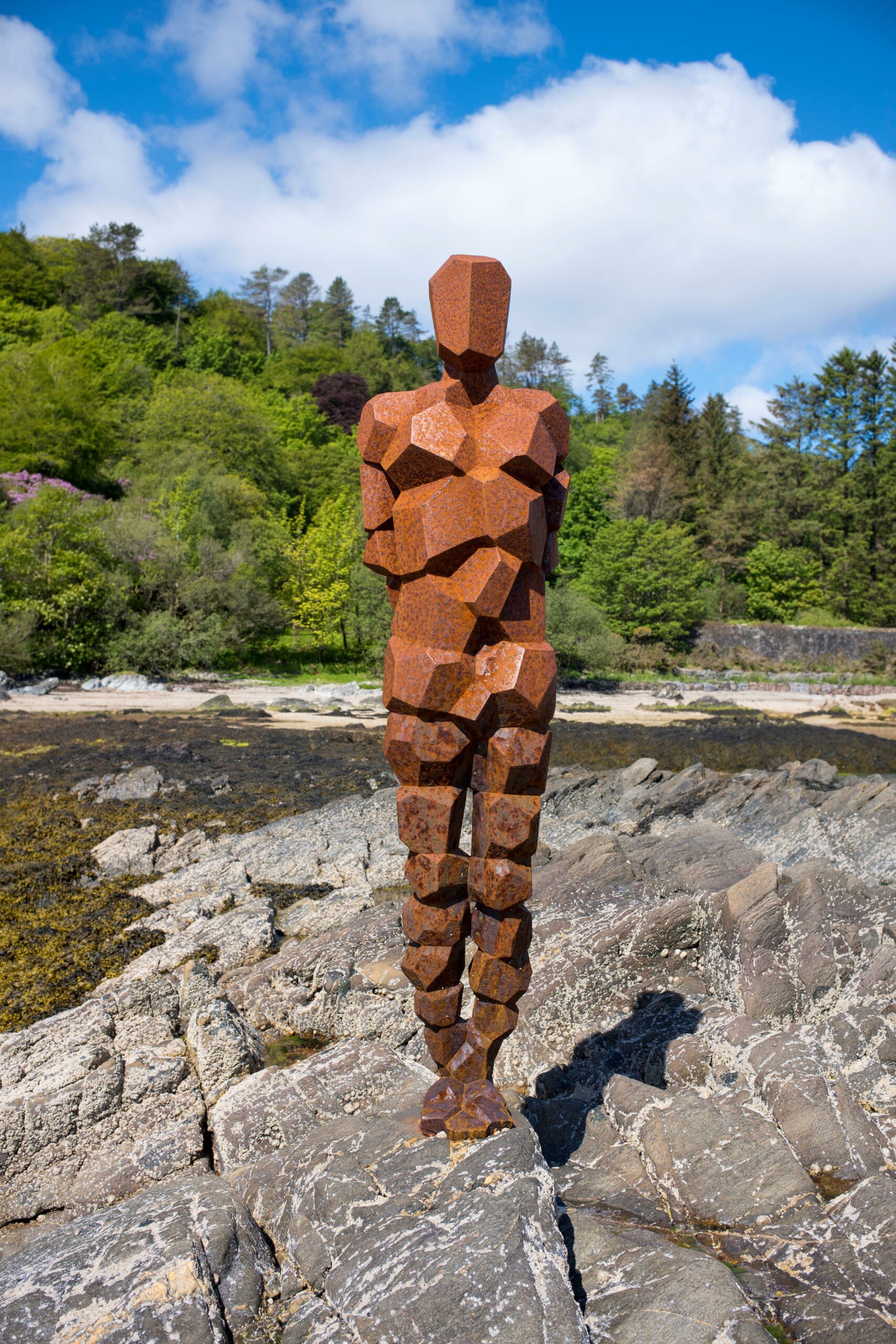 To add insult to injury, there was no wifi available in the cottage and no 4G coverage o the entire Mull of Kintyre. That meant we all had to read books, play board games and go on long walks along the shoreline, where Paul McCartney and Wings filmed their Mull of Kintyre video some 40 years ago.
It was on one of these long walks that we met Turner Prize-winning sculptor Antony Gormley's lone figure, GRIP, a life-sized iron man lodged firmly on a rock, staring out across the Kilbrannan Sound to the west coast of the Isle of Arran.
By that stage GRIP had been there for two years, and was already feeling the effects of the weather and the advancing tides. For some reason, that made him even more attractive.
We visited him in all weathers and even took a moonlit walk one night to say hello. The moonlight bounced off his cold head. Even the kids were charmed.
There's something magical about coming across a piece of art in a setting as dramatic as this one. He'll always remind me of these few days when we all switched off and lived in the moment.
---
Margaret Oliver Brown's Self-Portrait
I first saw this painting by little-known Glasgow-born artist, Margaret Oliver Brown, at the National Galleries of Scotland's Modern Scottish Women show in Edinburgh in 2015.
I must have looked at thousands of paintings over the last 15 years of writing about art, but some have stayed in my mind. This self-portrait is one.
There's something about the way in which Oliver Brown, elegantly attired in the fashion of the early 1940s, stares confidently into the eyes of the viewer. Her hair is curled into a fashionable wave and it echoes the curvy shapes of the background. She's clutching a paintbrush. This woman means business.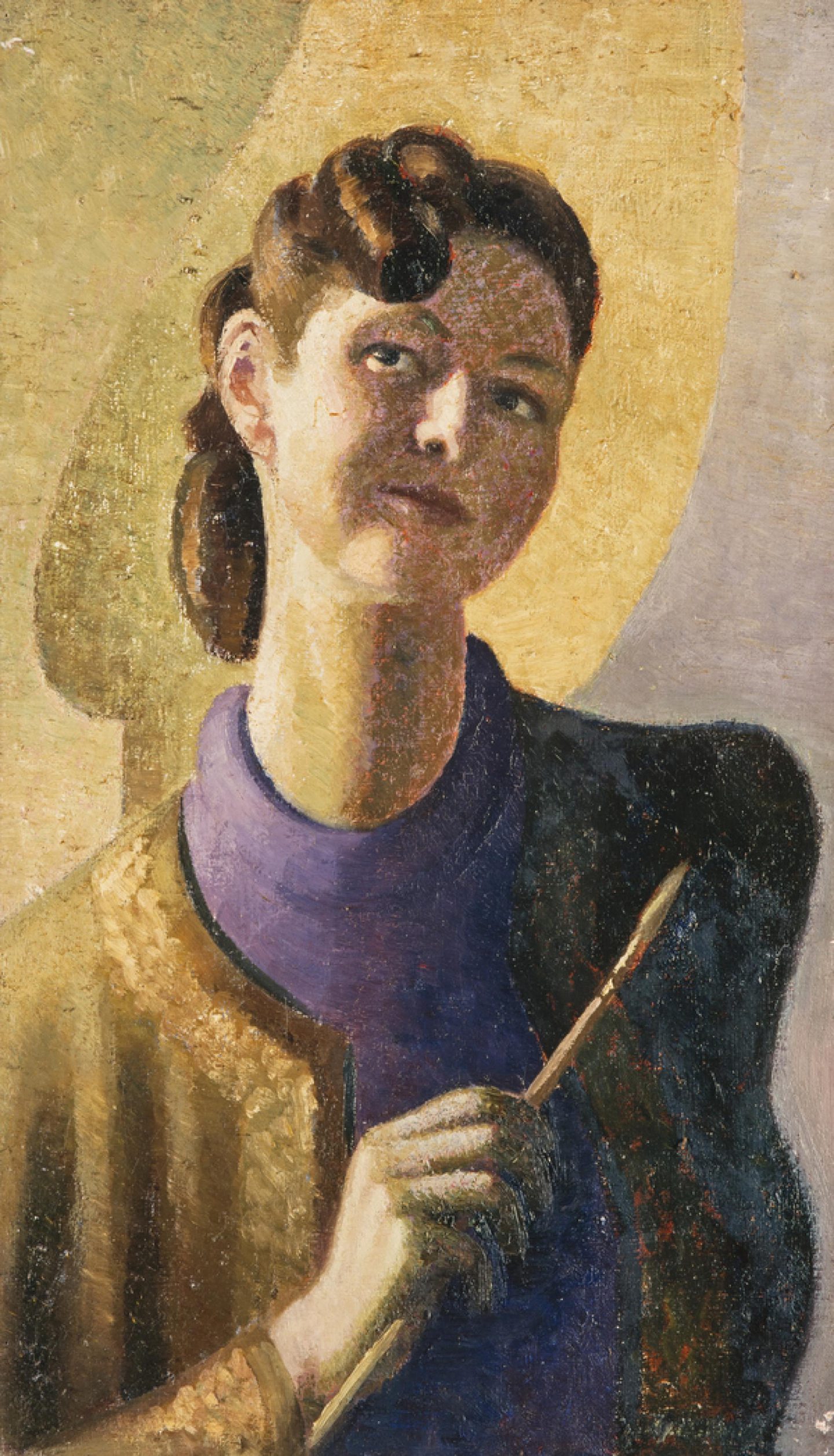 Her story talks this out. Oliver Brown was advertising manager at Arnotts famous department store in Glasgow before the war and took extra-curricular classes at the Glasgow School of Art between 1927 and 1941.
Like many women of her time, she gave up work when she married William Oliver Brown, a teacher and well-known Scottish Nationalist. Oliver Brown's painting career was cut short by 1949 due to crippling arthritis, but she continued to work as a freelance commercial illustrator.
The art-loving journalist in me is quietly thrilled she had her own column in the Glasgow Evening Times for many years with the excellent title, MOBservations.
I know without having met her that Oliver Brown, who was interested in all sorts; art, politics, spiritualism and education, was my kind of girl.
---
Robert Colquhoun's Women In Ireland
I grew up in the Ayrshire village of Kilmaurs and attended Kilmarnock Academy where the art rooms provided refuge from the storm of school life. I loved the clutter of art materials, the smell of paints and the infinite possibilities offered up by our art teachers.
My teacher in fourth year was Davy Brown, now a well-respected painter. Brown was young and cool – in his mid-20s – and talked to senior pupils like we were on the same level.
He had a passion for The Two Roberts; Colquhoun and MacBryde. They met at the Glasgow School of Art in the 1930s and were a couple until Colquhoun died in 1962, aged just 47. Their work broke all the rules of drawing as we are learning about it for our O-Grade exam.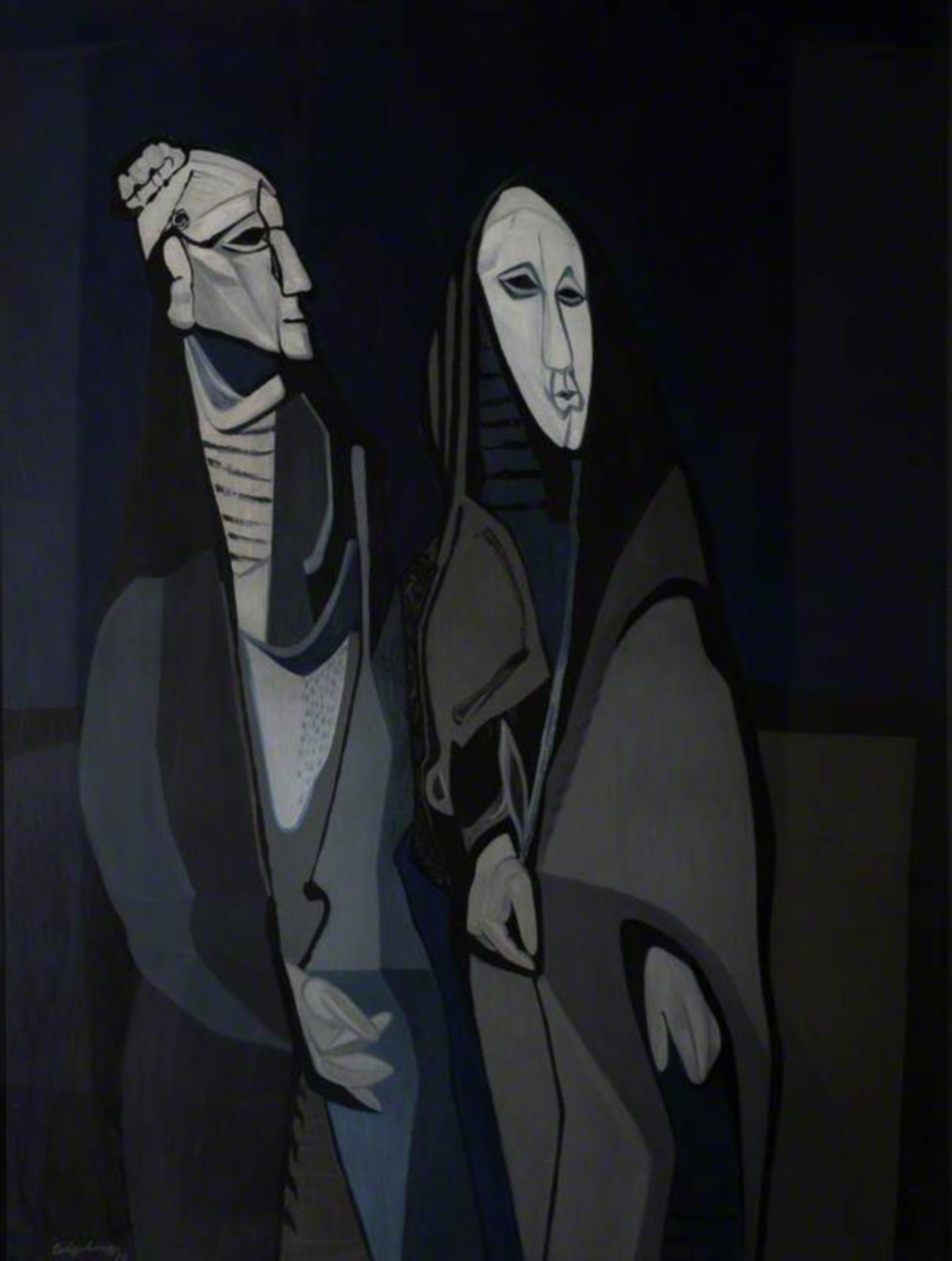 Thrillingly, Colquhoun had been a pupil at our school and had started his career in these very art rooms. Soon, I began looking at Colquhoun paintings and prints over the road at the Dick Institute, the town's library and art gallery.
The painting which stood out then was Women In Ireland; a dark sombre work featuring two women with elongated features and bodies.
Maybe it was teen angst, but that painting remained etched in my brain until I saw it again three decades later at an exhibition staged to mark the centenary of Colquhoun's birth in Kilmarnock. Suddenly I was 16 again.
---
David Harding's The Henge
Scotland's five new towns were built on a wave of
post-war optimism and all have public artworks in housing estates, shopping centres and public pathways.
Glenrothes in Fife is the new town for art. You'll find more than 140 art works there, ranging from figurative to abstract and from funny to thoughtful.
Why, you may well ask? Well, in 1968, Glenrothes Development Corporation took the bold step of appointing David Harding as the first ever town artist.
For the next decade, David worked with architects and planners in the town, moving his young family to a council house and letting his imagination run riot in concrete.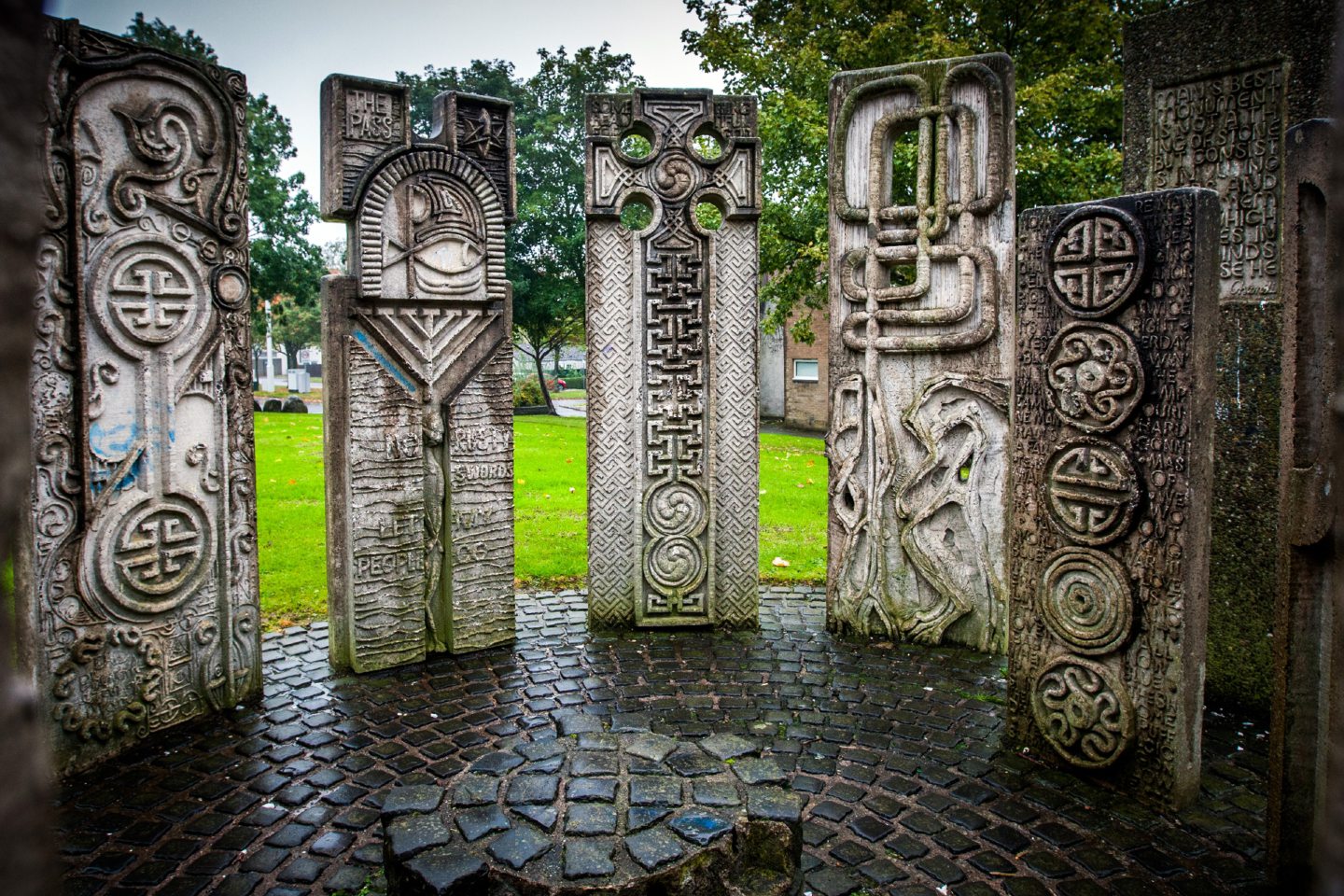 Earlier this year, I was involved behind the scenes in a forthcoming documentary for BBC Scotland called Meet You At The Hippos, presented by Guilt star Mark Bonnar.
In the film, Bonnar, whose artist dad Stan was Harding's assistant, and who went on to become East Kilbride's town artist, goes in search of Scotland's new town art.
For me, Harding's concrete circle, The Henge, on Beaufort Drive, Pitteuchar, was the biggest surprise.
Now listed by Historic Environment Scotland, The Henge is made up of 13 large concrete slabs etched with stories. It was a privilege to stand inside this circle and listen to Harding, now in his 80s, describe how he made it.
I call The Henge a "Harding Head-Tip". You'll find references to all David's 20th century heroes and heroines, including Pele, Che Guevara, Gandhi, The Beatles, Martin Luther King and Mother Teresa. Psychedelic? Maybe. Far-out? Yes!
---
Joan Eardley's Flood Tide
Like many art lovers, Joan Eardley presses all the right buttons for me. Her loose, expressive land and seascapes, embedded with sea spray, grasses and the odd insect, launched a thousand imitations following her death in 1963.
Eardley was born a hundred years ago in Sussex to a Scottish mother and an English father.
Eardley moved with her mother and to London before settling in Bearsden, Glasgow, at the start of the Second World War. She was a star pupil at the Glasgow School of Art and made a name for herself in the male-dominated art world of the time over the two decades.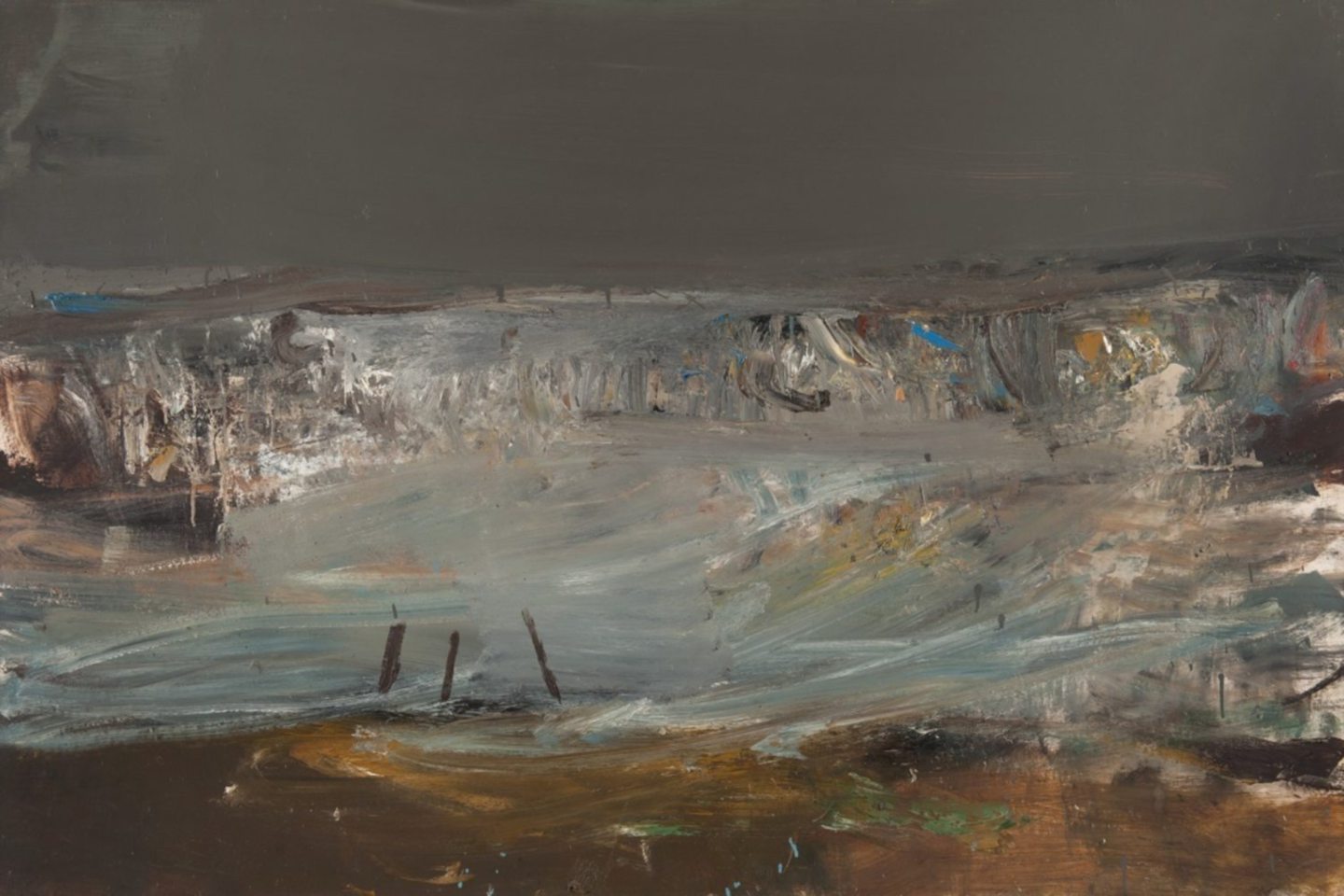 Moving between Glasgow, where she kept a studio in Townhead, and Catterline, a fishing village south of Stonehaven in Aberdeenshire, Eardley's work was original and boundary-pushing.
She was aware of movements outside Scotland, such as abstract expressionism over in New York, but she ploughed her own unique furrow with focus.
Eardley painted Flood Tide, a show-stopper of a painting in Catterline, the year before she died aged just 42.
It portrays a gun-metal grey sky brooding over a stormy sea crashing on to the Catterline shoreline.
Flood Tide is in the collection of my local art gallery, The Lillie, in Milngavie, and it never ceases to amaze. I've stood in front of it many times, thunderstruck by its power to move me.
For me, Eardley's free spirit and incredible ability to channel the power of nature in paint is the key to this wondrous painting.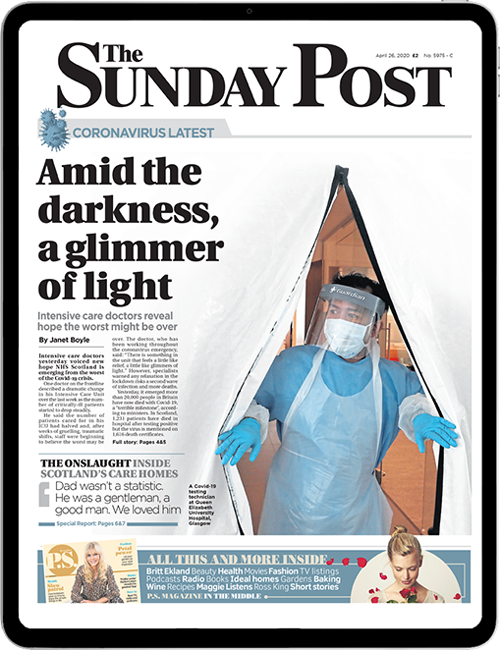 Enjoy the convenience of having The Sunday Post delivered as a digital ePaper straight to your smartphone, tablet or computer.
Subscribe for only £5.49 a month and enjoy all the benefits of the printed paper as a digital replica.
Subscribe