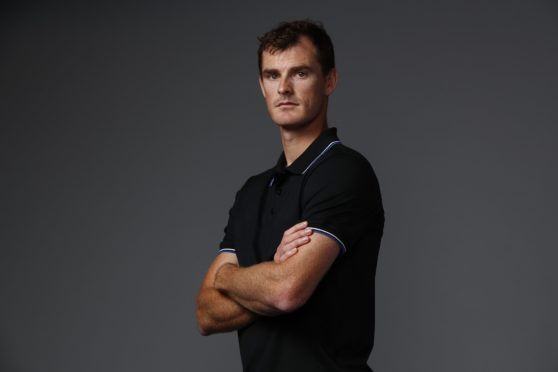 For an international sports star like Jamie Murray, travelling, checking in and checking out, the airports, hotels, packing and unpacking is like breathing.
When it stops, shudderingly, shockingly, as the world locks down, it could be a bit of a shock and, he freely admits, it was.
"It was definitely a different mindset, for sure," says the seven-time Grand Slam doubles winner. "Our mind is so consciously programmed into being on the move all the time. Even when I'm at tournaments, and I've been there a week and it's getting towards the end of the event, my mind is already starting to think about moving on to what's next.
"You're not always there in the present. When everything shut down, it was like, 'OK, so what do I do now?'
"That was difficult because I'm so used to having something to prepare for, whether it's in a day's, week's or month's time. To not have that, you feel like you've almost lost your purpose."
For much of his adult life, his calendar has revolved around four pivotal events, starting in Melbourne, Australia in January when the first major of the year is contested, moving on to France in late May, back home for Wimbledon in June, and then packing for the States for the US Open in August. Then it all starts again.
So, last year, when the world ground to a halt and the tennis star found himself suddenly unable to even the leave house to train, never mind travel, he did not find it easy.
Although his career has relied on a harmonious synchronicity with his on-court partner – something he's clearly mastered, given his wins at Wimbledon and the US and Australian Opens – when competition came to a hard stop it was Murray's wife, Alejandra, who helped him navigate a new normal.
"It took me a good few days to get my head together and start thinking, 'OK let's make a plan for today', and decide what I want to achieve, work my way through and plan for where I want to be in a week," says Murray. "My wife helped me a lot with that – she was a big support for me during that time – and being at home together was a huge positive for us.
"I spend so much of the year travelling, and Ali works a full-time job so she's not really on the road with me at all. There's large chunks of the year where we don't see each other, so suddenly to get five months in a row before the tour started back was awesome."
Family time
The enforced slowdown also meant Murray could spend more time with his brother, fellow tennis superstar Andy, his wife Kim, and their four children. Despite playing on the same tour since they were teenagers, Murray admits lockdown was a rare opportunity for the brothers to spend extended time together.
"We didn't really see each other in the first lockdown until the National Tennis Centre was allowed to open again," he says. "Then we started to see each other a lot more just because we were able to go in and begin training again.
"Once people were able to mix more and you could go to people's gardens and things like that, it was a bit easier to go around and see the kids and stuff. Obviously, we still see each other most days because we're training but we probably saw each other more in the last year in the end than we maybe would in normal times, which was nice."
Gearing up for his fourth Olympic Games, having previously competed in Beijing, London and Rio, Murray – who was initially not chosen to compete at Tokyo but now replaces Dan Evans after his positive Covid test – took to social media to give fans a glimpse of his last-minute preparations.
"Tokyo training starts now," he explained while working out on an exercise bike in a video posted to Instagram ahead of the Games, which start for tennis on July 24. "It's not exactly a four-year cycle, just doing some last-minute cramming before flying off on Sunday. I've got the temperature in the room, and it's coming in at 30 degrees. Pumping it on the bike. Here we go, Tokyo!"
Murray is partnered in the doubles for the Games with the current British doubles number two, Neal Skupski, who won this year's Wimbledon mixed doubles title alongside American Desirae Krawczyk.
The pair competed together on the ATP Tour last season, winning their first title together at the Sofia Open in November, and reaching the finals of the Western and Southern Open, the Vienna Open, and the ATP Masters 1000 tournament.
Brother Andy will also compete in Tokyo, defending his men's singles title after achieving gold at London 2012 and Rio 2016.
Off the court
When not on the court, Murray dedicates much of his time to charity, and is particularly passionate about enabling and encouraging more young people to play tennis.
It's part of the reason he created the Battle of the Brits tournament last year, which raised £100,000 for NHS charities, and why the event is coming to Scotland this December. After all, he agrees, watching tennis on television doesn't have the same potential to capture the imagination as following the drama in a stadium or arena.
"In Scotland, we don't have any live tennis and that is definitely one way of inspiring people to get interested in the sport, and to get kids to want to play," says Murray.
"Having the opportunity to come down to an event and experience tennis first-hand, with the support, the noise and everything else, that's what's going to help people stay interested. We want kids to go home and say, 'I want to be the next Andy Murray, where can I play tennis?'"
When asked whether his philanthropic nature was inherited from his mum, Judy, tennis coach and Sunday Post columnist, who now runs her own charitable foundation, the pride is clear on his face.
"From my mum's side, she's done an incredible job bringing tennis to rural, deprived areas, and getting more girls involved in the sport," he says after pausing to consider his answer, something he does often throughout the chat.
"She's created so many opportunities for so many people across the country. It is amazing what she's done – I don't think many people realise to what extent that she has delivered all this.
"I'm talking 30 years ago now, but when she was actively trying to develop her coaching skill-set and trying to further her career, I think she found it very, very difficult to do that being a woman. There was quite a lot of obstacles put up in front of her.
"So, the way I look at is, if I'm fortunate to have a daughter one day, I don't want to have to tell her that you can't do this because, you know, you're a girl. That's just nonsense for me."
Murray admits, as he gets older, the opportunities to lift trophies are getting less.
However, acting as tournament director for charity events such as Battle of the Brits has provided him a potential focus and future goals after his professional career.
He said: "It's definitely something that I enjoy doing. This will be the third event we've done and by far the biggest. We're selling tickets to lots of people so, that comes with its pressures, and just the whole scope of the event is so much bigger than the ones last year, which were basically played behind closed doors.
"If I do finish playing in a few years' time, it is something that I want to do full time, and I'll be a much better equipped to be able to do that."
---
Smashing it: Champion brothers look forward to joining forces as Scots take on English
Jamie Murray may have helped Great Britain win the Davis Cup for the first time in almost 80 years and represented his country at the Olympics but he admits being able to play for Scotland is the dream.
After three successful events in 2020, Murray's Battle of the Brits tournament is returning in December, at Aberdeen's P&J Live Arena.
The Scotland team will be headed up by Murray and brother Andy, as well as the current British singles No 2, Cameron Norrie, while the England side will feature Davis Cup team-mate Dan Evans, with more players to be announced.
Murray said: "It's a really unique event to be a part of because, as players, we spend our whole careers representing Britain.
"So, for all the players to be representing Scotland or England is really cool – and obviously the rivalry between Scotland and England goes on forever and across all sports."
With live tennis cancelled for much of last year, as tournament director it's Murray's hope they will be able to play in front of a full crowd, which he says is vital for continuing his brother's legacy in Scotland.
"Hopefully we will be able to host in front of full crowds," he continued. "That's the goal and that's what we're planning towards.
"It's been such a difficult time for everyone over the last year and a half, so it's something for people to look forward to.
"We don't have any regular live tennis events in Scotland, and I think if we want to build on the legacy and the interest that's been creating in the sport – especially from what Andy's doing in his career – we need live tennis. And, selfishly from our point of view, we want to play in front of Scottish people as well because, when we have, we've had such amazing experiences."
The Murray brothers last partnered for the Olympic doubles event in 2012 and will once again be on the same side during Battle of the Brits. But will sibling rivalry still come into play?
Murray said with a smile: "We obviously grew up a similar age and played each other loads in junior tournaments because we were always some of the best in our age group. But there's not really been any rivalry since we were, like, 16 or 17 years old."
---
Jamie Murray will be competing in Battle of the Brits – Scotland versus England in Aberdeen in December. More at battleofthebrits.co.uk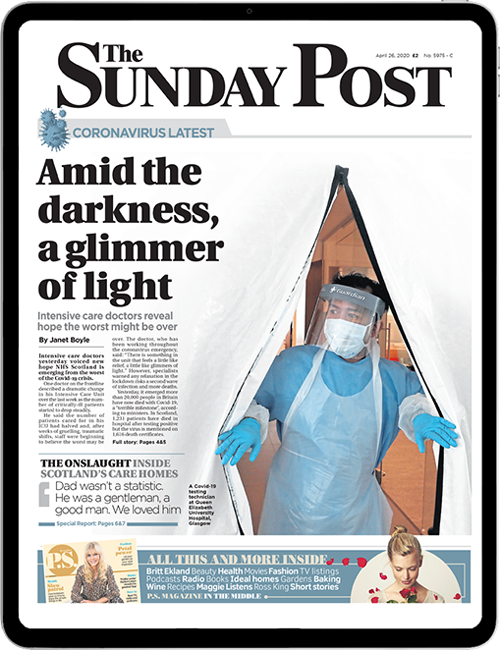 Enjoy the convenience of having The Sunday Post delivered as a digital ePaper straight to your smartphone, tablet or computer.
Subscribe for only £5.49 a month and enjoy all the benefits of the printed paper as a digital replica.
Subscribe