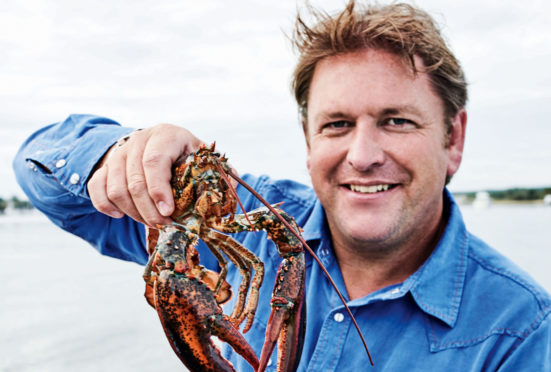 From chalk white monk fish caught off the coast of Shetland to succulent lamb reared on Highland hillsides, Scotland is home to some of the finest produce in the world.
But, while filming his latest television series, chef James Martin found there was one more Scottish ingredient which made the meals he prepared even more special – the stunning scenery.
Working as a follow-up to his popular 2018 ITV cookery series, James Martin's Great British Adventure, the former Saturday Kitchen presenter has once again gone out on the road in search of hidden gems, fresh produce and small-town chefs for his new show, Islands to Highlands, which will air early next month.
Each episode sees James, a top chef and his crew visit some of the most far-flung locations in the UK, including the Highlands, Skye, and Shetland, where he says the people and produce were second only to the backdrop of lochs, forests and beaches.
"Anybody who knows me, knows I've got Scotland dear in my heart – I love the place," explained the 47-year-old, who now fronts James Martin's Saturday Morning each week on ITV.
"When we had the idea to do Islands and Highlands it was just a natural progression that we would go to places I've never been before. We went to Orkney last time for Great British Adventure, but we didn't quite get as far as the Shetland Islands – and this time it was worth the trip. We travelled more than we ever have before actually, going further south, further north, further east and further west. And Scottish locations take up about a third of the show. I said to the crew when we started filming, 'The cooking bit is important, but it's the landscape behind me that's really important' – the vista, the background is more important than what's going on in front of me.
"That's why we spent a lot of time researching areas and finding great vistas, and obviously in Scotland, we were spoilt for choice."
He added: "You don't get a more special experience than sitting by a loch in Scotland, cooking beautiful salmon, fresh eggs, and really simple little crumpets.
"All recipes we filmed for the series were done in one take, on a barbecue, with just one pan. It was a challenge! Often we weren't allowed to take any gas burners or anything like that, so we just had to bring minimal kit.
"But we found you can cook amazing stuff even on a hillside – you don't need a fancy kitchen, and the show proves that, really."
James admits visiting Shetland for the first time was one of the most memorable experiences of the trip – which also saw him explore the Isles of Scilly, Devon, Jersey and Cornwall – and touching down on the island resulted in finding some of the most unusual, interesting and flavoursome foods.
He said: "Arriving on Shetland is like being born with new eyes. The colours and the light are like nothing I've ever seen or witnessed before. And every time we turned a corner or went over a hill, we would see another vista – it's like the island just unfolds into yet more stunning scenery."
Two of the local producers James met while on the archipelago's mainland were Penny and Allan from Transition Turriefield, who grow vegetables, such as salad, herbs, spring onions, chard, spinach and cauliflower, without chemical fertilisers, pesticides or herbicides, and family-run Thule Ventus, who create award-winning, air-dried salt cod.
He said: "Thule Ventus, producing Shetland air-dried salt cod in the village of Cunningsburgh, has to be one of the smallest places we went to see on the trip, but what it lacked in size it made up for in flavour. The sustainably caught fish is cured, dried and packed over a two-month period in a small shed with a stunning view of the island and coast.
"I didn't know that you could find salt cold in Shetland. I've never seen anything like it before – I've even got it on my restaurant menu now."
He added: "The final dish we made on the trip was actually a paella on Shetland, and it really summed up the amazing produce they have in this part of the world."
Meeting industrial chefs, cooks and business owners in some of the smallest communities, the series, and accompanying cookbook of 80 recipes, champions and highlights the unsung heroes who create our fresh produce, people who James believes have put Scotland and the wider UK on the world food map. And the message he wants viewers to take away is to shop local and keep our vibrant ingredients available at home.
He explained: "I've always been a fan of produce from this country, and there has been a big movement towards using local produce in recent years. But there's got to be a movement to create great produce, too – we have great produce, but we don't respect it as much as we should do.
"We end up exporting so much. For instance, in Lough Neagh in Northern Ireland, nearly 100% of all the eels they catch are sent abroad, and if we want them back in the UK, chefs have to buy them from the Europeans, which just seems crazy. The same goes for lobster, langoustines, the list goes on and on and on.
"If we are more aware of how good the food is on our doorstep, and hopefully aware about the people producing it, we'll learn to respect it a little bit more. That's really what I'm trying to do – put that link together.
"There is amazing food in this country. Yes, it is a little bit more tricky to find, but with the internet and online shops, it's becoming easier."
---
Mrs Mack's Farm Shop was a gem of a discovery
Although most of their trip for Islands to Highlands was planned and prepared in advance, James admits he likes to have the opportunity to change direction when he finds something truly special – just like he did on the Isle of Skye.
While on a break during filming, the chef came across Mrs Mack's Farm Shop in the small village of Torrin, where an old shipping container houses fresh cakes, ice cream and coffee. He said: "We were in between shoots and I was desperate for a drink when I saw a little road sign saying 'Turn right for Mrs Mack's Farm Shop'.
"I went down this little track in my Mini, and when I got there I radioed ahead to the crew and said, 'You need to come down here'.
"Within 10 minutes we were filming on the farm, where they also produce beef.
"When we're filming we have a certain plan and an A to B, but we stay very much flexible so we can change bits and pieces – it's not set in stone and we can do what we want really, which is the key."
He added: "All the cakes are made by her mum, and she probably does about 10 covers a day.
"She won't even know what hit her when the show comes out!"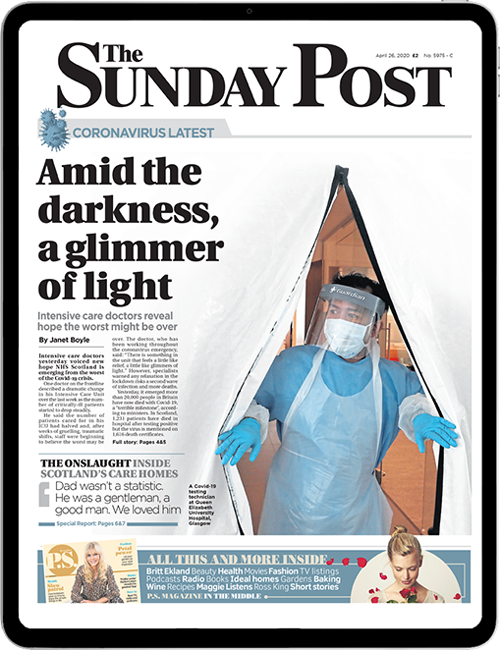 Enjoy the convenience of having The Sunday Post delivered as a digital ePaper straight to your smartphone, tablet or computer.
Subscribe for only £5.49 a month and enjoy all the benefits of the printed paper as a digital replica.
Subscribe