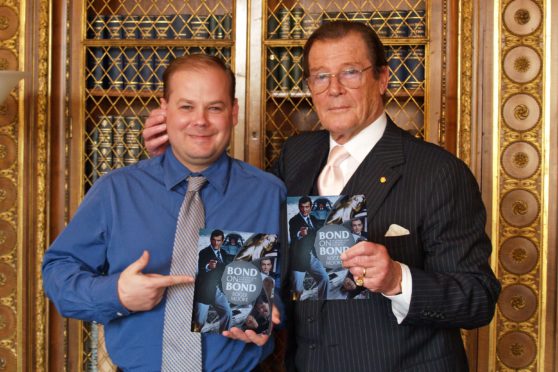 As a keen moviegoer growing up in Wrexham, North Wales in the 1980s, it never occurred to Gareth Owen that one day he'd be right-hand man to an international film star.
But in 2001, aged 28, he became the personal assistant to Roger Moore, the star of seven James Bond movies.
Now he has written a memoir, Raising An Eyebrow, on his 16 years at Roger Moore's side, up until the star's death from cancer aged 89 in 2017.
"I didn't work for Roger Moore, I worked with him," insists Gareth, who now devotes his time to writing and developing film projects. "He never threw his weight around when we were together and we never had a cross word in 16 years. He was an absolute gentleman."
The one thing Roger Moore hated was rudeness and there were times, says Gareth, when the star would make his feelings known to someone who was less than courteous.
On one occasion, when he was due to appear on a BBC chat show, he was prevented from entering the car park without showing some ID. Sir Roger told his driver to turn the car round and return to his hotel.
"He never expected anyone to roll out the red carpet but he simply couldn't tolerate bad manners," says Gareth.
A huge fan of the James Bond films since childhood, Gareth first visited Pinewood Studios, where the franchise is based, in 1989, when he was 16, to attend a convention of James Bond fans.
Five years later he established an office there, organising British Film Day and writing an unauthorised biography of Roger Moore.
When Sir Roger's long-serving PA, Doris Spriggs, retired in 2001, Gareth offered his services as a replacement. With top organisational skills and a working knowledge of the film industry, Gareth was ideally placed to run Roger Moore's professional life.
He saw to flights and hotel bookings, book signings (as well as co-writing most books credited to Sir Roger), dealt with correspondence, accompanied him innumerable times, and later acted as on-stage interviewer when Sir Roger made personal appearances.
"Roger lived in Switzerland for half the year, where he could just be himself, but when he came to the UK he was Roger Moore the movie star. His wife Kristina would always insist he wore a smart shirt and tie, with the trademark blazer, because they never knew when they'd be photographed. Being instantly recognisable, there was an awareness of the image when he was back home."
The star would say to Gareth that the only way he could walk around London was not to make eye contact. "By the time people recognised him it was too late, he'd moved on. People always looked up if you walked into a restaurant with him, and he was very good natured about signing autographs and dispensing charm."
Later in life, after he'd more or less given up acting, Gareth organised personal appearances for the actor – An Evening With Sir Roger Moore – around the country when Gareth would interview him about his career and invite questions from the audience.
"He would always be terrified of walking out on stage," says Gareth. "He used to stand in the wings, taking very deep breaths, and he'd say to me, 'If the adrenalin doesn't kick in, please get me off stage quick as you can.' My job was to prompt him and nudge him and make sure he didn't go too far off track. It was an opportunity for him to show off his mimicry skills. He did terrific impressions of Noel Coward, Tony Curtis and Richard Burton."
One of the star's few regrets was that he never got to appear with Morecambe and Wise. He loved funnymen and jumped at the chance to appear in The Play What I Wrote, the theatrical celebration of the UK's favourite double act, even though he had heart problems during the show.
"He was always fun to be around," says Gareth. "He never took himself too seriously and enjoyed winding people up."
There was a running joke about the veteran actor Desmond Llewellyn, who played the gadgets expert Q in the earlier Bond films, being hopeless with technology in real life. "He had problems with all the jargon associated with technology, and Roger once got the director to hand Desmond a revised script on the day of filming, containing lots of complicated tech stuff which threw the poor man completely."
As well as his schoolboy humour, Sir Roger preferred simple culinary pleasures such as beans on toast, eggs and bacon and cottage pie to fancy restaurant food.
Gareth was on hand to help the star through his final months. "He started treatment for cancer only weeks after his last stage appearance. He was terribly brave and positive through it all. He never once asked 'Why me?'. I think he was just grateful for the life he'd had."
Did Gareth ever try to persuade him to stop working when his health began to fail?
"No, work kept Roger going. He loved earning money and I think it gave him a buzz to tell people he was still working. He loved to be busy and he loved to entertain people."
Was it cathartic for Gareth writing about his relationship with the star? "Yes it was. I did it for myself really. Writing the book enabled me to deal with all the stuff I'd bottled up in those last months of Roger's life. It gave me closure and made it possible for me to move on with my life."
---
Raising An Eyebrow: My Life With Sir Roger Moore is published by The History Press.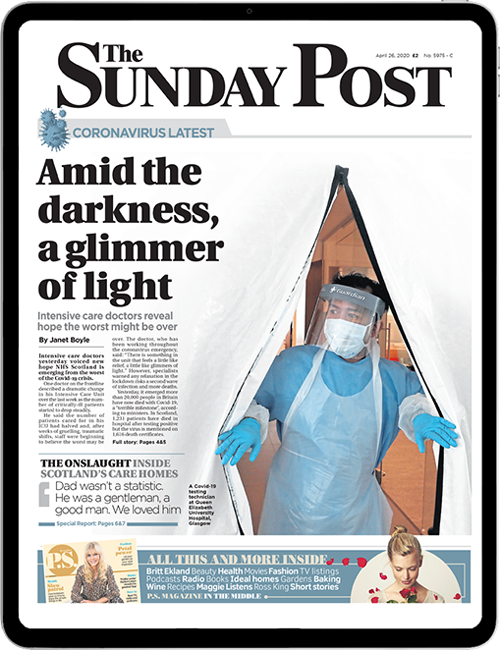 Enjoy the convenience of having The Sunday Post delivered as a digital ePaper straight to your smartphone, tablet or computer.
Subscribe for only £5.49 a month and enjoy all the benefits of the printed paper as a digital replica.
Subscribe