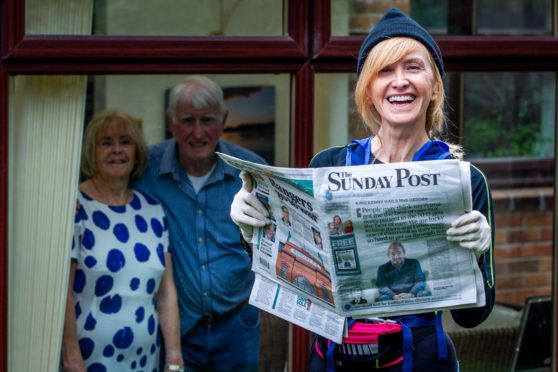 My parents are both in their eighties and, like so many older people, they are understandably anxious in these troubling times.
They're now self-isolating with Piers Morgan, which begs the question – have they not suffered enough?
The only ray of sunlight piercing their bleak existence is my arrival each morning. Actually, that's only half true; I'm sure they are pleased to see me and hear my news bellowed through their window, but like an out-of-season Santa it's what I have in my sack that is the real delight.
I've taken on a new job these days and am now a papergirl, albeit a rather more mature one than the job title suggests, but who's quibbling in a pandemic? My morning run doubles as my paper round with a few local drops and then I hoof it past my folks' house, a couple of miles away.
They've always been avid newspaper readers, especially my father who devours current affairs and would debate world events all day with anyone in the vicinity. Nowadays my mother's role is to be Fiona Bruce, the panel and the audience, which could explain why she's bent her knitting needles out of shape, is mainlining Chardonnay and wearing earplugs.
I know we're all supposed to get our news on our phones and tablets but as a former print journalist I enjoy my news best when it's laid out in front of me. And for my parents and their generation, especially during such a period of upheaval which has devastated their usual routines, there's a comfort in maintaining what was a ritual of their day. That's why I've made a point of ensuring they get their delivery, and yes, I'm wearing gloves and taking great care.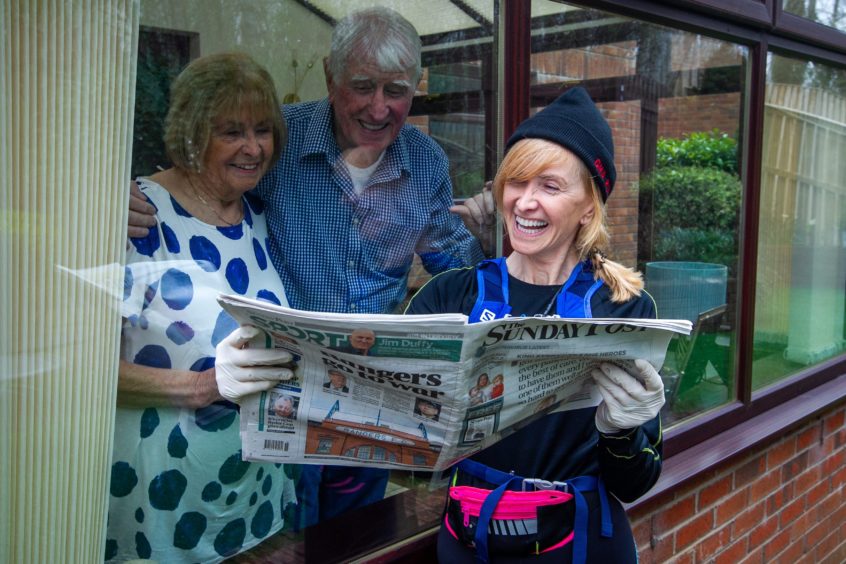 Now, more than ever, the pages of a newspaper should inform – there's no escaping the depressing headlines – but also share the experiences of like-minded readers and the wonderful examples of kindness that are so prevalent. Our favourite newspaper should also be a comfort that inspires and delights and even takes us away from it all for a wee while.
With so much human contact lost, the ability to settle down and have a cup of tea with an old friend (who doesn't need to be socially distant) is a treat. Not to mention the absence of fake news and irritating pop-ups.
In my small way I hope I'm playing a part in The Sunday Post's admirable campaign to support Age Scotland in its bid to help the elderly who are in lockdown. The simple act of phoning someone who is lonely and troubled can work wonders; whether it's imparting information or advice or just being a friendly voice to help them pass the time of day. One of the worst elements of this virus is that it robs us of the human instinct to put our arms around someone in need. This is the next best thing.
Not everyone has family who can call on them, and not everyone can manage the technology that's enabling so many people to keep in touch. Although we hear about the joys of Zoom and Houseparty, there's more chance of my dad hacking into the Pentagon mainframe than downloading an app. Never mind the technological knowhow of Bill Gates, my dad is about as tech-savvy as Bill Shankly, and he's been deid for decades.
All we've managed to do so far is get my mum to get her head around FaceTime so that we can have a family bingo session on a Friday night. We did spend an inordinate amount of time staring at their living-room carpet before we talked them through flipping the phone camera!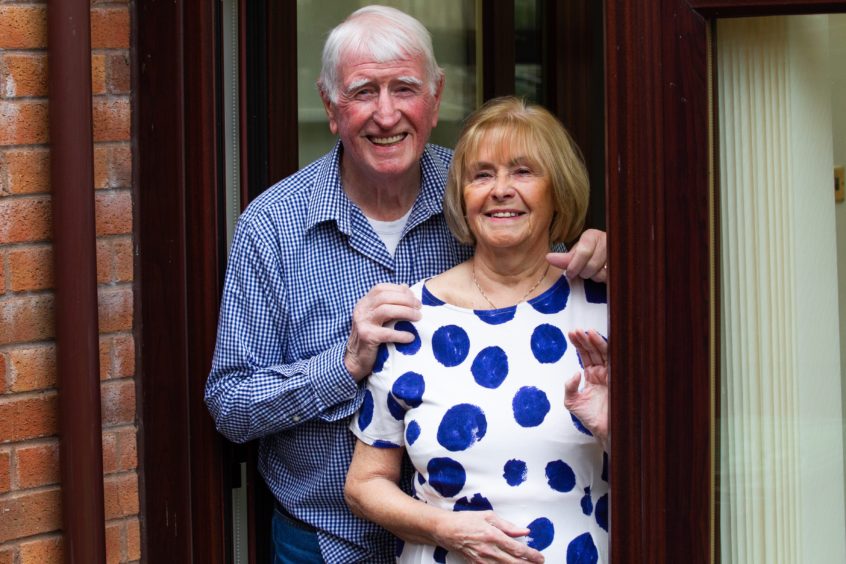 Prizes include chocolate, toilet rolls and gin miniatures, and it can get pretty competitive. I've taken on the role of bingo caller. All those years reading the news have finally come in handy and when this is all over look out for me at your local Mecca.
My daughter, who lives in Cornwall, has taken to home-schooling her grandparents and twice a week she FaceTimes to make them do a crossword with her.
However, this isn't proving half as much fun as the bingo, gin and chocolates and there have been occasions when her pupils "haven't heard the phone ring". It's odd how age-related deafness can be so sporadic.
Other than that for my parents it's the TV and each other and the hope of better days ahead.
Like so many of us who are comparatively young and fit and have so far avoided Covid-19 the biggest problem is the feeling of being entirely useless. Oh, how I wish I could drive an ambulance or take blood pressure.
At a time of so much sadness for so many families we may get bored – but we remain the lucky ones. And anyway, I've always got my paper round.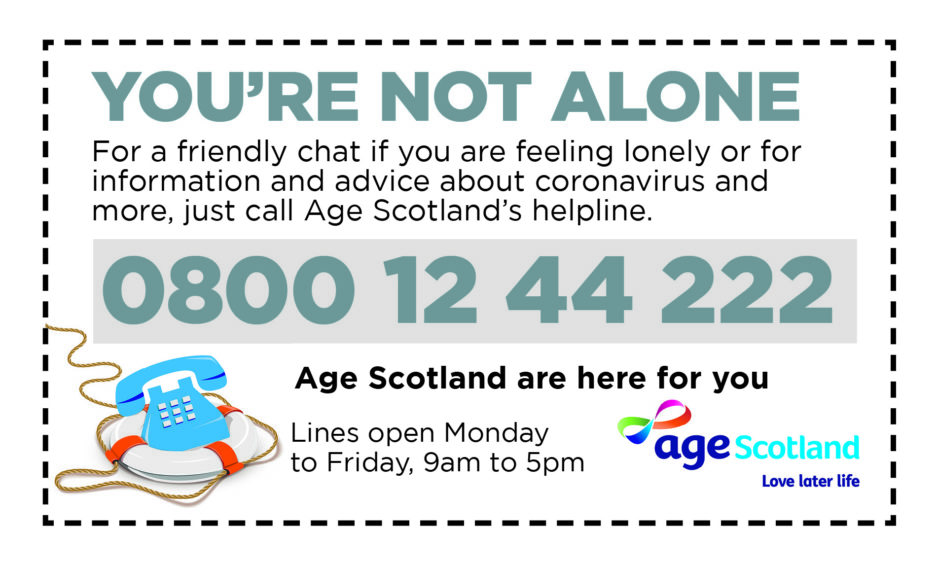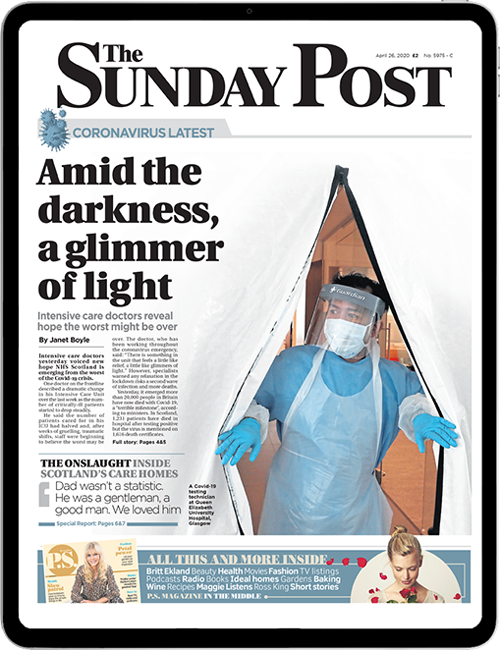 Enjoy the convenience of having The Sunday Post delivered as a digital ePaper straight to your smartphone, tablet or computer.
Subscribe for only £5.49 a month and enjoy all the benefits of the printed paper as a digital replica.
Subscribe