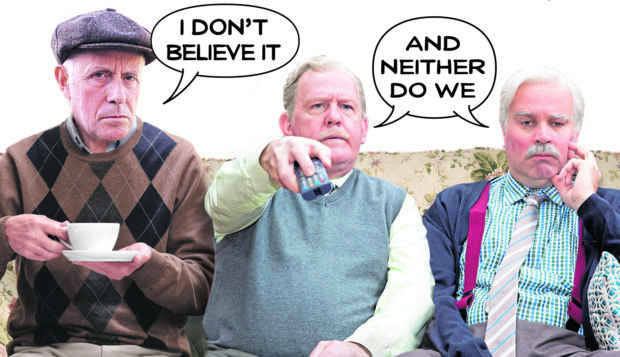 Scotland's most famous pensioners have joined the fight to save free TV licences for the over-75s, we can reveal.
Richard Wilson, who played famously grumpy Victor Meldrew in One Foot in the Grave, criticised BBC plans to strip more than a million pensioners of free licences.
And Ford Kiernan and Greg Hemphill, stars of Still Game, also questioned the decision and echoed calls for new Prime Minister Boris Johnson to intervene.
From June 2020, residents aged over 75 will no longer be entitled to a free TV licence. They will have to pay more than £150 a year to watch TV legally.
Still Game stars Ford Kiernan and Greg Hemphill say it's terrible pensioners have to pinch pennies
Richard Wilson, 83, said: "This decision by the BBC is an extraordinary thing to do. It is terrible.
"It is typical of this government, which takes away so much from people.
"I am lucky that I can afford to pay for a licence but there are many elderly people who can't.
"Many of them live alone and the television is all they have to keep them company and to inform and entertain them.
"It would be a good start for Boris Johnson if he promised to look after older people in his first week at Number 10."
Ford Kiernan, who plays Craiglang widower Jack Jarvis in BBC comedy Still Game, echoed the concern, adding: "I'm all for pensioners getting as much as they can for free, because 99.9% have grafted and paid taxes their whole lives."
The BBC claims the move will help the poorest pensioners, with those who receive pension credit and live alone still eligible for the free licence, potentially affecting 1.5 million people.
More than a quarter of a million Scots pensioners would be hit by the decision – at an overall cost of £41.4 million. The SNP has said the UK Government must "send a cheque" to Scottish pensioners to make up the difference.
The BBC has insisted the move is necessary to meet budget shortfalls. But it has faced criticism as it continues to pay seven-figure salaries to many of its stars, while yesterday it emerged presenter Stacey Dooley has signed a £250,000 golden handcuffs deal. The corporation also faced ­questions after it emerged audiences for more than 20 programmes on its new £32m Scottish TV channel were not big enough to measure.
The BBC has said keeping free licences for all over-75s would cost £745m, a fifth of its annual budget, by 2021-22 – and has repeatedly pointed out that over-75s today are wealthier than previous generations.
The corporation's director general has claimed the Conservative government went "nuclear" by telling the corporation to take responsibility for free TV licences for over-75s. The BBC took on the policy "really unwillingly" but had "no choice", Tony Hall recently told MPs on the House of Commons Culture Select Committee.
Research by Age Scotland found that, across Scotland, almost nine in 10 people in all age groups agreed the government should keep its manifesto promise to fund the entitlement.
More than 600,000 people have already signed a petition by Age Scotland's sister charity, Age UK, ­calling for free TV licences for over-75s to be restored.
Age UK said that many pensioners, including those who find it difficult to dress, bathe and get out of bed, will struggle with the procedure of paying or even confirming they are entitled to a free TV licence. Brian Sloan, Age Scotland's chief executive, said: "We have heard a huge outpouring of concern from across Scotland. Old people are rightly angry about this change, and people of all generations believe it is deeply unfair.
"There's no doubt the government's ill-judged decision will hit the poorest pensioners hardest, especially those who live alone or have a disability.
"Half of over-75s tell us that their television or a pet is their main form of company. Now tens of thousands on low incomes will either have to give it up, refuse to pay, or face another bill they can't afford.
"Means-testing simply doesn't work – four out of 10 older people eligible for pension credit don't claim it in Scotland, while many more who are just on the brink will miss out.
"The Conservatives made a clear promise to continue to fund this entitlement for everyone aged over 75."
He added: "We are calling on Boris Johnson to do the decent thing and restore the free TV licence for every older person."
It has been reported that there are 356,000 "over-75" TV licences in force in Scotland, and just less than 88,000 people aged over 75 on ­pension credit.
It means some 268,000 households could lose out on £154.50 a year if the UK Government fails to take responsibility." Peter Kelly, director of the Poverty Alliance, said: "Too many older ­people are still locked in poverty in the UK.
"For many, social isolation and loneliness add to the challenges of living on a low income, and so having access to TV is important in providing access to leisure that many ­people take for granted.
"The decision to remove the free TV licence from over-75-year-olds will put pressure on those on fixed incomes who are not eligible or don't claim pension credit.
"The UK Government needs to step in to ensure that older people are exempt from the TV licence."
Sarah Van Putten, chief executive of Edinburgh-based community support organisation Befriending Networks, believes the withdrawal of the free TV licences for the elderly is a bad idea.
She said: "Whilst television should never be someone's only form of comfort or contact with the outside world, for some people that is unfortunately the reality.
"We know from some of our ­members that with the exception of their weekly visit from their befriender their only other company is the television.
"This allows them to feel as though they are still connected and often gives topics to chat about over a cuppa."
Since 2000 the Department for Work and Pensions has covered the cost of the TV licence, currently £154.50, for homes with a person over-75 living there. These licences cost more than £½bn. And now the BBC is taking more responsibility for funding them. Last year, there were 4.5 million licences issued for over-75s, up 14% since 2004.
---
Dame Helen leads stars in licence fee battle
The Scots stars have joined a growing clamour to retain free TV licences for the over-75s.
Dame Helen Mirren, Ricky Tomlinson, Christopher Biggins and Sir Michael Palin are among those who have said the BBC should reconsider the charges.
Dame Helen and other celebrities, including ex-Strictly Come Dancing head judge Len Goodman, actress Amanda Redman, comedian Sir Lenny Henry and entertainer Lionel Blair have signed an open letter which calls on the Prime Minister to save the concession.
The letter is also signed by actors Miriam Margolyes and Sylvia Syms, as well as adventurer Ben Fogle and former newsreader Angela Rippon.
Dame Helen said: "It's heartbreaking so many older people are going to lose their free licence, when television plays such an important role in their lives.
"In many cases it acts as an important contact with the outside world. I would urge all those involved, including the government, to do the right thing and to carry on funding free licences for all over-75s."
Former Forces Sweetheart Dame Vera Lynn, 102, also criticised the move last week.
The singer said she was "appalled" and "very upset" with the government and the BBC.
She added: "I know there are many elderly people in our area on limited resources who would really struggle to pay for a TV licence."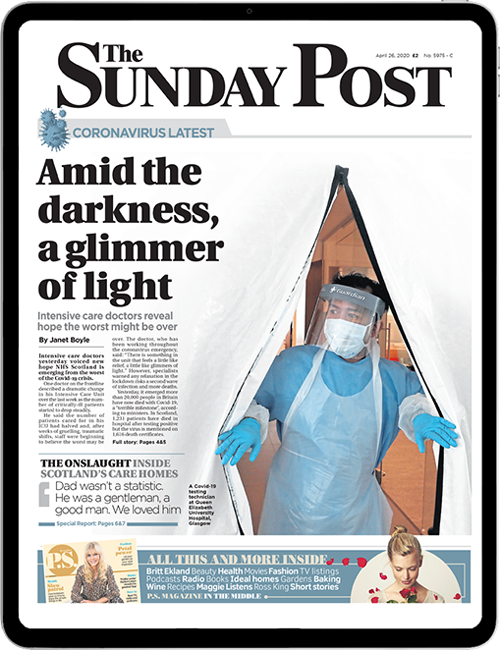 Enjoy the convenience of having The Sunday Post delivered as a digital ePaper straight to your smartphone, tablet or computer.
Subscribe for only £5.49 a month and enjoy all the benefits of the printed paper as a digital replica.
Subscribe