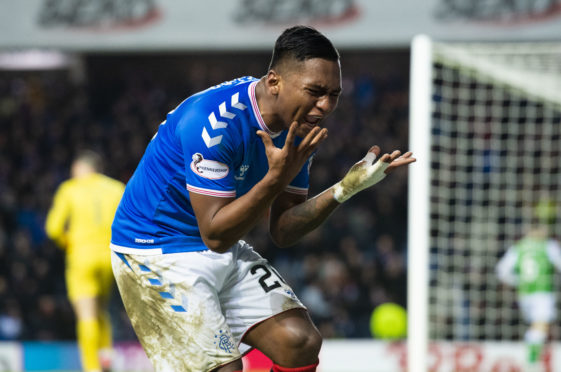 Alfredo Morelos has been in the headlines over the past week for a variety of reasons.
Some of it has not been of his own making.
One way or another, plenty of it has still to be unravelled and that's why I'd prefer to keep my nose out of it and concentrate on what he's been doing on the park.
In the past seven months, he has made an outstanding contribution to Rangers.
He has scored some brilliant, and vitally important, goals.
Sure, he has missed a few sitters, and he got a wee bit of verbal abuse for missing a chance against Aberdeen last weekend.
But show me a striker in the land that hasn't missed a glaring opportunity at some stage of his career.
Plenty have in the past, and plenty more will do so in the future. It's part and parcel of being a No.9.
Yet again, however, it comes down to people preferring to highlight negatives and be critical, rather than concentrate on the good things he's done.
What about the ones he has put away in this campaign? And I'm certain Morelos will score a few more crackers between now and the end of May.
Whether that will be enough to win the league title for Rangers remains to be seen.
But it would be totally unfair to put everything on Alfredo's shoulders.
He needs help, and both the Colombian and Rangers could have done without Jermain Defoe being sidelined by injury right now.
For sure, Morelos' goal at Hamilton yesterday, and the result, won't have done the player or the team any harm.
At the other end of the field, Rangers need to stop losing sloppy goals and get back to being solid in defence.
They lost poor goals against Hearts at Tynecastle and then another against Hibs at Ibrox in midweek. It took a late winner to rescue the three points.
The bounce and confidence they had going into the winter break has diminished, and they need to find that spark again very quickly.
There is no doubt that Rangers cannot drop any more points before they face Celtic at home on March 15.
And when that day comes along, they will need to beat Neil Lennon's team. It's as simple as that.
There is no margin for error for Steven Gerrard's men.
Rangers are just one dodgy result away from the destination of the title being out of their own hands
Another slip and they will be left looking for favours from elsewhere.
All of which will be easier said than done.
For a start, Celtic are flying, and have come back from the winter break with renewed determination.
Losing at home to Rangers on December 29 hasn't had a negative impact.
Indeed, they dealt with that setback quickly, and moved on and into a nice rhythm.
For Rangers, the past few weeks have not been as good, and I reckon the winter break came at the wrong time for Steven and his players.
After a very satisfying December, a two-week holiday was the last thing they needed.
They have lost momentum and there must be a touch of concern around Ibrox.
It shows just how quickly things can turn around.
I have to say I wasn't expecting it. I thought Rangers would kick on and continue their good run of form.
We can only speculate on the reasons why.
Only Steven, his staff and his squad will have a real idea of the problem, if indeed there is any.
On certain occasions, you can try too hard to find what has gone wrong, and you look into situations too deeply.
Sometimes you just have to accept that a dip in form, and one or two unexpected results, are going to happen.
In contrast, Neil Lennon has no such worries.
His players have been motoring along nicely and some of their performances have been super.
They have blown away St Johnstone and Motherwell on the road in the past 10 days, scoring seven goals without reply.
They had another tricky away fixture sandwiched in between, away to Hamilton Accies last Sunday, and again they managed to come away with the three points with what was ultimately a comfortable scoreline.
So they have scored 11 goals and conceded just one in their last three league games away from Celtic Park.
That suggests they are going to take some stopping.
They have upped a gear when they really needed to, and have displayed a great mental strength and first-class character to bounce back in such an emphatic way after losing to Rangers six weeks ago.
Today they travel to play Clyde in the Scottish Cup.
The Bully Wee knocked them out of the same competition back in 2006, when Neil was a player and Gordon Strachan was the manager.
But I can't see history repeating itself in this one.