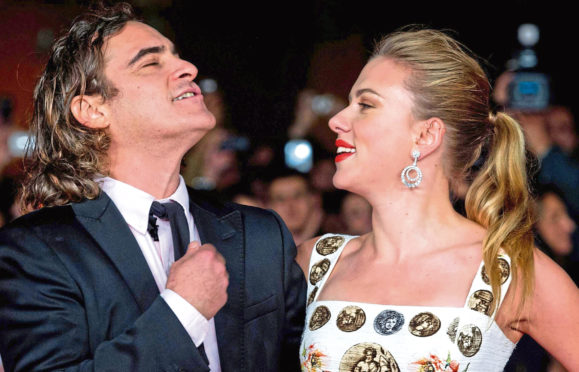 Finally it's over! After endless days of meet and gloats (or should that be shake and fakes?), the Oscar nominees will be all set for the ceremony taking place this evening.
Over the past week the likes of Joaquin Phoenix and Scarlett Johansson have done the rounds to garner as many votes as possible from The Academy.
A difficult few weeks for them – and now they have to sit in their seats for the three hours solid tonight!
Of course if you're an A-lister your bum doesn't have to be numb for too long. You've probably heard of seat-fillers – the "extras" dressed like stars who slide into the seat of a famous actor when they pop off to the loo.
And you've obviously heard of face fillers – which certain actors have injected before the ceremony!
But did you know there are also red carpet fillers? Would you believe, it's not always full with stars arriving. Often extras are employed to walk the red carpet then, just before heading into the theatre, duck off to the side and then back to the beginning to do it all over again!
On the night itself you'd be surprised at how the temperature in the room drops and drops.
It's nothing to do with the air conditioning but more that the room goes from being full of potential winners to a room full of losers!
First stop for Oscar attendees after the event is the Governors Ball and my old pal Wolfgang Puck is once again creating his wonderful array of food as he's been doing for 26 years.
It's predominantly plant-based this year but there's still meat and fish for those who want it. "I think it's a very good thing that people are more aware of nutrition," said the celebrity chef.
After that, the choice is Elton John's party which benefits his Aids foundation. To date it has raised more than £300 million and normally features the piano legend performing.
This year sees Sam Fender perform, too. Elton may be party-hopping, especially if his track (I'm Gonna) Love Me Again from the biopic Rocketman wins for Best Song, and I normally catch up with him at the Vanity Fair party.
I love the fact a street in Beverly Hills is actually transformed into a venue for the most glitzy party. I love sneaking in after my stint on the carpet live for Good Morning Britain…it's amazing how talkative stars can become after a couple of lemonades!
People always ask me my favourite part of the night.
I love the complete unpredictability of our live TV show. You never know who will show up and chat, plus there can be the biggest human celebrity traffic jam and it's fascinating to see who gets rushed to the front of the queue!
My second favourite part? When it's all over we head to the crews hotel room and have…lobster pizza.
I'm thinking of insisting on it in future years. I'll need to check the claws in my contract…