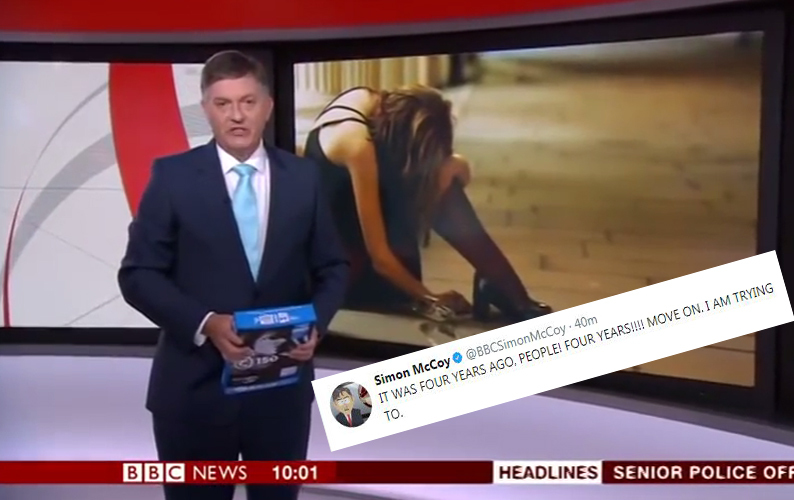 BBC newsreader Simon McCoy will never be allowed to live down the day he went on air holding a pack of paper instead of a tablet.
The bizarre scene bemused viewers and also spread across the whole world via social media.
Yesterday, BBC Three shared a video of the gaffe on its fourth anniversary, just to remind poor Simon again.
Four years since @BBCSimonMcCoy used a pack of A4 paper instead of an iPad. pic.twitter.com/XI0cyuqU1L

— BBC Three (@bbcthree) September 19, 2017
It definitely seems he'd rather forget it, with the broadcaster taking to Twitter today to appeal for people to move on…
IT WAS FOUR YEARS AGO, PEOPLE! FOUR YEARS!!!! MOVE ON. I AM TRYING TO.

— Simon McCoy (@BBCSimonMcCoy) September 20, 2017
The responses were as you'd expect.
Brian Hible tweeted: "Are you getting a ream of abuse…?"
ITV's Alastair Stewart wrote: "What? That time you held a ream of printing paper rather than an iPad.. or are you talking about something else?"
Sky's Chris Creegan said: "Tell them to turn the page."
And one follower kindly tweeted: "If you were a nobody, it would have been forgotten. You must be a somebody."
A BBC spokesperson at the time of the incident said: "This morning as Simon McCoy was preparing to introduce this story, instead of picking up his tablet to hold as he went to air, he mistakenly picked up a ream of paper that was sitting next to it.
"In the rush of live news, he didn't have an opportunity to swap the items, so simply went with it."
Simon has a wonderful highlight reel of bloopers, including once appearing to fall asleep at the desk and another time having to dash across the studio to get into the correct camera position.
He was also once on the receiving end of a rude hand gesture from weatherman Tomasz Schafernaker – which was unfortunately seen on live TV.
Another memorable moment came as Simon was posted outside the hospital where the Duchess of Cambridge was due to give birth to her first child.
He gave a refreshingly honest take on the endless coverage in a piece to camera, saying: "Never have so many people gathered together in one place with absolutely nothing to say."
He also added: "Plenty more to come from here of course, none of it news."
News bloopers
It's not only Simon who's seen things go less than smoothly on the news.
Here are some of the top bloopers from the BBC…
Jonathan Charles forgets to pause
Reporting Scotland shows footage of Hitler instead of weather presenter
Brian Taylor has some trouble with his election night graphics
Video of Brian Taylor taking the huff there #SP16 pic.twitter.com/SBiwClLUSP

— Craig Smith (@CraigRWS) May 5, 2016
 Sally Magnusson has a bad day
Some people will do anything to get on TV
https://www.youtube.com/watch?v=ubVVhRyhMWM
An 'expert' answers questions live on air
Footage of a gorilla is broadcast instead of Nicola Sturgeon
VIDEO: BBC accidentally show footage of escaped gorilla during Nicola Sturgeon report
The news from an empty chair
And all sorts of mayhem in the weather bulletins…
---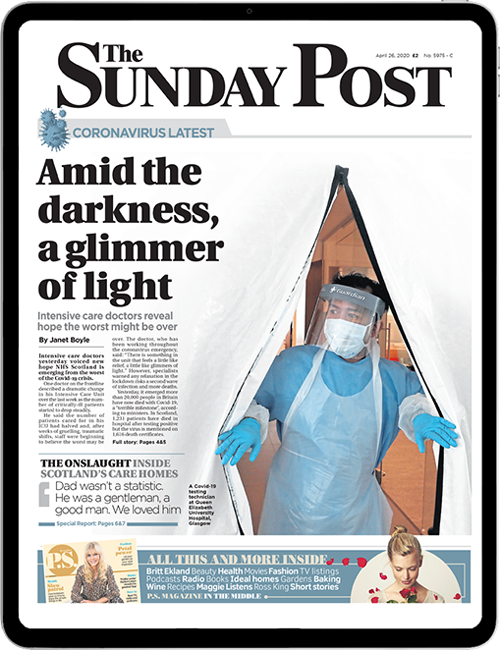 Enjoy the convenience of having The Sunday Post delivered as a digital ePaper straight to your smartphone, tablet or computer.
Subscribe for only £5.49 a month and enjoy all the benefits of the printed paper as a digital replica.
Subscribe