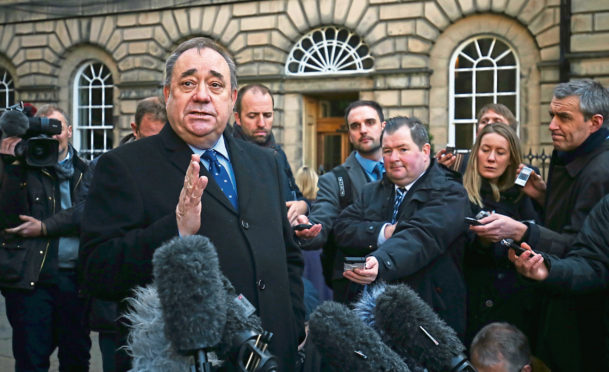 Ministers' refusal to release legal advice to the Alex Salmond inquiry raises questions about the Scottish Government's accountability, experts have warned.
MSPs voted for the ­second time on Wednesday to demand the advice given to ministers before the Scottish Government defended – and lost – a legal challenge that cost tax­payers more than £600,000.
Deputy First Minister John Swinney has claimed ministerial codes of conduct prevent the documents from being released, but critics have rubbished the claim, accusing ministers of concealment and delay.
Meanwhile, experts in constitutional law say the refusal to accept the will of parliament is a bad look for any government and rarely ends well.
Alan Page, professor of law at Dundee University, said: "Having failed to persuade the parliament twice of the public interest in maintaining legal privilege, it will be unfortunate if the view expressed by the parliament is not then given effect. It is undesirable, and will be seen as undesirable, if the government is seen as simply free to ignore the parliament. It does raise questions about the parliament's lack of clout and the government's accountability to it.
"It risks leaving a highly undesirable precedent in relations between the government and parliament."
Mr Salmond was awarded more than £500,000 to cover his costs after a judicial review found the Scottish Government's inquiry into harassment claims had been "tainted by bias" because they were investigated by a civil servant previously in contact with alleged victims.
The former first ­minister was later cleared of 13 counts of sexual assault. The Scottish Government has admitted their own legal work to defend his legal challenge cost £130,000 but some experts suggest the true cost of the case to taxpayers is nearer £1 million.
The Scottish Government has said changing the policy around harassment complaints was not designed to target Mr Salmond, whom his supporters insist was the victim of a conspiracy. Conservative MSP Murdo Fraser said: "Democratically speaking, we are in uncharted, murky waters when it comes to what the SNP does next.
"Twice now, the Scottish Parliament has voted for government to release legal advice to the committee.
"They refuse to publish evidence, they won't hold a care home inquiry, and are punting reports about their failures into the long grass behind the next election."
Members of the inquiry, however, have vowed to complete their ­investigation before the dissolution of parliament in March ahead of May's Holyrood election.
Inquiry member Alex Cole-Hamilton, Lib Dem MSP, said: "It is absolutely vital that the committee is allowed to cover every single avenue of evidence in this winding tale and I don't believe we have got anywhere close to understanding the decision making in the judicial review or pinning down the real timeline as to who knew what and when. We can't possibly see Nicola Sturgeon or Alex Salmond until all that is ironed out. If that means seeing them in the New Year, then so be it.
"We have invested two years of our lives since the committee was first established. We will not fall at the final hurdle. We will report in good time before the dissolution of parliament."
---
FM's aide to give evidence to inquiry
The Salmond inquiry will take evidence from four civil servants on Tuesday, including John Somers, First Minister Nicola Sturgeon's principal private secretary.
He held two meetings with a woman who went on to make a formal complaint against Mr Salmond. The meetings were held in November 2017, five months before the first minister met with Mr Salmond at her home to discuss the complaints.
Ms Sturgeon initially told MSPs she first learned of the complaints at the meeting at her home in April 2018, but in written evidence to the committee said she had "forgotten" about a discussion four days earlier with Mr Salmond's former aide Geoff Aberdein about the complaints.
Committee member and Scottish Labour deputy leader Jackie Baillie said: "John Somers is central to the first minister's office and therefore will be privy to everything that was going on."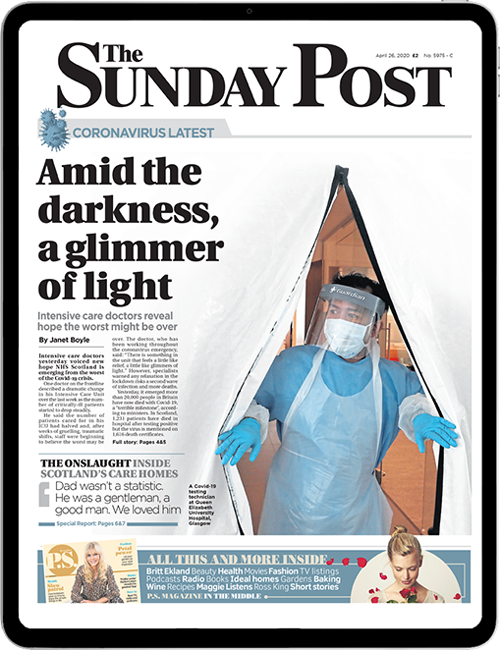 Enjoy the convenience of having The Sunday Post delivered as a digital ePaper straight to your smartphone, tablet or computer.
Subscribe for only £5.49 a month and enjoy all the benefits of the printed paper as a digital replica.
Subscribe