The mobile phone is almost too big for his little hand but Leigha Collins's son Alfie holds it tight. His mother, 2,000 miles away, holds hers even tighter.
Speaking to her two-year-old son in Scotland is both a joy and an agony for the young mum, who has been living in Malta for six months with his baby brother Hayes ever since a Scottish judge sent her across Europe during an international lockdown at the request of her former partner, who has a conviction for violence and a drug problem.
Tomorrow, she faces eviction from the single-room apartment where she is staying because her ex Kyle Borg, who is Hayes's father, will no longer pay the rent. She believes he, and his family, are trying to force her into the cruellest choice of all; to return to Scotland and leave her baby or stay and miss her oldest son grow up.
Leigha, 19, told The Sunday Post: "I bite my cheek to stop the tears when I'm speaking to Alfie but cry myself to sleep every night. It's so hard to hear him and see him but know I can't hold him, to know I might not see him for months.
"It's intolerable, unbearable. He's only two and can't understand why I'm not there to tuck him up in bed every night.
"He's growing so big, but I can't give him our special mummy ­ cuddle. I'm worried he'll forget me.
"He's saying and doing things and I should be there to tell him how clever he is. But I'm just a voice on the end of a phone. It feels like a special kind of cruelty."
Tomorrow Leigha, from Kinghorn, Fife, is facing eviction from the single room where she and baby Hayes have been living after Borg refused to pay the £100-a-week rent. He has lodged a court action to take custody of the baby.
In a direct appeal to Scotland's First Minister Nicola Sturgeon, Leigha said: "Please, please help me. I'm desperate and terrified they are going to take my baby.
"I don't know who to turn to. I'm alone and scared. This has nothing to do with my baby, it is about (Borg) punishing me for leaving him."
Leigha and Hayes were ordered to leave Scotland and return to Malta in April despite shutdown measures across Europe amid the spread of the pandemic. They had fled back to her parents' home in Kinghorn, after Leigha claimed to be in fear of Borg's temper, drug use and erratic behaviour.
After a short video hearing, Lord Brailsford sent them back to Malta under laws to prevent child abduction.
However, the judge was unaware of Borg's guilty plea to grievous bodily harm, his escalating drug problem and concerns about his psychological behaviour.
Last month, we told how Borg was sentenced to three years' probation at Malta's criminal court, and ordered to pay thousands of pounds to his victim, a pizza delivery man.
Borg's Court of Session lawyers in Edinburgh, blue-chip legal firm Morton Fraser and advocate Scott McAlpine, who all refused to comment on the case, presented a medical prescription for the equivalent of two cannabis joints per day for "anxiety".
But in Malta, the criminal court sentenced him to three years' drug rehabilitation after his probation officer reported deep concern over his addiction and desire to "lash out at those closest to him".
Leigha warned Lord Brailsford about the "intolerable situation" and violence that forced her to flee the flat they shared with Borg's parents in Birkirkara, but the judge insisted any such situation affected her, not baby Hayes.
Lord Brailsford said he could not take into consideration the grievous bodily harm case in Malta, unaware Borg pleaded guilty eight months before the case at Edinburgh's Court of Session.
Borg's lawyer in Malta, Robert Thake, advised the Scottish lawyers the GBH case was "sub judice".
Despite her warning over the impact of Borg's drug addiction on Hayes, Lord Brailsford said Leigha had broken Hague Convention rules as an access agreement for her return to Scotland had not been finalised.
The judge was assured, however, Leigha – who fled Borg, 21, with her two sons a year ago – would have a roof over her head and access to benefits in Malta while they argued over access agreements. Borg had allegedly told Leigha she could return to Scotland as long as he got Hayes for every holiday and did not have to pay maintenance. Now, Leigha, who has no right to benefits or residency, has no idea what will happen tomorrow when she must move out of her room.
Leigha said: "Borg's plan was to drag me back to Malta where I'd have nobody to help me and nobody to turn to. I have been living hand to mouth on less than £50 a week, stuck in a single room. He got Legal Aid in Scotland to pay for a top legal firm and an advocate. The Court of Session was told I would have access to benefits, housing and medical care in Malta, but the opposite is true.
"My poor mum is working three jobs to pay for food, clothes and medical prescriptions for me. I've been repeatedly arrested by armed police officers for trying to protect my son from Borg when he turns up for access visits drugged. I refuse to leave Hayes on his own with someone incapable.
"He's already threatened to keep me trapped here for years. He thinks if he makes life so miserable, I'll hand Hayes over and go home to Scotland. Hayes can't leave Malta without his permission. But I'll never leave my baby, however hard it is missing Alfie. I know he's safe with mum and dad."
It's so hard to see and hear Alfie but not get to hold him. I have to bite my cheek to stop the tears
After informing Leigha in court in Malta he would no longer pay for accommodation, Borg now claims Leigha attacked him, and she is an unfit mother. His action demands custody of Hayes and that Leigha should pay child maintenance to Borg.
But Facebook messages from Borg's father Clint, who runs a chicken farm and breeds pit bull terriers, apologised to Leigha's father Dougie on the night the young mum fled and called the police.
The message to Dougie said: "Don't worry. I'm in the middle. I always gave right to your daughter. Ask her to see if I be telling the truth. Don't worry and I apologise for everything happen today."
Leigha's mum Cerry is exhausted and "worried sick". She said: "I'm working three jobs to pay for a lawyer in Malta, and now we'll have to pay for housing, too, or she'll be out on the street with a baby in her arms.
"It's heartbreaking listening to Leigha trying to be a long-­ distance mummy, and Alfie is missing his little brother as they used to be so close.
"Last Christmas we got Leigha and the boys home after they'd spent months sleeping on a friend's sofa and surviving on what we could send her. This Christmas we won't even know if she has a roof over her head and something to eat.
"There are no flights to Malta because of Covid-19. We feel helpless and afraid for Leigha's safety. Anything could happen."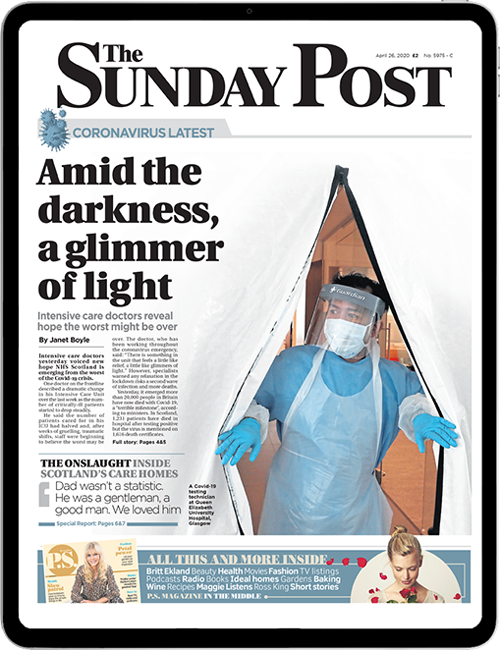 Enjoy the convenience of having The Sunday Post delivered as a digital ePaper straight to your smartphone, tablet or computer.
Subscribe for only £5.49 a month and enjoy all the benefits of the printed paper as a digital replica.
Subscribe