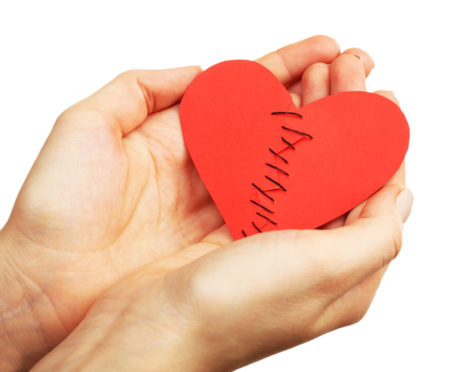 When we find ourselves in the first throes of love, the thought that anything might burst our bubble is impossible to imagine.
But life has a whole host of hurdles in store, just waiting to test even the most robust of relationships.
From co-habiting and planning a wedding to the chaos that comes with kids, the woes of work and then throw retirement and grandchildren into the mix – each stage can pose a challenge, or sometimes crisis, for couples.
Monday was dubbed Divorce Day, when UK lawyers see a surge in enquiries from couples keen to make a fresh start.
But psychology professional Andrew Fuller, who has spent three decades counselling couples, says even the most flatlining relationship can be brought back to life.
"Unless we breathe new life into a relationship, it will dwindle and perish," he said.
"If your relationship has hit a rocky patch, this is the time to be honest enough and admit the ways you have related in the past haven't worked as well as they needed to.
"Unless you undergo some change, you and your partner are likely to be incredibly unhappy."
Dr Fuller's book, The Revolutionary Art Of Changing Your Heart, includes a step-by-step guide to recharging your love life.
In this extract he tackles the art of arguing and forgiveness, which he says are essential tools to making any relationship work…
---
Stop the blame game
Imagine for a moment you are in a relationship with someone you care for or love deeply and you have made a mistake. You make a sincere apology. What do you hope the other person will do?
Return the 'favour'?
Keep bringing up the mistake and making you feel bad about it?
Accept you have made a mistake and maybe feel hurt by it, but slowly forgive you and move on?
In the first two responses, the relationship moves to a transactional basis. There is a trade-off and a ledger sheet. If you stick to a practice of "if you hurt me, I'll hurt you" the relationship will go into resuscitation mode and the chances of recovery will become slim.
The people you are in relationships with are the people you chose to be in relationships with. It wasn't a choice you made flippantly, lightly or even accidentally. You have an obligation to protect the choice you made as much as you can. This means the way we deal with the mistakes and how we act to protect our relationships are crucial.
Master the art of apology
Love and romance are often portrayed so rosily in our culture that the reality of a flesh-and-blood relationship may be disappointing by comparison. Ultimately, we need to accept our partners and our relationships as they are.
When we are hurt or harmed, there is a choice to either retaliate or repair. If we retaliate the relationship will be heading for the emergency room. The pathway of repair and healing is the path of forgiveness.
There are times when all of us should sincerely apologise. It takes a lot to admit you did something wrong. Don't be afraid to admit you messed up. It happens to all of us.
Someone who can swallow their pride and admit they're in the wrong is a great contributor to a relationship. A genuine apology includes the pronoun "I" and does not include the word "but".
It will take time for some people to accept an apology. They need this time. Just because we are ready to apologise and try to make amends, it doesn't mean that the other person is also ready.
Even if this feels unfair, we need to respect their point of view.
Learn how to argue
Arguments happen. It's the way they happen that matters. Some conflict is normal in relationships. Done well, arguing and differences of approach can lead to better ways of relating. Done badly, arguing leads to the issue bubbling away unresolved, simmering until it erupts again.
Step 1 Listen
Don't interject, don't defend. Don't deny the issue. Definitely don't try to use humour to deflect the issue. Just listen attentively.
Step 2 Pause for a moment
Consider that someone you love or like is hurting. Even if it is a complaint that is being directed at you.
Step 3 Empathise
Put yourself in your partner's shoes and think about how they are feeling and why. Are they hurt, angry, lonely, tired or stressed?
Step 4 Take time out to think things through
If you don't have a response, don't rush one. Take time out to consider your reply
Step 5 Give them space
Wait it out and give your partner the space and time they need
Step 6 Just accept each other
You have to accept the way some people are in order to protect your relationships. There are some activities and topics to avoid. Similarly, there are some issues where arguing won't make any difference – the number or quality of ex-boyfriends or ex-girlfriends, and the attributes of your partner's family come to mind as examples.
Step 7 Be open-hearted and respectful
Keep your focus not just on the immediate issue but also on the long-term health of your relationship.
When you argue in a relationship you are still in a relationship, and what you do in that argument has consequences for your relationship.
Deal with disastrous moods
If you're in a bad mood:
Calm first so that you are then able to express your concerns or feelings calmly and constructively. Remind yourself that your partner does not have the same brain as you, so won't know what's happening in your head. Mind-reading is notoriously unreliable!
Take time to let go of brooding thoughts and breathe. You may decide this situation needs to be dealt with later when you have calmed down.
If your concerns are still around the next day, raise them when you both have the time and space to talk about them in a collaborative manner – avoid blaming, criticising and contempt.
If your partner is in a bad mood:
Here you are, pleasantly minding your own business and they begin rattling the pans in the background, stomping through the house or rummaging through the drawers. You might be quietly flicking through social media sites minding your own business while they keep interrupting and wanting to talk. They may be tossing and turning in bed while you are sleeping. They may be brooding over a recent upset while you are oblivious to the whole thing.
The questions "Is something the matter?", "Are you upset?" and "What's wrong?" are not advisable. If the reply is "nothing", something is definitely up.
Work on the premise there is a problem that needs solving. "How can I help" may be a better question, or simply be more present with them. Pay attention. Don't ignore their attempts to connect – if you do they will become even more agitated. Your partner's antennae for connection is twitching and needs soothing.
Pay attention and look for ways to provide comfort. Look for ways to connect. As Gary Chapman mentions in his wonderful book The Five Love Languages, some people see different gestures as signs of love – time, gifts, acts of service, touch, words of affirmation such as being told "I love you". It might be washing the dishes or cleaning up. It might be listening attentively to the latest family news. It might be being there and being prepared to listen to how their day has been.
The essential ingredients for a healthy relationship
Contribute to conversations and amplify positivity as much as possible.
Assume responsibility for everything that happens in a relationship.
Ask yourself what you stand for as a friend/partner/colleague/family member and act in accordance with those beliefs or values.
Concoct a "recipe for love" every month (perhaps date nights, conversations, walks or enjoying a home-cooked meal)
Be full of compliments
Buy surprise gifts
Liven things up and be passionate
Discuss problems sooner rather than later
Don't be too clingy
---
Ross & Terry's story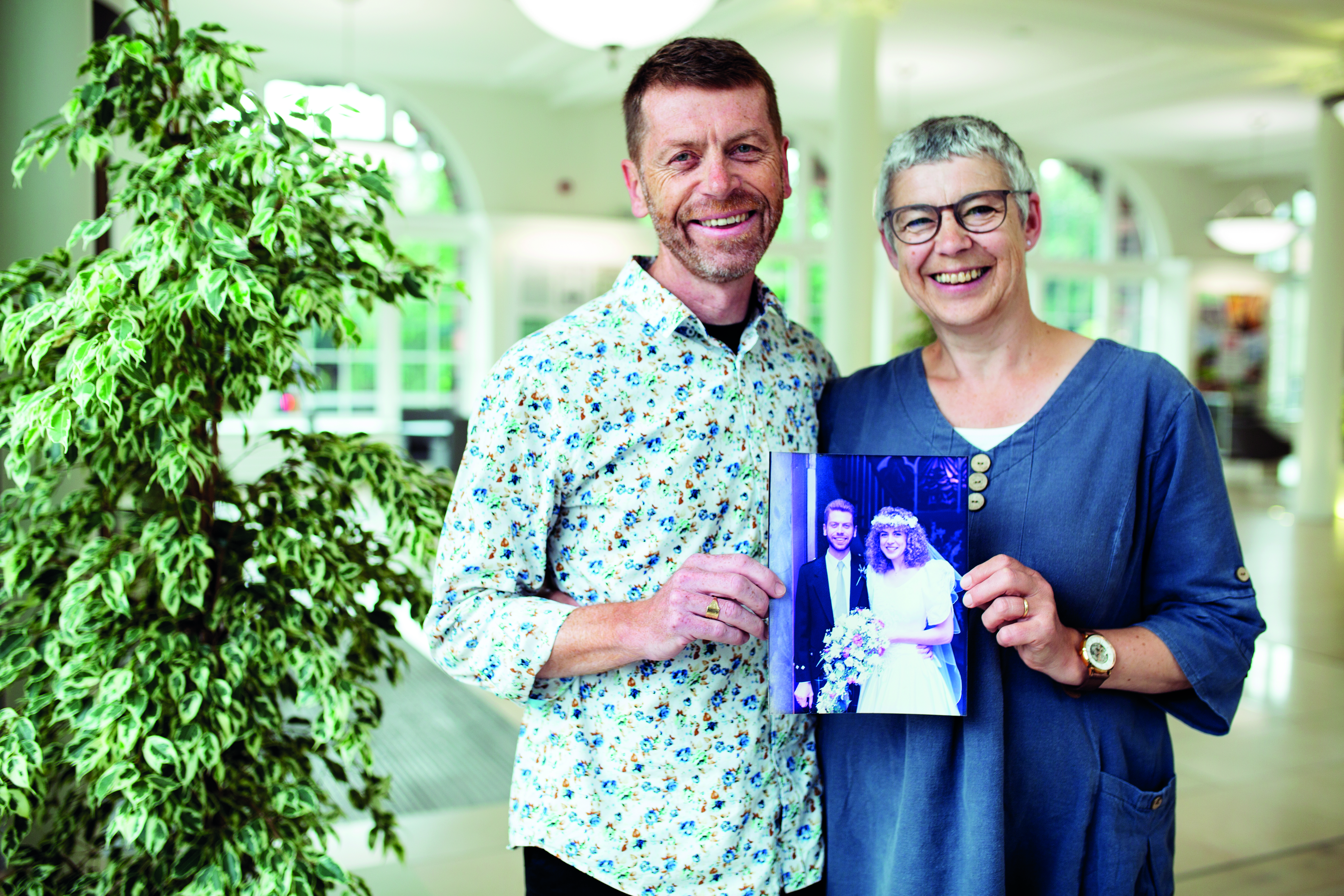 When Ross and Terry MacCallum tied the knot almost three decades ago, they were young, carefree and head over heels in love.
Neither could quite believe they had been lucky enough to meet their perfect match. Today, after the trials and tribulations of raising three children, surviving a devastating breast cancer diagnosis and mastectomy and the loss of a much-loved parent, the pair, from Carnoustie, say the bond between them is stronger than ever.
Ross, 54, said:
"I knew very early on in our relationship that Terry was the woman I wanted to spend the rest of my life with.
When I popped the question 11 months after we met, Terry burst into tears, which I hope were tears of joy.
On our wedding day I remember just feeling so lucky that Terry had become my wife.
We took our vows very seriously and promised to love each other forever, and that is how life has played out.
Our marriage hasn't all been plain sailing. There have been a few bumps in the road, but nothing that has fazed us.
I think it works because we think alike and generally sing off the same hymn sheet. And we both very much hold by the old adage 'Treat others as you wish to be treated'.
In any relationship there needs to be give and take, but loving each other has helped us get through a lot.
We don't say "I love you" every day, but do little things for each other to show we care – and it all adds up.
When Terry was diagnosed with breast cancer, it was a tough time but she coped amazingly and it made us realise just how lucky we are to have each other.
And when my mum was ill with Motor Neurone Disease, Terry cared for her as if she were her own mum. She puts everyone else before herself and that's one of the reasons I love her so much.
Marriage has made me complete. My wife and children are my purpose.
After 27 years, I love Mrs MacCallum more and more with every passing day."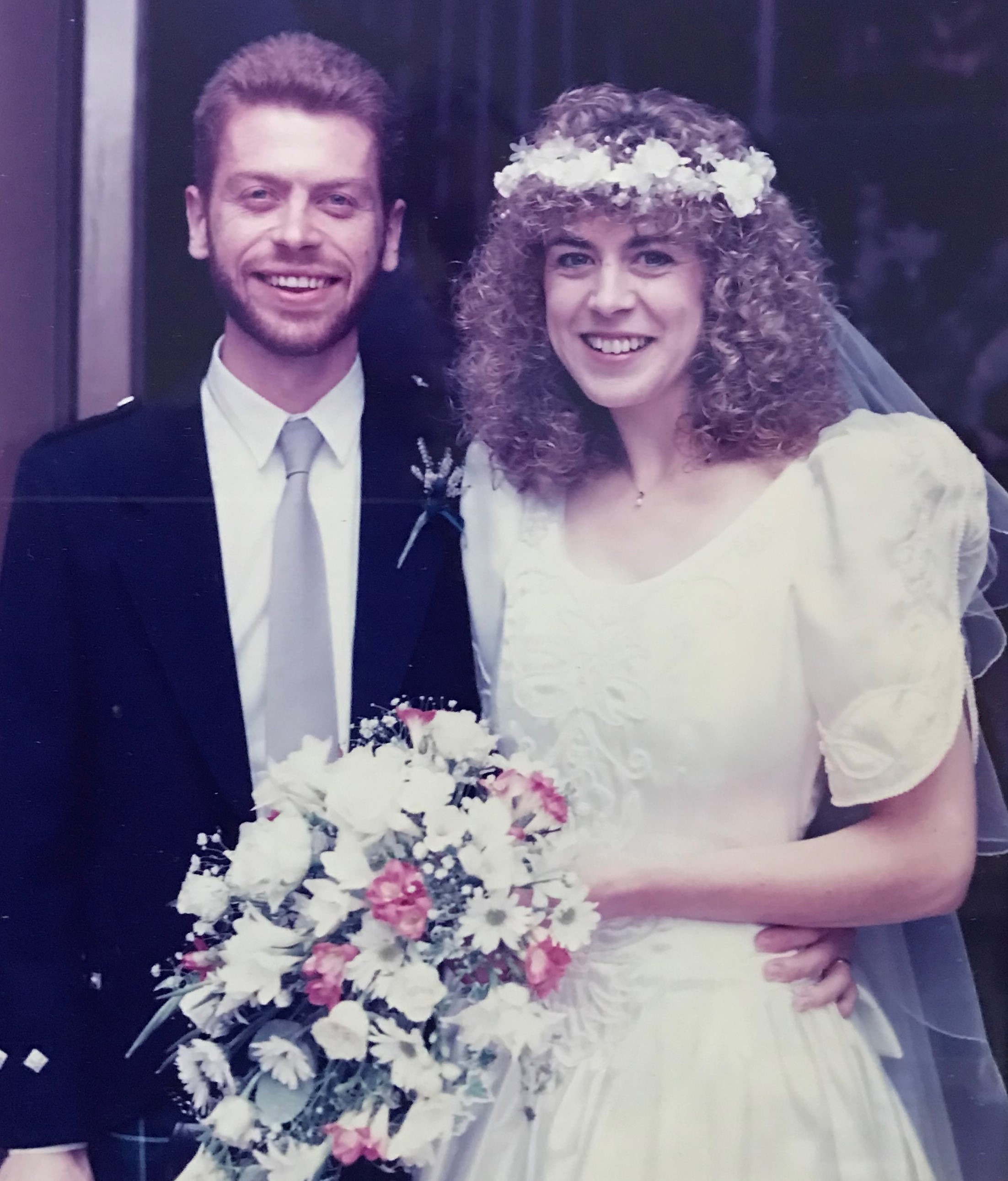 Terry, 60, said:
"I still remember the calm of the church on our wedding day and knowing that I had never been more certain about what I was doing.
My mum always said you will know when you meet "the one" – and I knew. Even after we moved in together, there were no quarrels. We just know what the other is thinking and feeling. It's intuitive.
That makes us sound saintly, but it's not all hearts and flowers either. We deal with things, just not with a shouting match. Ross has such a big heart and generosity of spirit – and he makes me laugh. While bringing up three young children, we were very much united in our approach. And after I was diagnosed with breast cancer, Ross was my rock. After the mastectomy and when I'd lost my breast and my hair from chemo – the things that made me feel like a woman – Ross held me and told me he loved me even more.
The heady first days of love have been replaced by a deep and fulfilling love. We're a good team.
We have never been bogged down with the petty stuff. In the grand scale of things they aren't important.
What matters is taking care of each other and I think we've got that down to a T."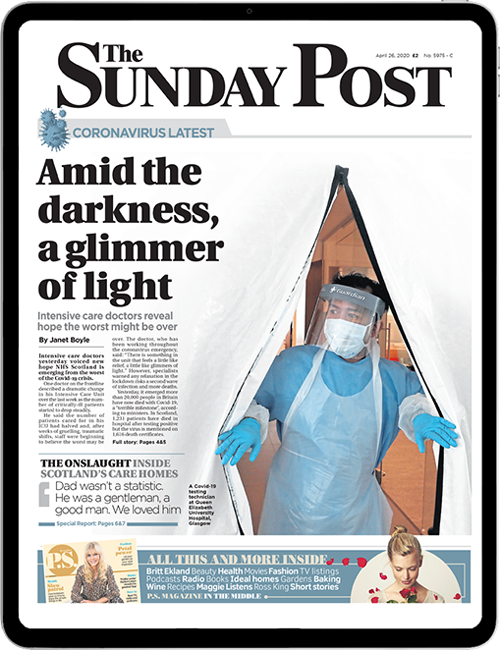 Enjoy the convenience of having The Sunday Post delivered as a digital ePaper straight to your smartphone, tablet or computer.
Subscribe for only £5.49 a month and enjoy all the benefits of the printed paper as a digital replica.
Subscribe