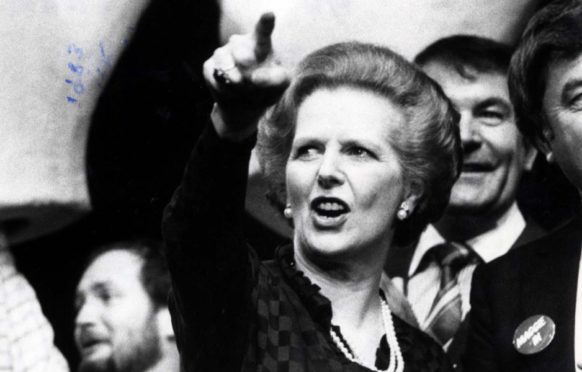 To the young, she's a figure from history portrayed by Gillian Anderson in The Crown or Meryl Streep in The Iron Lady.
To the rest, Margaret Thatcher was and, arguably, remains the most divisive British politician of the 20th Century, a cruel ideologue to some, a radical reformer to others.
Her 11 years as Prime Minister are synonymous with social change and economic unrest across the UK but, in Scotland, she cast a long shadow.
The impact of the Tory leader north of the border, in an era that saw the demise of traditional industries such as coal and steel, picket lines, soaring unemployment, the poll tax and calls for devolution, is detailed in BBC Scotland series The Years That Changed Modern Scotland.
The four episodes are presented by Kirsty Wark, and she believes Thatcher never understood the antipathy her government aroused.
Ms Wark said: "She brought in the right-to-buy scheme whereby people council buy their council houses. It was hugely popular in Scotland but didn't translate into votes, and I think she was both resentful and completely dumbfounded by that. She couldn't understand why people didn't flock to her. Her speech to the General Assembly of the Church of Scotland, that 'there is no such thing as society', was misquoted but the idea of it was antithetical to Scotland.
"She was coming in when globalisation was coming in. With Ravenscraig, the steel industry was productive and profitable, but it was never going to last that way.
"It was at a time when heavy industry was in decline and people didn't realise globalisation was going to create a lot of winners but a lot of losers, too. We didn't think enough about the people who were losing their job.
"But then there were great things that happened. We interviewed a gentleman who'd worked at Hunterston, which provided the coal for Ravenscraig. When all that ended, he became a specialist in child development and said it had been the most fulfilling second career. So people did make their way. People worked incredibly hard to help themselves.
"Looking back, Scotland was short-changed in terms of regeneration, and some of that can be laid at Thatcher's door."
Ms Wark famously interviewed Thatcher on BBC1 in 1990 at the height of the poll tax protests in Scotland, and her first question was: "Prime Minister, you've always said you didn't enter politics in order to be popular, but why are you so unpopular in Scotland?"
In the interview, Thatcher, who insisted she was welcome north of the border, repeatedly used the phrase "we in Scotland" to widespread ridicule.
Ms Wark said: "She couldn't understand the antipathy towards her. She just couldn't get it. Malcolm Rifkind and Michael Forsyth told her she had to sound more empathetic, and she took that and ran with it the wrong way. I'm sure they had their heads in their hands when she kept saying 'we in Scotland'."
Just eight months after the interview Thatcher resigned, telling reporters Britain had become a much-improved country since she took office 11 years earlier.
Murdo Fraser, a former deputy leader of the Scottish Conservatives, agrees with that assessment. The MSP was a 17-year-old schoolboy when he first met Margaret Thatcher on her tour of a factory in Inverness during the 1983 General Election campaign, an encounter which partly inspired his career in politics.
He said: "Margaret Thatcher is increasingly thought of as a figure of history, rather than a politician with much relevance to Scotland today. It is 30 years since she left office. Anyone under 40 won't have memories of her in government.
"Even episodes like the poll tax are pretty distant history rather than something that influences current voting behaviour.
"It was a shadow cast unfairly as there was a lot of mythologising of her legacy. Scotland came out of that period in a much better position. Yes, there was rapid deindustrialisation, but this was replaced by a new wave of industries.
"There were huge programmes of inward investment providing jobs. There was a transformation of society. Hundreds of thousands of Scots took the opportunity to buy their council houses and get on the property ladder.
"A lot of the negative press she had was unfair, but it still had an impact. There was a period of 20 years after she left office when it was still a drag on Scottish Conservative fortunes.
"For those of us who were around at that time, Margaret Thatcher was a hugely important figure, not just in Scottish or British politics, but in world affairs.
"But every new generation that comes along doesn't necessarily remember people from the past. My generation doesn't have memories of Winston Churchill.
"So for lots of people coming up, they will have no memories of Margaret Thatcher and their only reference points and impressions of her will be from watching The Iron Lady or The Crown."
However, for James Mitchell, professor of public policy at Edinburgh University, Thatcher remained as "controversial and divisive" in Scotland as she did during her premiership.
"What she did, and no other prime minister has achieved, was to unite the anti-Tory parties around the idea for a Scottish parliament," he said. "Whether it was independence of devolution, there was a unity around the need for a Scottish parliament.
"The Scottish Parliament owes its existence to a very large extent to Margaret Thatcher, something the Tories are not happy with – it's a bit embarrassing for them – and neither are other parties. They're not comfortable with the notion that it was due to Margaret Thatcher.
"I've always argued there ought to be a statue to Margaret Thatcher outside Holyrood as she was the midwife of devolution. No one has united the other parties since her, not even Boris Johnson. While there is a lot of opposition to Boris Johnson, the other parties have been unable to cohere an opposition around that.
"We saw that last week with the post-Brexit deal, with the SNP saying one thing, Labour saying another.
"The obvious thing to do, in my view, would have been to abstain. That's what would have happened in the 1980s and 1990s, when there would have been some effort made to achieve unity."
---
The Years That Changed Modern Scotland, BBC Scotland, Wednesday, 8pm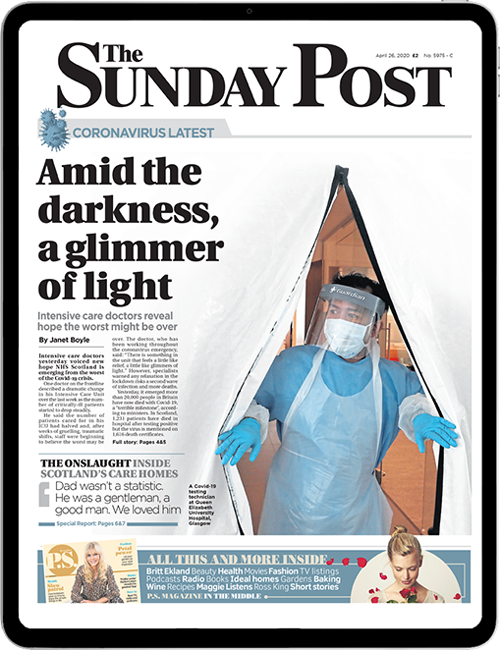 Enjoy the convenience of having The Sunday Post delivered as a digital ePaper straight to your smartphone, tablet or computer.
Subscribe for only £5.49 a month and enjoy all the benefits of the printed paper as a digital replica.
Subscribe