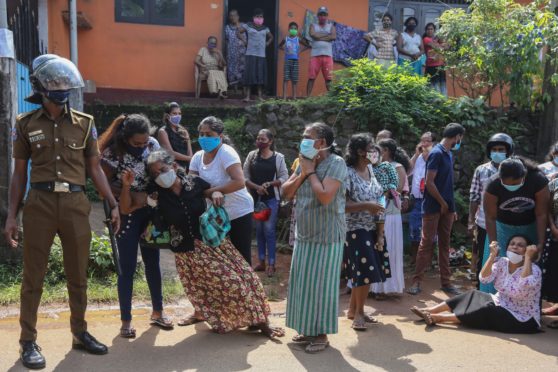 Police Scotland has renewed a contract to train forces in Sri Lanka despite escalating international concern over its authorities' use of violence and torture against civilians.
The national force will provide training in Sri Lanka at the same time as officers from the Metropolitan Police investigate the use of private mercenaries in the country riven by violence and human rights abuses against minorities.
The renewal of the contract has prompted fresh calls for a Holyrood review of Police Scotland's training programme, which is set to run until 2023, amid evidence linking the Sri Lankan police's Special Task Force to violence, torture and disappearances.
The Sri Lankan ­government has been accused of waging a campaign of fear and intimidation against opponents. Author Phil Miller, whose book Keenie Meenie: The British Mercenaries Who Got Away With War Crimes prompted the Met investigation, said: "It's surprising Police Scotland appear content to continue their support for Sri Lanka's security forces. The Met are investigating claims British mercenaries were involved in war crimes in Sri Lanka, where they trained the police paramilitary unit that became notorious for burning down Tamil villages.
"The SNP has spoken out at Westminster about English police forces training repressive regimes, such as in Bahrain, and yet, over the past decade, Scottish ministers have allowed Scottish police to repeatedly work in Sri Lanka, where the island's Tamil minority faces arrest and persecution just for trying to commemorate those who died in their own independence struggle. "
Police Scotland is refusing to say how much it is being paid to carry out the work, intended to improve community policing and the investigation of violence against women but it has previously earned £700,000 from training Sri Lankan officers.
The Catholic peace charity Pax Christi, which has worked with human rights victims in the country, is backing calls for the contract to be reviewed. Describing the relationship between Police Scotland and Sri Lanka as "disturbing", Marian Pallister of the charity said: "As a member organisation of an international peace movement, we are concerned on a number of levels."
MSP Neil Findlay also called for an investigation, saying: "In the past eight years Police Scotland has made almost 100 deployments to Sri Lanka and, if it had not been for the restrictions of Covid-19 last year, they would have continued, despite the concerns of many organisations about the violence that has been ongoing by special forces against members of the Tamil community.
"How can our government ­condone these human rights breaches and allow our police force to continue having anything to do with a country with such a record of violence against its own people? I believe we need a full inquiry into exactly what has been going on, and we need complete transparency from Police Scotland." Naomi McAuliffe, Amnesty International's Scotland programme director, said: "We have called on Police Scotland to conduct robust human rights impact assessments on any overseas programme, whether delivered in country or if officers from international forces attend training in Scotland.
"Partnerships with global law enforcement agencies should be entered into with full consideration of potential human rights abuses or whether such associations add ­credibility to forces operating in areas with an appalling track record of suppressing rights."
The Met launched its inquiry into UK-based security firm Keenie Meenie Services (KMS) in March. KMS has also provided training for the Sri Lankan police.
Police Scotland defended its ­training activities but refused to reveal the value of the contract, funded by the British High Commission for a minimum of two years. Chief Superintendent David Duncan said: "Police Scotland's work in Sri Lanka is underpinned by a human rights approach. It supports the realisation of the United Nations Sustainable Development Goals, particularly gender equality, reduced equality, peace and justice, strong institutions and partnerships to achieve goals."
Police Scotland says the Scottish Government is aware of its work in Sri Lanka. It also says the Scottish Police Authority and Foreign, Commonwealth and Development Office are aware of overseas training schemes, which have also included forces in Namibia, India, Malawi, Pakistan and Zambia in the past.
The organisers of the 2022 World Cup in Qatar have also been involved with Police Scotland's International Development and Innovation Unit, based at Tulliallan, as have countries such as Jamaica which was criticised over police officers killing hundreds of civilians during periods of unrest.
---
The record
Human rights organisation Amnesty International has repeatedly voiced concern about the actions of the Sri Lankan authorities.
In May last year, it called on the world not to forget the country's victims, adding "an estimated 40,000 civilians were killed in the final weeks of Sri Lanka's armed conflict, which ended in May 2009… Since the war ended, the Sri Lankan government has cracked down on dissent in a bid to increase its hold on power.
"Torture and disappearances that became entrenched during the years of conflict continue with impunity. The authorities threaten and harass media activists, students and even artists – often relying on counter-terrorism laws to detain critics for extended periods of time.
"Fifteen journalists have been murdered since 2006, and disappearances involving white vans are so common they have become known as 'white van abductions'. "
---
It's not ideal: Unit chief addressed concerns
Police Scotland has been involved in training police forces all over the world, frequently in countries where human rights have been repeatedly abused by the authorities.
In 2018 the senior officer then in charge of that training said the force understood those concerns – but said it was important to continue to engage with these countries to improve standards there.
Superintendent Shaun McKillop, then head of Police Scotland's International Development and Innovation Unit, said: "I understand the concerns. We absolutely understand."
Scotland's involvement with training Sri Lankan officers began in 2007 and expanded in 2009 after the nation's 26-year civil war ended.
Two years ago, Superintendent McKillop told The Sunday Post: "Sri Lanka remains one of the key places for the UK Government, so we continue to work for them through the Conflict, Stability and Security Fund."
When asked why torture remained a problem nearly a decade after Police Scotland began its work in Sri Lanka, McKillop said it was important to keep engaging with the country.
He said: "The British High Commission review our training on a regular basis, as well as our own monitoring.
"We understand the concerns, and have regular conversation with the British High Commission and Sri Lankan Police.
"It's not ideal but we will continue to work and do what we can to improve that situation."
He said that in every country the force works with: "We make it clear that any work we'll be doing is human rights compliant."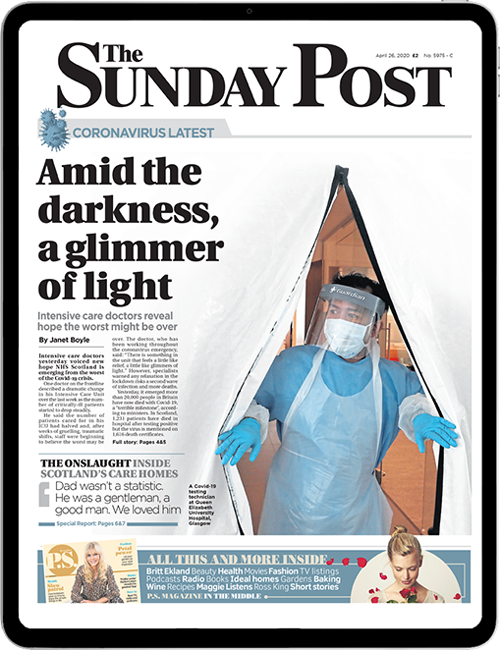 Enjoy the convenience of having The Sunday Post delivered as a digital ePaper straight to your smartphone, tablet or computer.
Subscribe for only £5.49 a month and enjoy all the benefits of the printed paper as a digital replica.
Subscribe