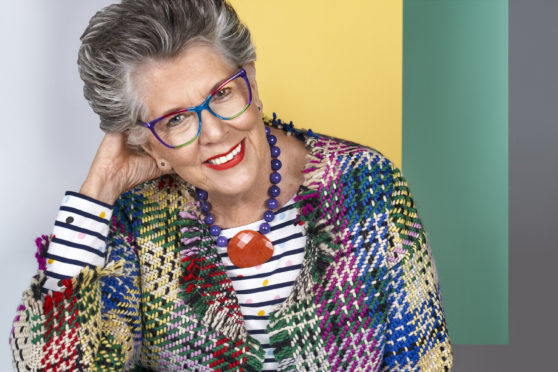 With a dozen best-sellers to her name, Prue Leith knows a thing or two about writing a successful cookbook. But for her latest endeavour, she has found including family in the mix has proved a true recipe for success.
The celebrated chef, restaurateur, author and The Great British Bake Off judge has teamed up with her niece, Peta Leith, to write The Vegetarian Kitchen. It's the latest chapter in a busy few months for Prue who, despite having celebrated her 80th birthday a few days ago, is busier than ever.
"I keep saying, 'right, now I will retire'," she tells P.S. "Somebody will come along and ask me to do something exciting, like be a judge on Bake Off or write a cookbook, and I often find it very difficult to say no. But I do definitely want to slow down a bit."
Our interview takes place the morning after Prue marked her big birthday with a lovely family meal accompanied by a few glasses of fizz.
Despite feeling a little trepidation about becoming an octogenarian, she now reckons it's not all that bad. Reminded that she looks nowhere near her 80 years, Prue replies: "I'm glad to hear you say that. I can't quite believe it either. I'm trying to be very positive about it. But sometimes I do feel my age, I can tell you!"
Not that you'd be able to tell by Prue's recent itinerary. She's spent the past two months travelling: holidaying in Southern India, filming in Cambodia and visiting her Culinary Institute in South Africa, as well as launching her new glasses range back in the UK.
But it's her latest cookbook, written with mum-of-two Peta, that holds a particularly special place in her heart.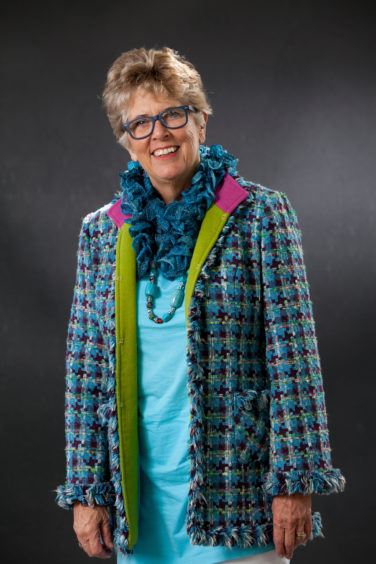 Peta's childhood visits to her aunt's family home in the Cotswolds, where Prue has lived for nearly 40 years, were mostly spent in the kitchen, helping instil a love of cooking from an early age.
On her aunt's advice, Peta pursued a career as a pastry chef, training at the French Culinary Institute in New York before going on to spend seven years at upmarket London restaurant, The Ivy.
"Working with Peta was a total joy. She is a wonderful pastry chef," gushes Prue. "She wanted to be a cook when she left school, but she has been a vegetarian her whole life. I advised her not to become a chef because it would limit her job opportunities as she couldn't work the meat section in a busy kitchen. So I advised her to go into pastry instead.
"When she was little, what she wanted most was to cook and be a mum. It's lovely to see her so happy doing both. I'm so proud of her."
Prue was keen to create a family cookbook but when the pair realised the bulk of their favourite recipes were vegetarian, the idea was born. While Prue acknowledges there has been a huge rise in vegetarianism and veganism, especially in recent years, she stresses The Vegetarian Kitchen should still appeal to meat-eaters.
"I'm not campaigning for vegetarianism but rather reminding people that cooking with vegetables can be so delicious," she said. "I feel we haven't given veg a chance. We traditionally have meat as the hero of the dish with a few vegetables relegated to the side but they can be so much more interesting.
"Vegetarianism has become more popular recently and quite right, too. What's great is that a lot of people, who aren't prepared to go entirely vegetarian or vegan, are realising it is better for them if they eat less meat. It's better for the planet, better for your health, and also better for your pocket because vegetables don't cost as much. So even if you went down to two or three really good meat dishes a week, you'd be doing everybody a favour."
But Prue insists she has no intention of giving up meat entirely.
"I'm a carnivore. I love vegetables and vegetarian food but I could never completely give up meat. Especially things like offal, I really love liver and bacon," she said.
"There seems to be some prejudice about offal these days. People my age are quite happy to eat liver, kidneys, and sweetbreads.
"I was born during the war and for the whole of the '50s we were in austerity. Offal wasn't rationed but other meat was, so that's what we ate. Back then, it was actually considered the best bit of the animal because it had the most flavour."
South Africa-born Prue has been a major player in the food industry for nearly 60 years. She has founded Michelin-starred restaurants and the esteemed Prue Leith Cookery School, fronted TV shows including The Great British Menu, and authored best-selling cookbooks, as well as numerous novels.
But it was joining Bake Off as a judge in 2017 when she replaced Mary Berry on the ratings juggernaut's move to Channel 4 which cemented her status as the nation's favourite foodie.
Notwithstanding a notorious social media mishap, when she accidentally leaked the winner of the eighth series before the final show aired, Prue quickly won over the show's fans with her extensive culinary knowledge, vibrant wardrobe and often unintentionally hilarious innuendos.
For Prue, working on Bake Off, alongside fellow judge Paul Hollywood, is a dream job.
However, she admits: "Because I judge cakes people think I must be fantastic pastry chef, but I'm not at all. I've always been more of a 'hot kitchen' cook.
"Given the choice I'd always rather make a stew than make a cake. But don't get me wrong, if I made you a cake, mille-feuille or Pavlova, it would be delicious!
"What I'm not good at and don't have the patience for is very fine piping decoration, the kind you get on an old-fashioned wedding cake. When I had my catering company, I used to do these multilayered white wedding cakes with elaborate piping that took ages, and if you get a tiny break, you have to start again. It was so boring. I ended up getting an icing specialist to do it all for me!"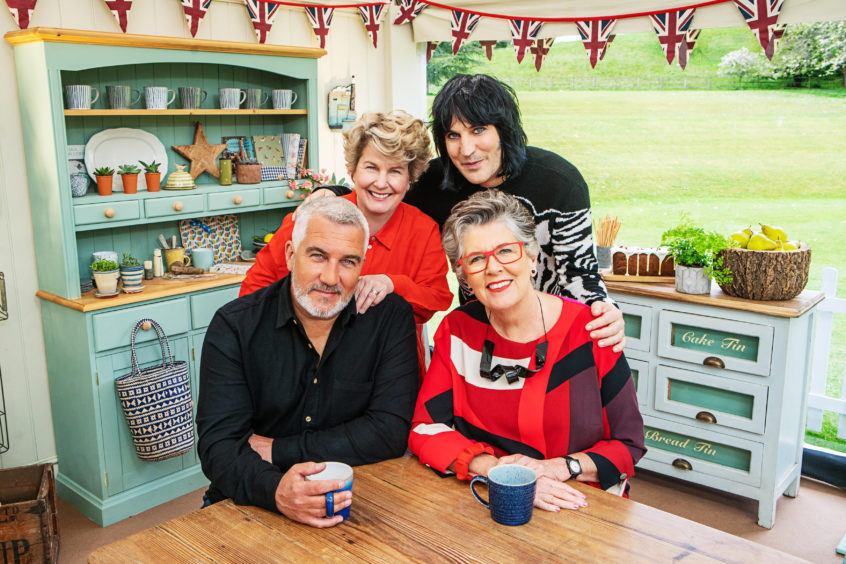 Prue, who is also known for the bold outfits she wears on Bake Off, has also designed her colourful eye wear and accessories ranges to inspire older women to wear more colour. This sartorial move was inspired by her husband, retired fashion designer John Playfair, from Edinburgh, whom she married in 2016 in a low-key ceremony in Lothian Chambers.
Previously Prue, whose grandparents hailed from Scotland – one set from Caithness, one from the Borders – had been single for over a decade following the death of her first husband, Rayne, who was 20 years her senior, in 2002.
"After being single for 14 years, I thought that was it. At my age, you don't expect to fall in love again, so I've been very lucky. John's a great guy. It's been wonderful."
After working with Peta, Prue is hopeful there may be another Leith chef waiting in the ranks. She regularly cooks with her grandchildren and, already, eight-year-old Scarlett seems to have caught the baking bug.
"Scarlett is wonderful to cook with," says Prue. "She's quick, obedient, does exactly what she is asked to do. She just loves it. But her little brother, I think he's six, I just adore him but he is naturally naughty. He'll stick your finger in the jelly just because you told him not to touch it."
Prue also admits: "I'm never sure of their ages. I'm a really bad grandmother because I never remember their birthdays. My son has to ring me up a few days before to remind me!"
---
The Vegetarian Kitchen by Prue Leith and Peta Leith, published by Bluebird, is out now.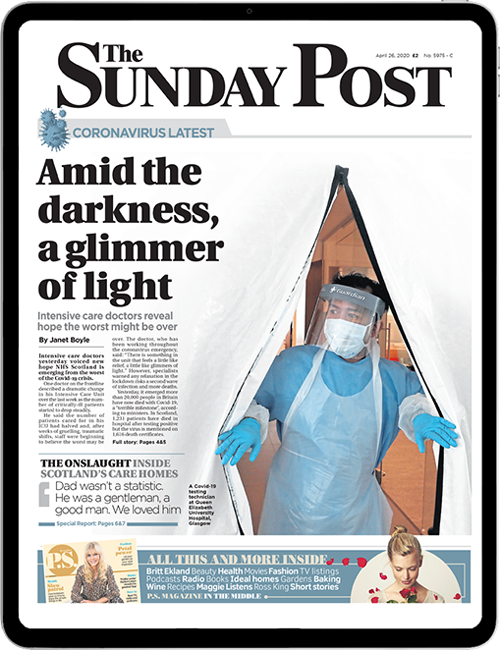 Enjoy the convenience of having The Sunday Post delivered as a digital ePaper straight to your smartphone, tablet or computer.
Subscribe for only £5.49 a month and enjoy all the benefits of the printed paper as a digital replica.
Subscribe