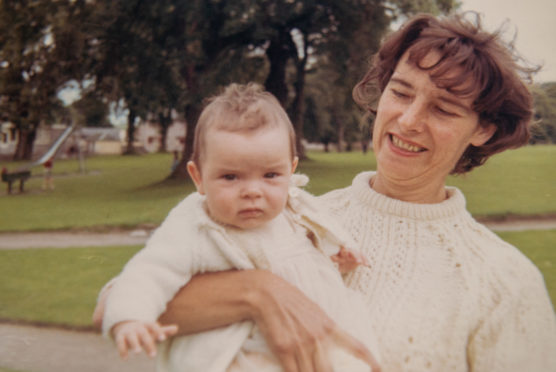 When a loved one dies, those left behind often believe the funeral will be the hardest part but it's only after the sandwiches have been cleared, the music chosen after hours of deliberation has faded and the black ties are back in the wardrobe that real grief begins, when the full gravity of loss weighs down.
A song on the radio, a glimpse of a treasured old photograph…those are the fleeting moments when the heartache hits, and it feels like a steamroller slowly crushing your heart.
And those are the moments when you realise life, which goes on long after your loved one has departed, will never be the same again.
For Samantha Clark, who lost both ­parents 18 months apart, those moments came as she cleared the house they lived in for 45 years.
It was the house Samantha called "home" from the age of two…where she learned to ride her bike, covered her bedroom walls in posters of her teenage crush, and watched her dad dedicate ­decades of his life to caring for her mum.
With a roof caving in, windows on the verge of falling out, and rooms bursting with a lifetime of clutter, emptying the crumbling Victorian mansion on Glasgow's south side was an overwhelming task.
However, as she sifted through her ­parents' belongings, reflecting on her mother's sedated years and her father's retreat to the world of amateur radio and model planes, Samantha began to unlock the secrets of her past.
And she charts the experience in a new book, The Clearing: A Memoir Of Art, Family and Mental Health.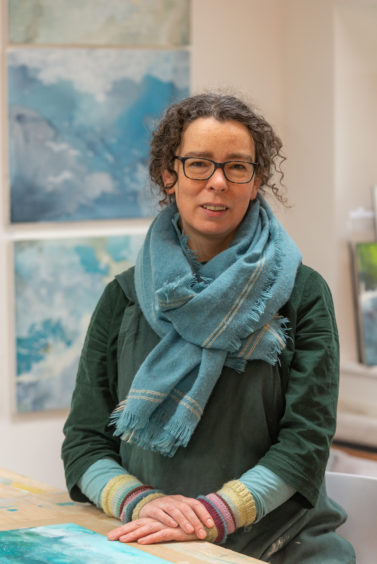 "It took three years to clear the house, but longer still for me to come to understand the forbearance, patience and love that its rooms had held," said Samantha. "I didn't start out with the intention of writing a book, although that's how it turned out.
"There's something about writing because you have to stay with difficult feelings for quite a while instead of finding a distraction, or trying to make them go away. That process was hard but, in itself, quite healing."
Samantha's dad, Allan, passed away in 2011, shortly after being diagnosed with prostate cancer.
"Dad was 85 when he died, but his death wasn't really expected," said Samantha. "He was quite unwell, but of that generation that doesn't like to bother the doctor.
"He probably realised it was something serious, but just soldiered on because he had mum to look after. Eventually we persuaded him to see the doctor. He was admitted to hospital the same day and deteriorated quickly. He was gone within a week.
"I had been close to my dad. He wasn't a hugely communicative man – but had ways of showing his love. It was a really big blow. I really missed him after he had gone.There was also a feeling of ­compassion for him. He had cared for mum for so long."
Samantha's mum, Wynne, died a year and a half later.
"People say you can die of a broken heart," she said. "The diagnosis was ­pneumonia, but I think losing dad was a contributing factor.
"My grief after mum's death was ­different. I didn't cry. I knew I loved her but, as she was mentally ill for most of my childhood, there was other stuff tangled up in there.
"I wanted to look at this numbness. What was this space where the grief should be? My relationships with my parents were different. They were two different people. So I did grieve, just in a different way.
"After mum died, it was more of a slow unfolding of quite complex memories and feelings."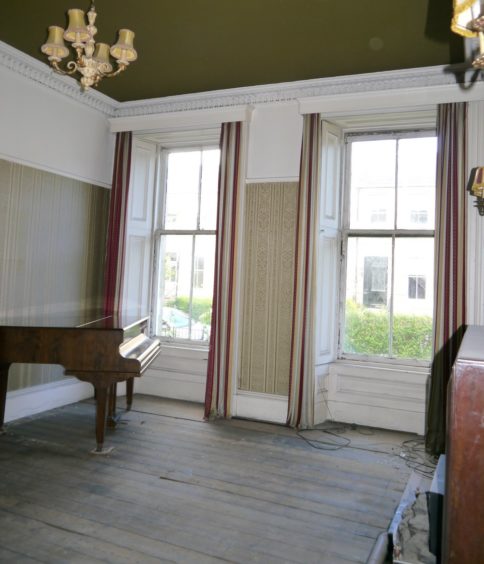 Wynne suffered a "nervous breakdown" in her late 40s, not long after Samantha had started school. And the mum she grew up with wasn't the same mum older brothers Mark and Paul knew.
"One of my brothers is nearly 10 years older than me, the other five. They knew mum before she got ill – but that's where my memories begin," she said. "I was a late-born baby. Mum was 42 when she had me, which, in the 1970s, was pretty late.
"I was the apple of her eye, her only daughter. I was stuck to her like glue, but that intimacy disappeared when she got ill. After that she had a lot of anxiety.
"Nobody ever sat me down and explained what was going on with mum. It wasn't until her 80s when I saw a diagnosis written down by chance that I realised it was a nervous breakdown. All my life, I just had to figure out how to navigate around how it affected me."
With full-time jobs and lives of their own, Samantha, 52, and her siblings were in no great rush to clear the house, but going every now and again helped Samantha find time to be alone with her thoughts. "They were together for 68 years…how much of that do I have any insight of the relationship and what went on between them?" she said.
"The process of clearing the house was a chance to mull that over, an opportunity to reinhabit different areas and just let them open up and see what I could learn from them."
Throwing and giving away her parents' belongings brought a roller-coaster of emotions, but helped Samantha realise she lost her mum a long time before she died.
"Grieving in that sense had already been done," said Samantha. "People talk about the ambiguous loss when someone goes missing, or has Alzheimer's.
"In a way, I think what I was experiencing for some time was this feeling of ambiguous loss that I had lost my mother but she was still here. It explained why I wasn't racked with grief when she died.
"It was a slower loss that took place over decades. Because of her illness, she was absent in another kind of way."
Samantha, who moved to Orkney four years ago, added: "There's still a lot about mum's illness I don't understand. And I wanted to write into the reality of that.
"I think it has taught me that ­mental illness affects the whole family. It has ramifications."
As a visual artist, Samantha, who teaches at University of Highlands and Islands as well as online, has had a fascination with space in her work for a long time.
After clearing the house and putting it up for sale in 2014, Samantha realised her focus had actually been about her parents all along.
"This sense of distance between us as a family and of mum because of her illness and silences of a period of life unsaid and my feelings…now it all makes sense," said the former Edinburgh College of Art teacher and student.
"It had been with me all my life, expressed through my visual arts for many years, which focused on space and emptiness.
"The creative work I had been doing for such a long time had been about these ­feelings and experiences and trying to express them in a less direct way.
"It took about eight years to get it all down on paper, but writing the memoir has taught me so much.
"The Clearing was certainly an ­experience, not just in a physical sense but emotionally and mentally as well.
"But we certainly breathed a sigh of relief when the house sold!"
---
Doors feature strongly. Slammed or knocked gently on. Shouted through or wept behind
From The Clearing by Samantha Clark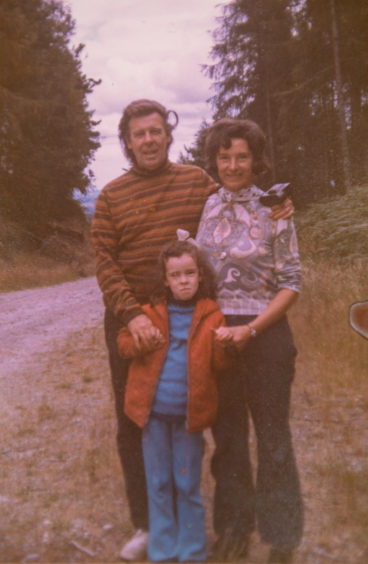 I stand by my father's frayed and sagging chair. His absence from it pulls at me with the gravitational force of a black hole. I rest my hand where his head has left a grease mark on the fabric, breathing quietly while something heavy in my chest rises, turns slowly over and sinks away again. The ceiling above my mother's chair is stained brown with nicotine; she smoked a pack a day, often more. I look across to where she sat for so long, and feel my way back in time. An old heaviness comes upon me, a soft, wet weight like a pregnancy or a tumour.
My recall of the years I lived here with my parents is episodic, perforated with blanknesses and punctuated with bright vignettes of uncertain chronology, each one with its own peculiar density and saturation. Doors feature strongly. Slammed, or knocked gently on. Shouted through, or wept behind. What entered, or didn't. What stayed behind them. The chronic sadnesses of this house enter me along with the smell of stale carpet and unwashed clothes. My mother's lengthy absences from which she would return pale and chastened, duller and more docile. An illness I was never given a word for. The little brown pill bottles she kept beside her. I'd pick them up to read the labels while she was sleeping, looking for some clue about what was happening to her, but the contents remained mysterious. Chlorpromazine. Temazepam. Largactil. The words tasted spiky, made me anxious. Too much x, y and z.
Here, in this basement, in the space between these two empty chairs and the people who once occupied them, is the space in which I grew to adulthood. And I realise that the task that lies before me is more than simply clearing away the remains of my parents' lives, more than sifting out the things of value from the magazines and chipped crockery and sagging furniture. The task before me is to understand the elusive dark matter that lay at the heart of this home, the centre of its slow-spinning galaxy, to feel for its gravitational pull, the invisible ballast that, in spite of everything, held these two people together for 68 years, and holds me in their orbit even now.
---
The Clearing, published by Little Brown, is out on March 5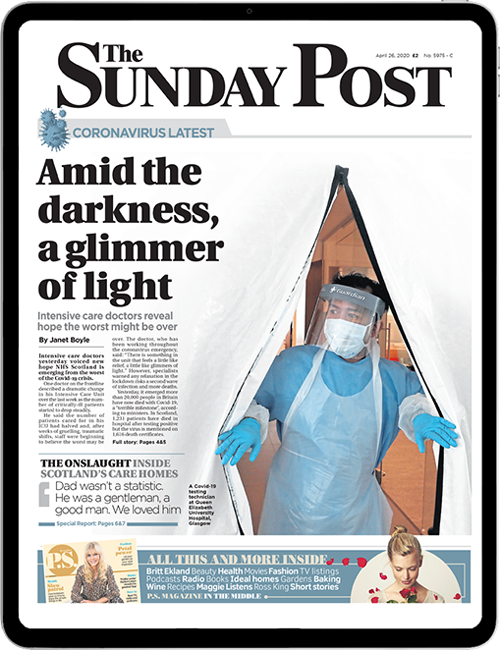 Enjoy the convenience of having The Sunday Post delivered as a digital ePaper straight to your smartphone, tablet or computer.
Subscribe for only £5.49 a month and enjoy all the benefits of the printed paper as a digital replica.
Subscribe