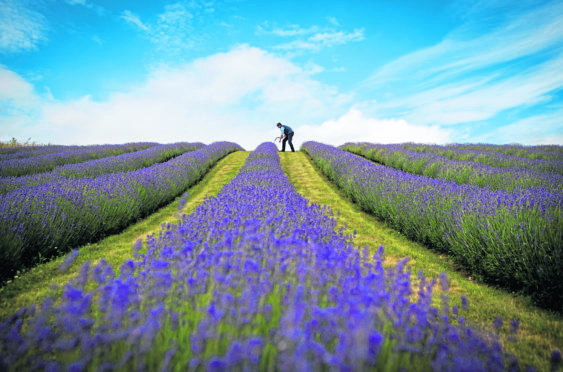 Land on roadside verges, parks and roundabouts should be left to grow wild to allow insects to flourish, according to an insect conservation charity.
Buglife Scotland believes Scotland's council-run land maintenance services should ease back on cutting wild areas. It says bees, flies and beetles would thrive as a result, and benefit wildlife across the country.
Letting areas grow over during the Covid-19 lockdown benefited Scotland's beasties – and they want the practice to continue.
"We'd definitely like to see the trimming of these areas scaled back," said Craig Macadam, of Buglife. "Road verges tend to be absolutely scalped to a very short height. It's claimed this is for safety purposes, but what we'd like to see is a perhaps a transition between the short grass at the edge of the road to longer grass the further you go back.
"Roundabouts can be left long too, as can parks and green spaces. This would be hugely beneficial to insects."
According to Buglife, two councils in Scotland have received requests to let wild areas flourish.
A review of more than 140 studies by a team of scientists at the University of Exeter showed pollinators like bees and butterflies benefit from roadside plants and flowers.
The roads form a network of "corridors" that provide food and shelter for insect populations. While there are downsides to living by the road, including exposure to pollution and the risk of being hit by vehicles, the researchers found the benefits for insects far outweigh the costs.
They found verges can be dramatically improved for pollinators by measures such as creating flower-rich verges, reducing mowing and limiting the impact of street lighting.
"There is huge untapped potential to improve road verges for pollinators through management," said lead author Ben Phillips, of the Environment and Sustainability Institute at Exeter University.
"In many cases, this involves mowing less and at the right times, to increase flowers and reduce the amount of pollinators, eggs and larvae killed.
"We can help pollinators further by reducing impacts of road pollution.
"This includes light pollution, which can be addressed by limiting how long streetlights are switched on for, as these can confuse nocturnal insects."
One council in Cornwall have already agreed to reduce the number of times verges are mown from eight times a year to two.
It's a move the council claims will help wildlife – as well as save money.
---
Butterflies are thriving, but as wild areas are cut back who knows how they will survive
By Craig MacAdam, Conservation Director of Buglife Scotland
On my daily walk near my home in Larbert a couple of months ago I'd pass by a patch of public land, where I was delighted to see some cuckooflower blooming.
These wild plants thrive in damp, meadow areas and their blooming usually signals the beginning of spring – but it was what was on them which made me especially pleased.
Beneath the pale, pink petals I spotted some telltale orange-coloured eggs perched on the stem.
Soon they would turn into hungry green caterpillars – and these would eventually morph into the distinctive Orange-tip butterfly. You might have noticed one of these distinctive fluttering insects – with bright white and orange wings – around a garden or green space near you over the past couple of months.
I certainly hope so. In fact, it may well be these butterflies could well have been one of the unexpected beneficiaries of lockdown over the past few months.
And they're not alone – the wider insect population could well have begun to thrive.
Bees, hoverflies, mayflies, caddisflies, beetles and many, many more – they have all been affected by the absence of human activity.
I'm very curious to know exactly how. It's our job to protect invertebrates and their habitats and lockdown could have long-term effects on insects.
We're certainly getting more reports of these insects being identified, right across the board. Perhaps numbers are up – but it's a bit early to tell – we won't know until we can properly survey populations.
It may well be that spending a lot more time at home means many are simply noticing and appreciating our insect neighbours. They could use a bit of appreciation, frankly.
Even if you don't like them as much as those of us who study them, Scotland's flying insects are vital to the ecosystem.
I was delighted to see a picture on Twitter last week of some clear water in the Forth and Clyde Canal, which is probably the first time anyone's seen the bottom since the canal was built.
It's good news for the dragonflies, mayflies and water beetles which make their home among the reeds. In normal times, the suspended silt and sediment in the canal can clog up their gills, while predators can't catch prey as efficiently.
These waterway dwelling insects will thrive in the crystal clear waters of canals and rivers and ponds we saw for a few months there. Scotland's insects are vital to what we eat, given their role as pollinators, and it's not just bees who do that job. A host of insects do – such as bumblebees, solitary bees, moths, butterflies, hoverflies, beetles and many more.
Apples, tomatoes and soft fruits depend on these insects to grow, and it's estimated one in every three mouthfuls of food in Scotland comes from a pollinated crop. Areas of wild flowers and shrubs were left alone in places like suburbs and city centres, and while it may seem untidy to some, these are great areas for insects to thrive.
While many insects don't venture far from their habitats, these patches of long grass and wild flowers spread out can act as stepping stones for flying creatures to move into areas where they perhaps hadn't been before. At Buglife we'd like to see road verges perhaps not cut back so dramatically – perhaps a transition from shorter grass to longer would be more helpful.
Parks and green spaces might be left alone by local councils a bit more too. And roundabouts are a great, relatively quiet areas where it wouldn't hurt to let some wild shrubbery grow.
Ground maintenance crews began to work across Scotland once more as lockdown lifted, and these wild areas are being trimmed back once more.
The cuckooflowers near my home were quickly shorn away and I'm not sure what happened to the butterfly eggs on them.
We'll only find out next year, whether the Orange-tips have made it through to adulthood. But who knows? In terms of our attitude, perhaps we will emerge from a lockdown cocoon with a changed attitude towards our helpful insect neighbours.
---
Purple reigns for lavender farmers and fields in frame
by Laura Smith 
Uniform rows of vibrant purple blooms rolling over a gently sloping hill in Kinross have made Scotland's largest lavender field pretty as a picture.
The soothing sight on Tarhill Farm has seen a tenfold surge in visitors, as thousands flock to take photos of the glorious purple haze and breathe in the calming scent of lavender post-lockdown.
Stunning images of the three-acre field have cropped up all over social media since the lifting of travel restrictions and have created even more interest in the family-run farm.
"We've been surprised by the interest," said Rory Irwin, 24, who runs Tarhill with his dad Graham, 61, and brother Toby, 21.
"Last year we had about 300 visitors to the farm on an open day. This year we've had 4,000. The lavender field has been popular with amateur photographers.
"We're delighted visitors are also taking an interest in the wider work we do and realising we grow, harvest and distil lavender in Scotland's testing climate."
Recent visitors have described the farm as peaceful, calming, a photographer's dream and "just what the doctor ordered after lockdown".
The family has put on seven extra free open days to meet the demand and have even had to turn people away to protect the field.
"Due to the seasonality of the lavender, we only have a three-week window to open. Luckily, the lockdown was relaxed just as the lavender bloomed," added Rory.
"We've talked to hundreds of people over the last three weeks and are delighted that for many, this is the first proper trip since the lockdown was relaxed."
The family is now harvesting several tonnes of lavender blooms by hand.
"We use a sickle to protect the bees and butterflies as this wouldn't be possible with commercial machine harvesters," explained Rory.
"It helps them migrate to other wildflowers without destroying their habitat.
"Harvesting the lavender takes just under two weeks. It's tiring but worth it when you see the levels of biodiversity we achieve."
The blooms are used to create lavender oil, which is distilled in a copper still on the farm. It is sold as essential oil and in soaps through the family's Scottish Lavender Oils company.
"We have planning permission to establish a small seasonal shop on the farm but have had to postpone this and move entirely online," added Rory.
"Luckily our online business has been growing along with our social media following."
In 2015, the Irwins planted 8,000 lavender blooms to make their farm near the Loch Leven Nature Reserve more sustainable and eco-friendly.
"Visitors have been very complimentary about our work here," added Rory.
"The sun has been out, so people have been able to relax in the fields between the rows of lavender."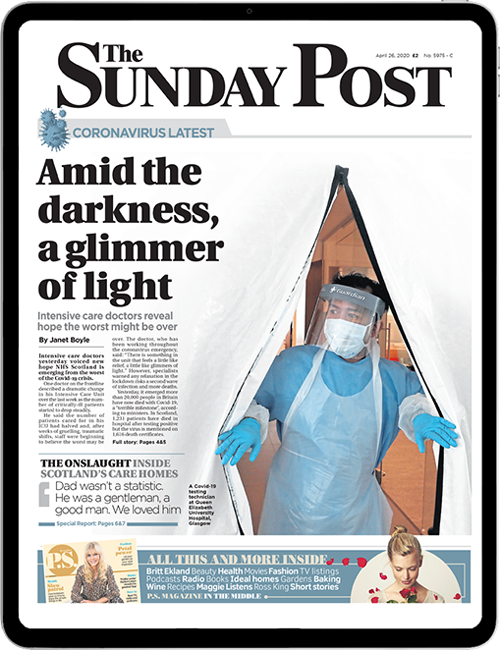 Enjoy the convenience of having The Sunday Post delivered as a digital ePaper straight to your smartphone, tablet or computer.
Subscribe for only £5.49 a month and enjoy all the benefits of the printed paper as a digital replica.
Subscribe