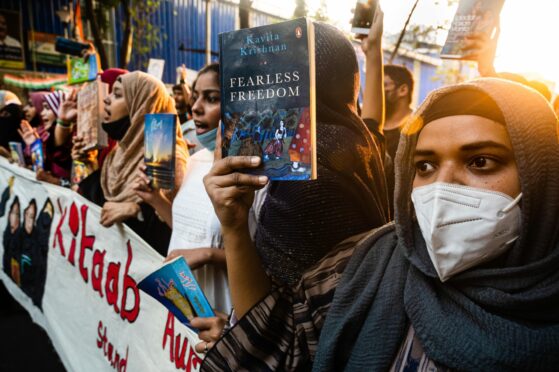 Against the majestic backdrop of the Red Fort in the Indian capital New Delhi, Irfan Nizami, an Indian Muslim, sells mangoes on a street cart on a noisy road full of blaring horns.
Nizami, 43, knows that the Red Fort was built by the Mughals, a Muslim dynasty originally from Central Asia that ruled India for 600 years, and he is proud of his heritage.
He is a descendant of the flamboyant and opulent Mughals, albeit a much diminished one. Those days of glory are long gone. Nizami said: "As a Muslim man I can be attacked by anyone over anything at any time, just for the fun of it. It's a fear I live with every day."
The Bharatiya Janata Party, or BJP, which has been in power since 2014, is the upholder of a Hindu nationalist ideology and aims to assert the social and cultural primacy of the Hindu majority in every sphere of life.
More than 80% of Indians are Hindus. The country has many minorities, however, and the biggest is the Muslims. There are 204 million, the second largest population of Muslims in the world after Indonesia.
In the BJP's hardline vision of India, the Muslim minority must know its "place", realise that it lives here on tolerance, and accept being treated as "less Indian".
As part of its aggressive Hindu nationalism for the past eight years, the BJP and its affiliated anti-Muslim groups, which are even more Islamophobic, have been running a hate campaign against Muslims.
They have been belittled, ridiculed and attacked over what they wear, eat, who they marry, how they worship and even their very status as Indian citizens. One ambition is to expunge one fact that is branded on the collective consciousness of Hindu extremists: that they, the majority, were ruled by a Muslim minority for centuries.
The party's most partisan supporters believe that, with the BJP in power, it finally has a chance to "teach Muslims a lesson". Once Muslims have been intimidated into submission, the hope is that this will erase the inferiority complex that has festered for so long.
More moderate Hindus abhor the anti-Muslim campaign but their voices count for little given the BJP's near-total ascendancy. In recent tweets, American historian Audrey Truschke explained the thought process of Hindu nationalists. She said they believe that "Muslims oppressed Hindus for hundreds of years so they deserve to be oppressed today, as retribution for the past".
It is a view echoed by well-known author and politician Shashi Tharoor. He said: "Hindu nationalists see themselves as having been invaded, oppressed, defeated, and humiliated for centuries. So now they want to hit back and assert themselves."
For Prime Minister Narendra Modi and his party, this constant mobilising of Hindu hatred has paid rich dividends electorally. Three years ago, it won him a second term and now the rank-and-file expect him to escalate the process of turning Muslims into second-class citizens.
Day in and day out, they create new communal flashpoints. One day, it's a mosque which they claim was originally a Hindu temple before a Mughal emperor demolished it to make way for the mosque. Today's Muslims must pay the price by handing over their place of worship to Hindus.
Another day, the target is the Taj Mahal, one of the eight wonders of the world and a monument to love built by Mughal emperor Shah Jahan. No, claims the Hindu far right, this is actually a Hindu temple and should belong to them.
On yet another day, Muslim street vendors such as Nizami are attacked for selling snacks because the aroma of meat offends the nostrils of vegetarian Hindus passing by.
Nizami said: "My cousin used to sell chicken biryani in Ahmedabad (in Gujarat). He was threatened by a Hindu mob last year. He has switched to vegetable samosas."
Politically, Muslims are finished in India. They have no representation to speak of. Of the 543 MPs in the current parliament, not one is a Muslim.
Likewise in the state assemblies ruled by the BJP, hardly any elected representatives are Muslims.
"It's over for Muslims in India," said a veteran Muslim journalist who lives in Mumbai and did not want to be named for fear of trolling and hate attacks. "There is no space for us in public life. We have been made invisible."
She is nervous when her 24-year-old son goes out at night, knowing that any Hindu group might pick a quarrel with him on any pretext. "Listen," she said. "If big Bollywood Muslim stars can be targeted, what chance would my son stand?
She was referring to an advert by a tyre company last year featuring one of Bollywood's biggest superstars, Aamir Khan, who was accused by BJP leaders of creating "an unrest among Hindus". In the advert, Khan urged people not to burn polluting firecrackers during the Hindu festival of lights, Diwali.
The hate campaign unleashed against Khan, who is as big as it gets in India, was ferocious. The question Muslims are grappling with is how to react to all that is going on?
If they take to the streets to protest and some violence breaks out, they can expect the full force of the state apparatus to be unleashed on them. In BJP-ruled states, Muslim protesters have been thrown into jail and summarily fined for damaging public property.
In recent months, the BJP has adopted a more brutal tactic. Any Muslim suspected of participating in a violent clash with police can have his home bulldozed. This without any notice, formal charges, trial or conviction.
Despite the provocations, Muslims have remained peaceful. "Extremist Hindus are bitterly angry that we have remained peaceful despite all the baiting. But we know they are itching for a fight and we won't give it to them," said Taslim Ahmed Rehmani, president of the Muslim Political Council of India.
If Muslims protest, they risk attack by Hindu mobs or police action or more hate speech. In April, a group of Hindu priests met in Haridwar and called for "genocide" against Muslims.
At no point in the past eight years has Modi or any BJP leader condemned a member of the party for hate speech. Muslims know it would take just one word from Modi to stop the attacks but he has preferred silence.
Nor can Muslims turn to anyone. The opposition parties are too fearful of a Hindu backlash to take up cudgels on their behalf. As a minority, the Muslim vote does not count for much.
If, however, Muslims remain silent, what about their dignity? Like all playground bullies, Hindu extremists will feel emboldened to kick them even harder. No one has the answer to this predicament. Till recently, Muslims placed their hope in the courts. Politicians had forsaken them but surely the courts, honour bound to uphold the constitution, would protect their democratic rights?
As communal tensions have risen, the courts have been forced to step in several times to adjudicate in controversial Hindu-Muslim disputes. Their record, though, is patchy.
Political analyst Parsa Venkateshwar Rao says recent rulings have been "inconsistent", adding: "But Muslims have no other option but to hope that the courts will be fair at least some of the time."
India-born Ashutosh Varshney, professor of political science at Brown University in the US, put it more strongly in a column in the Indian Express newspaper.
If the courts do not protect Muslim constitutional rights, he wrote, "we can expect a relentlessly violent India, whose majoritarian horrors are bound to be internationally noted".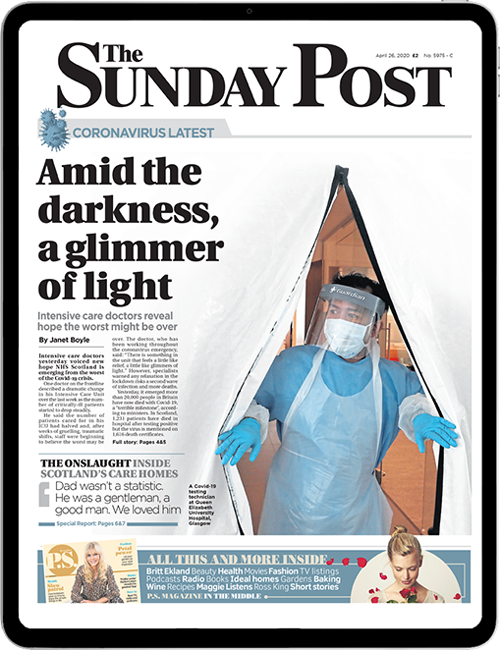 Enjoy the convenience of having The Sunday Post delivered as a digital ePaper straight to your smartphone, tablet or computer.
Subscribe for only £5.49 a month and enjoy all the benefits of the printed paper as a digital replica.
Subscribe