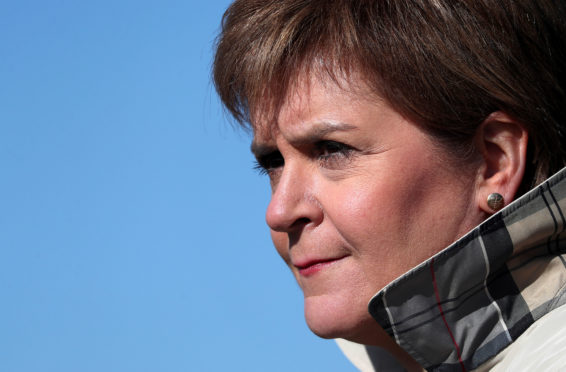 The SNP aims to hold a second independence referendum within the first half of the next five year parliamentary term.
Launching the party's 2021 election manifesto on Thursday, Nicola Sturgeon said that any potential date for the vote would be after the country emerges from the coronavirus pandemic.
According to the document, the party will be "seeking the permission of the Scottish people in this election for an independence referendum to take place after the crisis."
Sturgeon said: "I do not propose holding an independence referendum while we are still grappling with the Covid crisis.
"That would be a dereliction of my duty as first minister to dedicate all of my energies to leading us through the crisis.
"But it would also be a dereliction of my duty as first minister – my duty  to this and future generations – to let Westminster take Scotland so far in the wrong direction that we no longer have the option to change course.
"So it is my judgment that the people of Scotland should decide Scotland's future through an independence referendum in the next term of parliament."
What the SNP manifesto says about #indyref2 pic.twitter.com/RqR137sJfG

— Nick Eardley (@nickeardleybbc) April 15, 2021
There will be "no democratic, electoral or moral justification" for an independence referendum to be refused if there is a "simple majority" of independence supporting MSPs in Holyrood, the first minister said.
She added: "After this election, if there is a simple, democratic majority in the Scottish Parliament for an independence referendum, there will be no democratic, electoral or moral justification whatsoever for Boris Johnson or anyone else to block the right of people in Scotland to decide their own future.
"I believe passionately that with the powers of independence we can do so much more for Scotland."
But she added: "Whether or not Scotland becomes independent won't be decided by me or by the SNP or even by the Scottish Parliament.
"It will happen only when a majority of people who live here in Scotland are persuaded to vote for it.
"Scotland's future will always be Scotland's choice."
📺 Watch @NicolaSturgeon outline our vision for a better, greener, more progressive Scotland.

🏴󠁧󠁢󠁳󠁣󠁴󠁿 Make it #BothVotesSNP for strong leadership through Covid, our plan for recovery and, when the crisis is over, choice of a better future with independence.https://t.co/MTu4h5cZvx

— The SNP (@theSNP) April 15, 2021
Elsewhere in the manifesto, the SNP plans to freeze income tax for the duration of the next Scottish Parliament if it wins the election next month.
Sturgeon said it will help "provide stability to the economy and to household budgets during this period of recovery" from coronavirus.
She also announced a "transformational" spending increase for the NHS, promising to boost frontline spending by at least 20% – rising by £2.5 billion by the end of the next Holyrood term.
She has promised voters a £10 billion programme on investment in NHS facilities, combined with a minimum 25% rise in mental health spending and the establishment of a National Care Service.
The SNP also vowed to set up fast-track cancer diagnostic centres in every health board area.
Sturgeon said every GP practice in the country will have access to a dedicated mental wellbeing link worker, creating a network of 1,000 additional staff, while NHS dentistry charges will be abolished.
At the virtual launch of the SNP manifesto on Thursday, Sturgeon said: "This will ensure that cost is not a barrier to accessing health care.
"It will complete an SNP mission to restore all of Scotland's NHS to its founding principle – universal healthcare, provided free at the point of need."
Covid-19 has given Scotland the chance to "build a better nation", she added.
"As we recover, we have the opportunity to reimagine our country.
"In this manifesto the SNP is setting out a serious programme for serious times.
"It is practical but unashamedly optimistic and it is transformational in its ambition."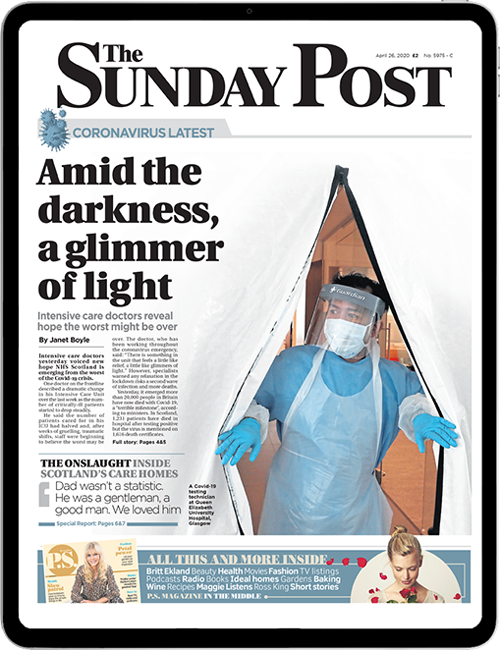 Enjoy the convenience of having The Sunday Post delivered as a digital ePaper straight to your smartphone, tablet or computer.
Subscribe for only £5.49 a month and enjoy all the benefits of the printed paper as a digital replica.
Subscribe