The thrill is mixed with sadness for acclaimed wildlife photographer George Logan as he captures stunning shots of lions in Africa because, on every trip, he knows there are fewer to frame.
From hundreds of ­thousands at the beginning of the last century, there are now fewer than 20,000 in the wild, with the species on a trajectory to become extinct as early as 2050.
Logan finds it difficult to understand why the number of statues of lions in London alone could soon outnumber the real thing.
He said: "We're mad about lions. We've got them on our football shirts, flags and money.
"You see them everywhere except in the wild. But right under our noses they're being allowed to drift away. Are we really going to sit by and watch the most iconic predator die out?"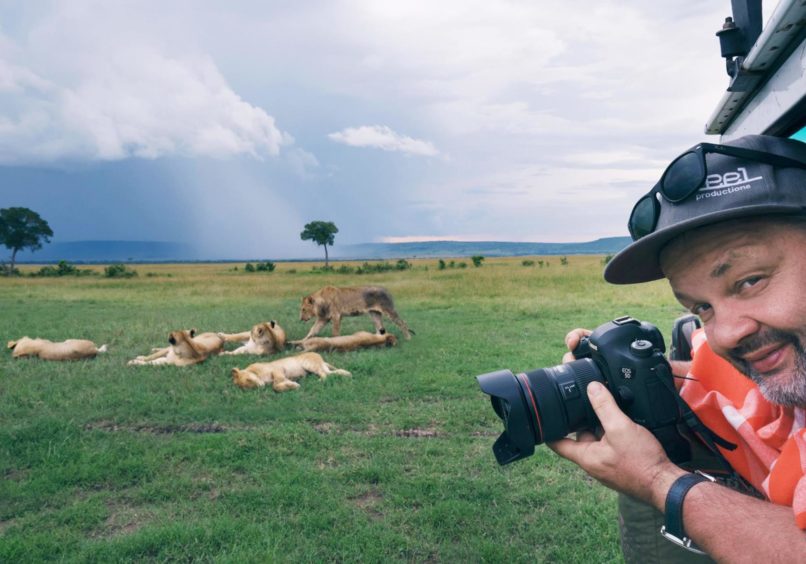 George, born in Bellshill, Lanarkshire, became obsessed with animals as a child after watching the film Born Free – the story of Joy and George Adamson raising Elsa the lion cub.
And his very own circle of life has brought him to working with one of the Oscar-winning film's leads, Virginia McKenna, and her charity foundation named after the 1966 classic.
Their wildlife conservation work is centred around Meru in north-east Kenya, where Elsa was released into the wild in the movie.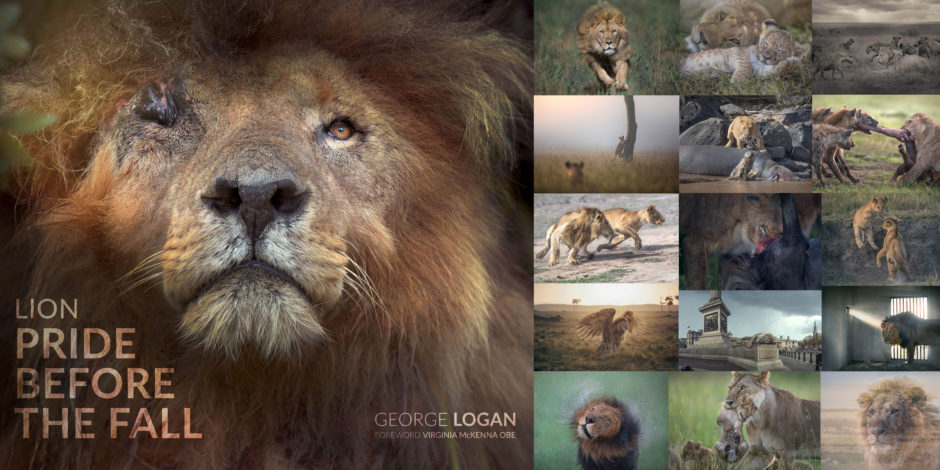 George is releasing a book of his photographs from across the past decade, titled Pride Before The Fall, with proceeds going to help revive the lion population.
"The book was an effort to make my photography really mean something," said the 60-year-old. "I really wanted it to be part of something that made a difference.
"We've focused our efforts on one area of Kenya, where the population has shrunk down to 60. It used to be 1,000 and they've been poached to the brink."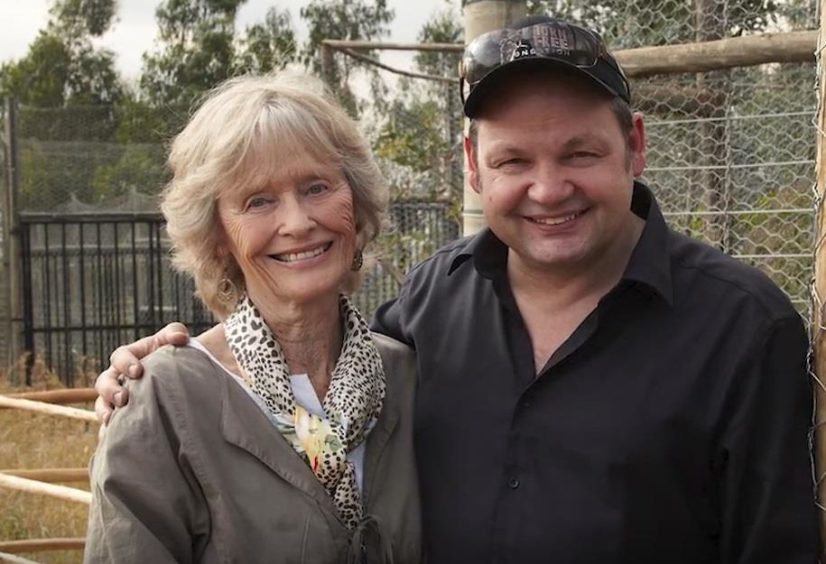 With the lions sleeping up to 20 hours a day, the trickiest part of photographing them is being able to find them at the right time.
"They're quite a challenge, and there's a lot of waiting for them to wake up," George explained.
"It's what they do in those waking hours, though, that's absolutely spellbinding. They're amazing creatures to watch.
"As the only cat that lives in a social group, there's always something going on, whether it's a pride takeover or some sort of chase or hunt. Being there in those moments makes it all worthwhile."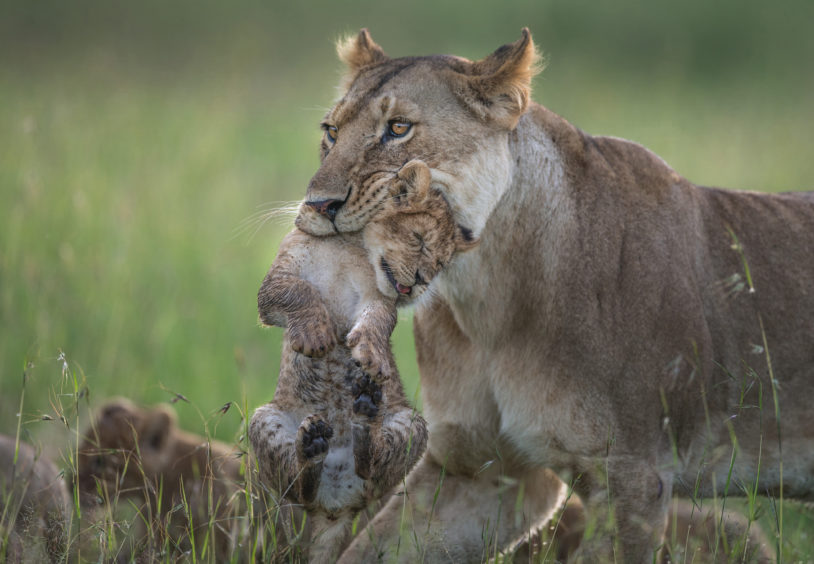 George says he's incredibly privileged to be able to get up close and personal with the animals – especially as his years of experience now help him sense danger.
"Everybody asks about the scary moments," he laughed. "We shoot from a filming vehicle that has no doors. I'm on the floor and the whole side of the vehicle is open. They come right up, within touching distance, even sniffing the other end of the long lens.
"For whatever reason, they don't see us as prey, we're not on the menu. Initially it takes a bit of getting used to until you recognise the body language that they're not going to do you any harm.
"Occasionally we do get mock-charged, usually by the big males when they're trying to mate or just don't want you there. They generally charge about three or four metres, snarl at you and wander off.
"I love it. It's an ­incredible privilege to be there watching them and seeing them do what they do."
---
Stories from behind the lens
Here, George tells the tale of some of his most incredible images.
Maridadi in the Rain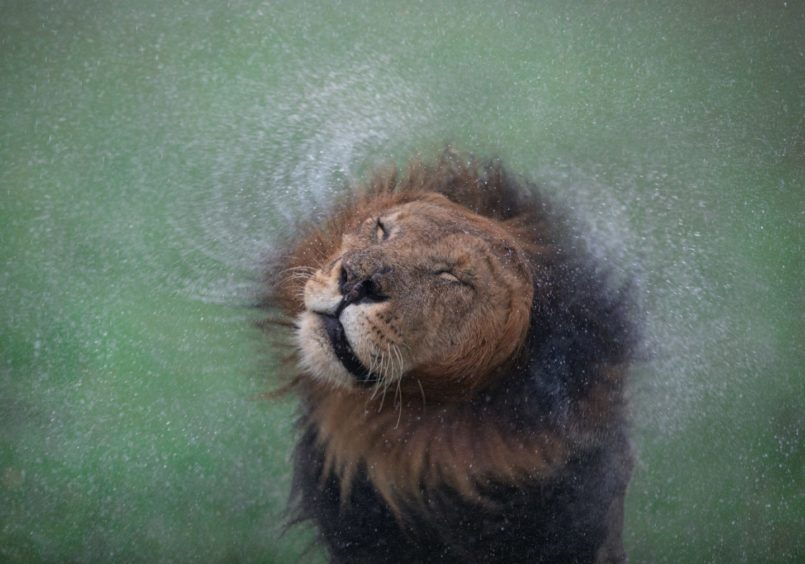 This was shot about a year ago. He's the current dominant male of the Fig Tree pride in the Maasai Mara, a big mean lion.

We followed him for a whole morning; I was after that spray shot because it's quite a rarity.

Maridadi means handsome in Swahili, but ironically his nose has been completely mangled by his brother, in a fight over a female.

When they become the head of the pride their whole demeanour changes. I'd be concerned about getting too close to him!
Lions v Hyenas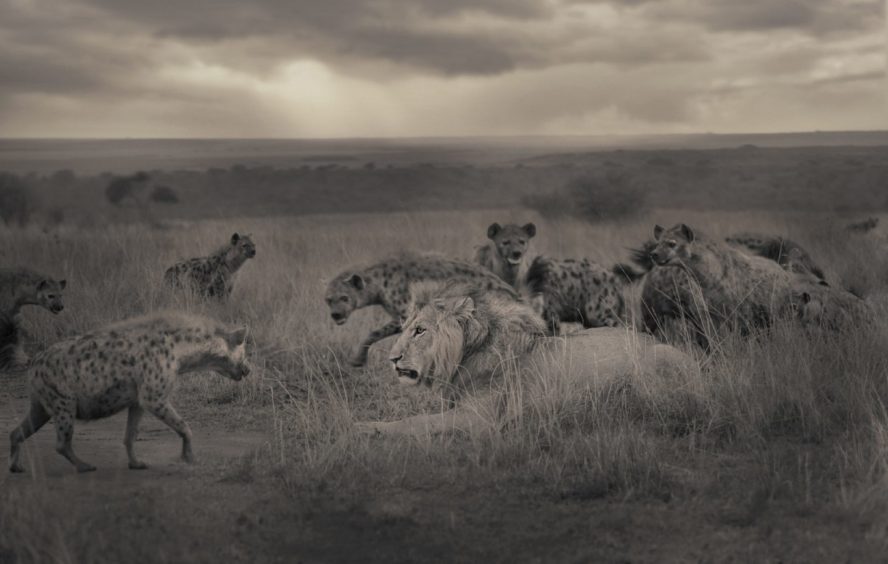 I have a whole section in the book called 'problem neighbours' because people tend to think that when a lion interacts with another animal, they're dinner.

It's not always the case, and hyenas are the eternal enemies. They have the numbers, while the lions have the strength and power. Every day there'll be some sort of confrontation. It usually depends on the numbers who wins.

The hyenas aren't so brave when the male lions are around. The females would fight and chase them, but the males would just kill them.

The last battle we witnessed was 25 against eight and they fought for an hour and a half. It ended up with a lion up a tree with 15 hyenas below, and two hyenas dead.

We were exhausted after watching it, it was brutal.
A Lion Called Dolo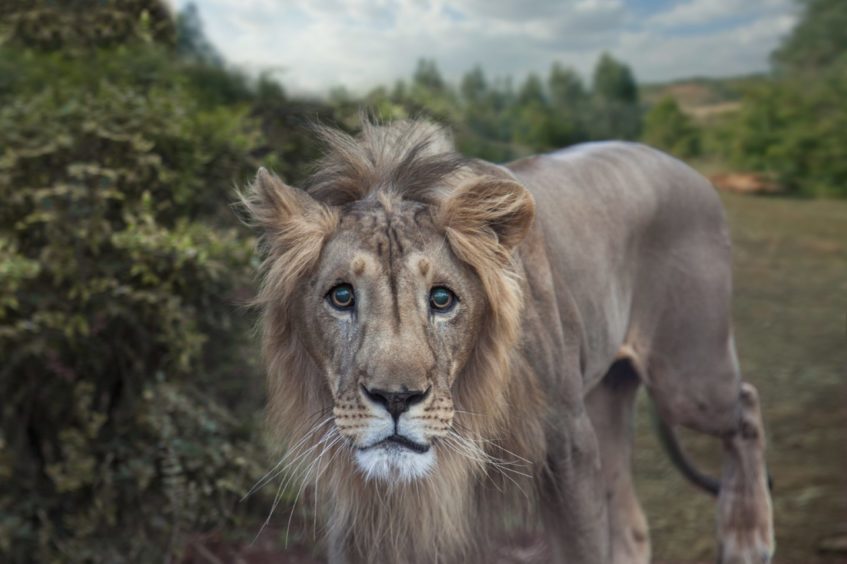 I've never seen an animal that's had its life story over his face like that lion.

He was kept in a concrete bunker on a one metre chain for four years from when he was first born, absolutely traumatised.

Born Free tracked him down to Ensessakotteh in Ethopia. They spoke to the village elders and agreed he needed to live somewhere better.

He was checked over, darted and transported and lived to the age of 15 in the sanctuary, which is really good going for a male lion.

He transformed, grew his mane and became a proper lion.
Eyes on the Prize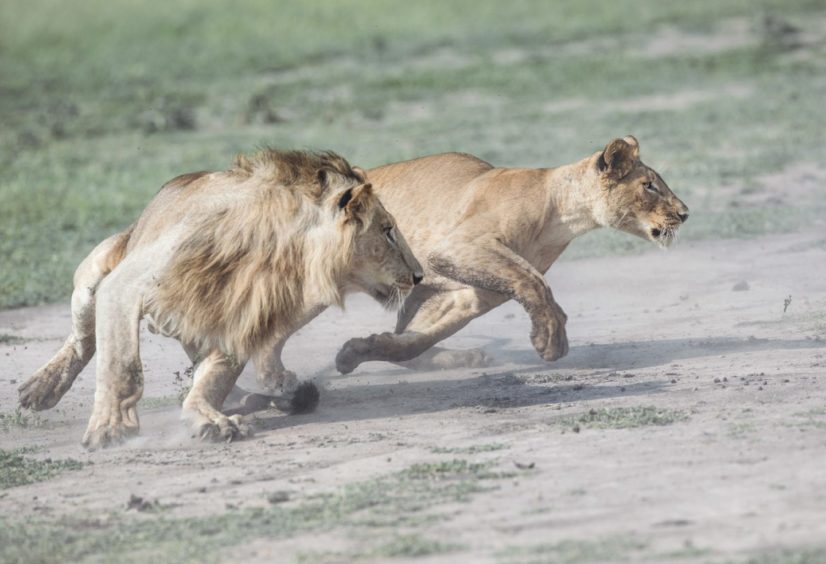 Just out of this shot from the Maasai Mara should be a buffalo or zebra or something, but they were actually chasing this little warthog, and the female got it.

They're a bit more agile, you can see she's got her turn ahead of the male. Three seconds after this was taken the warthog was in her mouth.

You don't want to show graphic images of kills like that, but I was pleased with the movement in this one.
The Massacre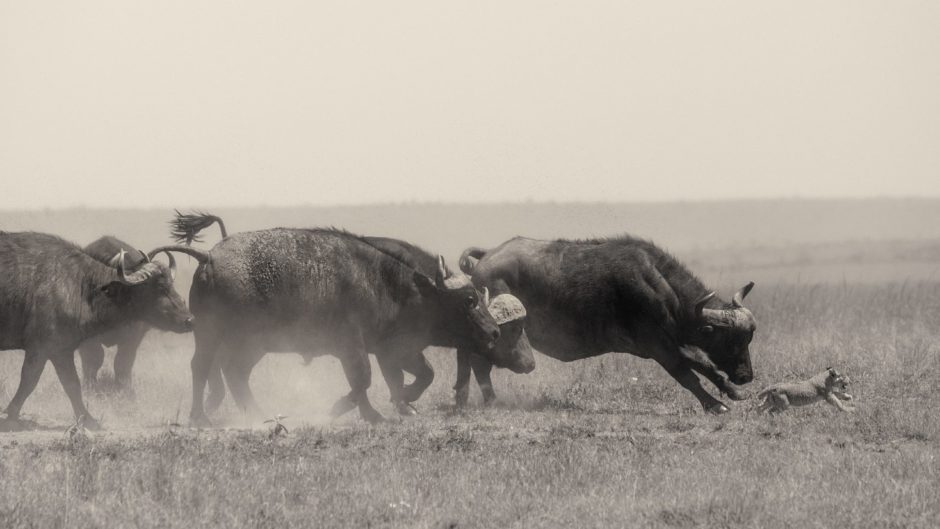 We almost didn't put this in the book, it was one of the most harrowing, traumatic things I've seen.

An agitated buffalo herd surprised a pride of sleeping lions who all had their cubs with them. The lions woke up and charged them, but the buffalo regrouped and charged back.

The cubs were all in the clearing with the lionesses backed off and it was just one of the most horrible things I've ever seen.

They lost three cubs right there on the spot. I stopped taking pictures when it got too horrible to watch.

If anyone thinks animals don't have feelings, they should watch a lioness when she loses a cub, it's one of the saddest things to ever witness.

I was unsure about putting it in, but it's circle of life stuff. The pride had nine cubs, an abnormally large amount, and this was almost like nature's way of redressing the balance.

By the evening, the lions were hunting the buffalo again, and it had gone full circle.
---
Lion: Pride Before The Fall is available now from bornfree.org.uk, or pridebefore thefall.com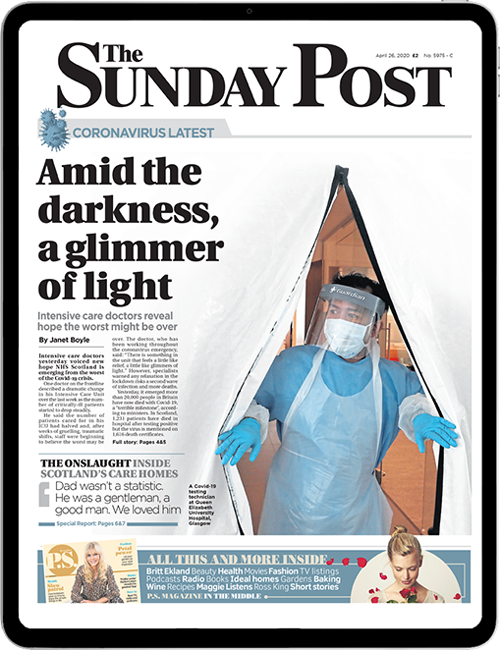 Enjoy the convenience of having The Sunday Post delivered as a digital ePaper straight to your smartphone, tablet or computer.
Subscribe for only £5.49 a month and enjoy all the benefits of the printed paper as a digital replica.
Subscribe