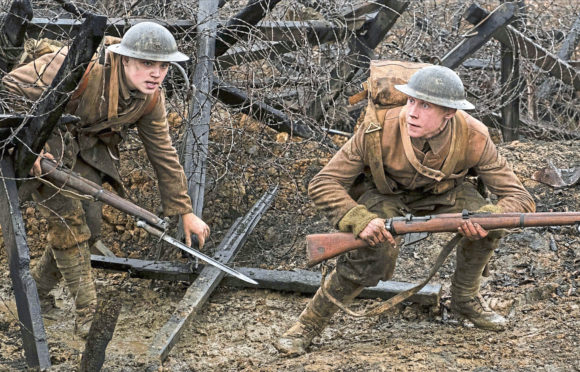 Sam Mendes had some very personal inspiration for 1917, his new First World War film – his grandfather.
The director also wrote the script, about two young soldiers – played by George MacKay and Dean-Charles Chapman — given eight hours to run miles across German territory.
They must deliver a message to another British unit to stop an imminent attack that will lead 1,600 soldiers into a trap, with the brother of one of the messengers certain to be among the massacred soldiers if they don't get there in time.
Mendes decided to film the entire picture as one continuous, real-time shot where the camera never leaves the soldiers' point of view.
And that unlocked the cinematic potential that has been in the back of Mendes' mind since hearing personal stories from his grandfather who served as a soldier/messenger in the trenches.
"The idea was loosely based on a story my grandfather told me. The movie is dedicated to him," says Mendes, director of the last two Bond films.
"He fought in the First World War. He was very young, and small and very fast so he was given the job of carrying messages on the Western front.
"I won't go into specific detail about what things in the movie were specifically influenced by what he told me but there are several.
"The characters George and Dean-Charles play are not my grandfather but the spirit of what he told me and the central idea of a man carrying a message wouldn't leave me. It just clung on in there somehow, for the last 50 years.
"There were clear behavioural tics he had, that went way back to the war. One of them was he washed his hands incessantly. And when he did that, he washed them for a very long time.
"I asked my dad, 'Why does Grandad wash for so long?'. He told me it was because he remembers the mud of the trenches, when he could never get clean.
"I said, 'What were the trenches?' and he told me about the war. You and I were born in peacetime. I had never even considered the possibility that someone I knew had fought in a war.
"That was when it first entered my consciousness. I always had a fascination with that war and I think you will find there is an enormous subculture of people who are particularly fascinated in the Great War.
"That's partly because of where it sits historically. You've got that moment where you start with horses and infantry and end with tanks and planes, the beginning of modern warfare.
"During the shoot, every day I thought about my grandad and what he went through and the descriptions he told me.
"He lost his best friend to a direct shell hit, very much like a scene in the movie where one character encounters a captain who is just standing there, crying.
"And you just see it, bam. He evaporates. That is what happened by my grandad's best friend.
"He turned around and he was simply gone. There was nothing left of him, at all.
"My grandad was gassed and suffered all sorts of wounds. He was sent to the military hospital and then back to the front.
"But I think the point of the film is that we live in a selfish culture and the idea of sacrifice on this level, for something bigger than yourself, seems to me to be something we have to acknowledge."
1917 (15) is in cinemas from Friday January 10.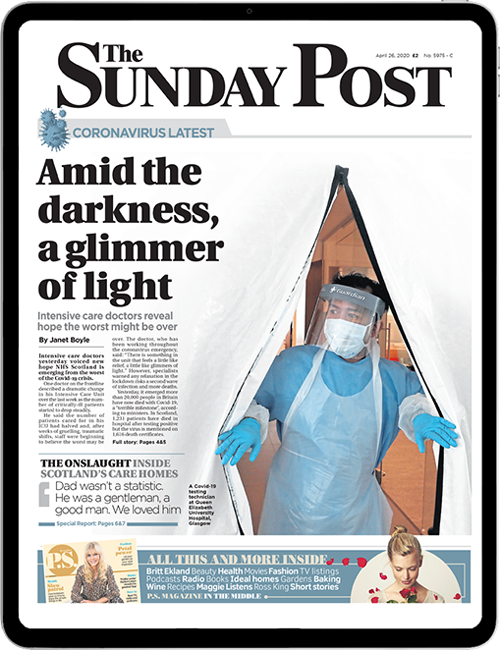 Enjoy the convenience of having The Sunday Post delivered as a digital ePaper straight to your smartphone, tablet or computer.
Subscribe for only £5.49 a month and enjoy all the benefits of the printed paper as a digital replica.
Subscribe