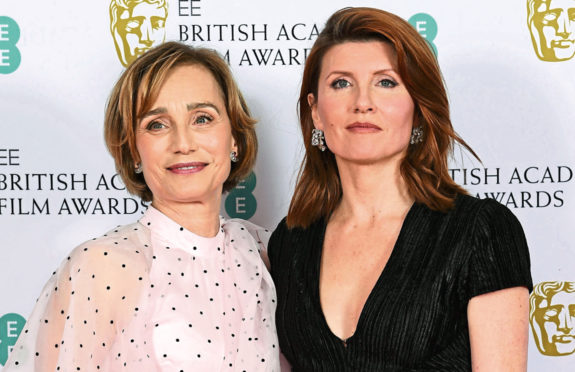 Military Wives is very much in the tradition of British comedy-dramas such as The Full Monty.
Which is hardly surprising, considering Full Monty director Peter Cattaneo's behind the camera for this flick, too.
It's a fictionalised big-screen version of Gareth Malone's smash-hit TV series Military Wives Choir, telling the story of a group of Army wives forming a choir while their husbands are serving in Afghanistan, only to become a media sensation.
It stars Kristin Scott Thomas as colonel's wife Kate and Sharon Horgan as Lisa, and was filmed on actual Army bases.
Horgan says: "One of the houses we used as our green room between scenes was owned by one of the wives who had a teenage daughter around about the same age as that of Frankie, one of the characters.
"So it was amazing to meet her and her daughter and see how everything affected them and use that a little."
Peter Cattaneo adds: "The house we used as one of the locations was empty as military life is quite transient, two years is often the average amount of time a family will spend living on a particular military base.
"It was an officer's house so it was perfect as Kate's house, and then when we were shooting one of the neighbours came around and said, 'You know, this is where the first-ever Military Wives Choir meeting happened, in this living-room' and we were like, 'Wow.'"
"Also, she was the poshest woman I've ever met in my life. Like posher than Kristin Scott Thomas which is really, really posh," laughs Horgan.
She adds: "We were all really nervous, none of us are singers so you feel a little bit vulnerable but it's like the film, the story behind it, you're better together.
"So when you sing on your own, that would be horrific but when we all got together as a choir we had great coaches and everything working out the harmonies and it all came together.
"The reason the film works is because it was such a lovely bunch of women to work with, incredibly supportive."
Cattaneo agrees, saying: "The first thing the real wives said to me when I met them at a choir rehearsal in Catterick was 'Don't set us out like meek little women waiting around for our brave men. We have quite a laugh, it's a tough life but the choir really is the centre of our lives and helps us get through the days so make sure you give us some laughs.'
"I've never been on a set with that kind of ensemble spirit, it was amazing apart from when you're trying to get quiet to start filming because everyone's laughing.
"That started with the singing. We shot early takes of people not really knowing what they were going to do so we could capture them getting good.
"At an early rehearsal the cast had never met and I said, 'Right, we're all going to sing now' and you could see life imitating art there really profoundly, it really broke the ice because they were all, 'I can't sing.'
"But once they started singing, they really bonded after one day and by the end of the shoot I've never seen anything like the bond.
"We had all these trailers laid on for the cast and they'd all end up in one."
Jason Flemyng plays a captain and admits: "What was it like making a film with 42 women? I did what I was told. A lot."
---
Military Wives (12A) is in cinemas from Friday March 6.