A sudden health emergency is terrifying anywhere but, even more alarming, when it occurs far from home.
Guy Lyons, however, was lucky to be away when he suffered a huge stroke. It may have saved his life.
Guy, 64, collapsed on a break in Belfast but an operation available there, but not in Scotland, helped save his life and minimise the damage inflicted by the stroke.
The retired painter and decorator, who was born in Dublin, was in Northern Ireland with his wife, Pauline, 55. They were visiting Guy's daughter Shonagh, 30, her fiancé David Balfour, 32, and also meeting David's parents for the first time.
The group had visited the city's Titanic Museum and were enjoying a drink in a bar when Guy suddenly collapsed. The family immediately knew something was seriously wrong.
An ambulance arrived within 20 minutes and Guy was rushed to the Royal Victoria Hospital in Belfast. A team of experts arrived, some of whom came in off duty. They discovered a large blood clot which had travelled from Guy's heart to his brain, causing a massive stroke.
Unbeknown to Pauline, the Royal Victoria Hospital in Belfast is one of the main centres in the UK which carries out a life-saving procedure called a thrombectomy, which physically removes clots from major arteries of the body. Time is critical, and because Guy arrived at hospital within a four-hour window of when his stroke started, he was a candidate for a thrombectomy.
The surgeon explained to Pauline the procedure was Guy's best chance of limiting potential disabilities from the stroke. Trying to take everything in – Pauline agreed to the operation being performed.
Pauline said: "It was absolutely frightening, everything happened so quickly. I thought I was going to lose him. This operation was my only hope."
Guy wouldn't have had this operation if he'd been at home when he had his stroke because, earlier this year, thrombectomies were withdrawn in Scotland.
Pauline said: "I had no idea about any of this and now I realise how lucky we've been. I was terrified and distressed about Guy suffering a stroke away from home and familiar surroundings but being away from home saved him. He might not be here today, and now I'm so grateful we were in Belfast and to the wonderful medical team and nurses there."
Guy said: "I don't remember much about the stroke and I had no warning.
"I'm only just realising how lucky I have been. I assumed everyone would have the same life-saving opportunity and the chance to have a better recovery. I realise now that this isn't the case.
"I am grateful I was in Belfast when I had my stroke, which meant I had the best possible treatment and a thrombectomy, which I'm very sad to say wouldn't have been the case in Scotland.
"Everyone deserves the same chance in life, and it shouldn't matter where you live.
"Strokes are life-changing – for everyone. Many people end up becoming full-time carers. Pauline has already nursed me through cancer, and I don't know what I'd do without her."
After the thrombectomy, Guy slipped in an out of consciousness and Pauline remained by his bedside. Guy's younger daughter, Sinead, 28, also flew over from Edinburgh and the family kept vigil.
A few days later the critical period was over. Guy's speech returned, albeit slightly slurred, and even though he was unable to walk, the hospital felt he was ready to return to Glasgow. After suffering a stroke on July 27 and spending 18 days in an acute stroke unit, Guy was airlifted back to Glasgow's Royal Infirmary Hospital.
While his speech returned quickly, walking took longer and Guy either had to use a wheelchair or walk with two people supporting him. However, when he was transferred to Stobhill Hospital for rehabilitation five days later – he walked unaided into the ward.
He was finally discharged from hospital on August 27 – less than a month after he had suffered a massive stroke.
Outwardly Guy displays none of the signs that signify someone has suffered a stroke. His speech has recovered, he walks normally and without any aids. He is also receiving support from the community stroke team. A keen chess player, he has already been making plans to return to his chess tournaments.
The couple's four-day holiday to Ireland turned into an 18-day stay. Pauline, who works as a manager for the civil service, had to take time away from work.
Pauline said: "It seems so unfair that Scottish stroke patients are being denied this life-changing treatment when it is so readily available in other parts of the country. Scottish stroke patients are at risk of being left far more disabled and dependent than they need to be, and this has a huge impact on costs for the NHS to provide extra care.
"I'm certain this operation saved Guy and helped his recovery. I can't bear to think about the outcome if this had happened in Scotland. It's sad and shocking to realise that Scottish stroke patients are not being given this chance."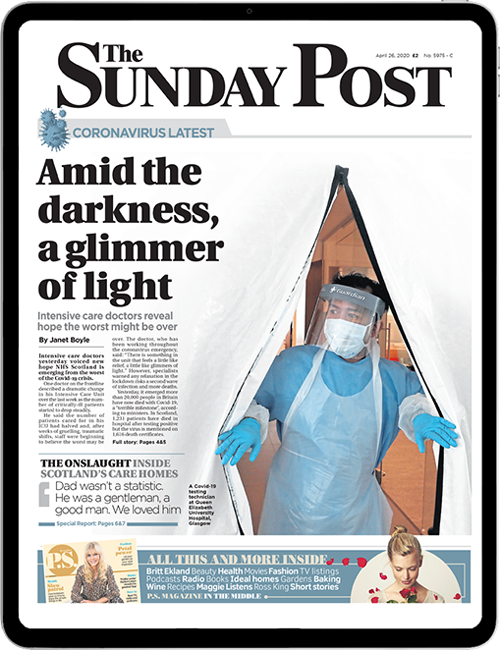 Enjoy the convenience of having The Sunday Post delivered as a digital ePaper straight to your smartphone, tablet or computer.
Subscribe for only £5.49 a month and enjoy all the benefits of the printed paper as a digital replica.
Subscribe