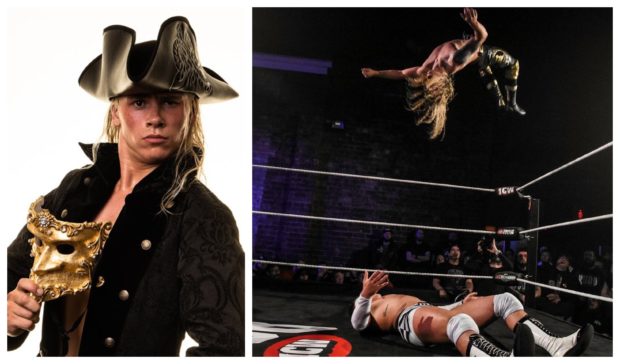 From an early age, Leyton Buzzard was a confident and talented performer.
But while his younger years were spent on the musical theatre stage, he's now putting his talents to use in the wrestling ring.
Once in the running to be cast as Oliver! on London's West End in BBC talent show I'd Do Anything, the rising star in Scots-based Insane Championship Wrestling reckons his acting experience put him in good stead for his career in the ring.
"Wrestling is a big show, and definitely the acting side of things does help," Leyton – Arthur Byrne outside of the ring- says.
"It's about having that confidence in front of crowds. A lot of wrestlers who start training have never had that experience, and if you haven't been out there before you don't know what to expect.
"When you're talking on the microphone as well, the acting experience helps as you're more fluid and you know what to say, you don't really stumble."
First becoming involved in acting at the age of eight, Leyton was encouraged by his parents who had watched him sing along to Disney classics.
When a production of Chitty Chitty Bang Bang came to his hometown of Bristol, he auditioned for a part in it and landed the role of Jeremy Potts.
From then on it was audition after audition – and eventually Saturday night television.
"I just carried on working," he recalls. "After every show, I had another one lined up.
"Then my mum saw the advert for I'd Do Anything. We'd watched the Joseph and Maria ones together so were familiar with the programme.
"It was quite an experience, over 5,000 kids auditioned for it. I got in to the show and it was crazy."
Just ten years old at the time, he performed each week on the 2008 TV series, which looked to cast an unknown lead to play Nancy and three young performers to take it in turns to play Oliver in the hit musical's West End revival.
He was eliminated after making it to the final eight, but from then on his performing career continued to rise, and it brought him closer to making a long held dream become a reality.
He says: "Wrestling was always the dream. I've watched it on and off since I was about five and it's one of those jobs that, when you're younger, you don't think you can actually do.
"I always had in the back of my head that I'd love to be a wrestler but didn't think it was a viable option. I wanted to be a spaceman as well!
"Musical theatre was never something I intentionally got into, it just sort of happened.  I carried on getting work – I think I worked without stopping for about five years at one point.
"From the age of nine I was non-stop, it was crazy and I didn't really have the time to think, is this what I want to do?
"As I grew up and started watching independent wrestling companies in the UK like ICW I realised that wrestling was something I could do.
"When I was 18 I found out that ICW was opening a training school, so I moved up to Glasgow to train at the Glasgow Pro Wrestling Asylum (GPWA) and hopefully one day wrestle for ICW."
It was quite the plunge to take, with Leyton having only been to Scotland a couple of times before while touring with a show.
"I'd never been to Glasgow and it's one of those places you always hear has a bad rep. Whenever I told family members and friends they said 'oh it's a bit rough up there!'
"I found it was the polar opposite, the friendliest city in the world and I absolutely love it up here."
It was a move fully supported by his family, with his mum driving him up to his new Glasgow flat and new career beginnings.
"She knew it was something I'd wanted to do for a while so she literally dropped me off in the car, said goodbye and that was it," Leyton says.
"My mum's my biggest fan in whatever I do.  She just wants me to do what I love. She loved being a part of musical theatre and coming to the shows, and it's the same with wrestling.
"She's a big fan now, and watches all the videos and messages me about all the shows! She got to come up and watch me wrestle at my first big ICW match this summer.
"She's 100% supportive and has always just told me to do what makes me happy, not what makes the most money or the smart option.
"Her number one focus has just been me being happy."
Leyton's time with ICW so far has been packed with special memories, from long-running storylines to performing in front of thousands at the promotion's biggest shows.
Within a year of moving up, he was a regular character on the roster and has now been on every ICW show since September 2017.
"I wouldn't have moved up here if I didn't think I had it in me, but I didn't expect it all to happen so quickly," he admits.
"Getting to walk out at The Hydro for the first time was amazing. The atmosphere was great in a massive venue and you're walking around backstage with all these plaques of people who've performed there.
"That was insane, especially when I'd only been working in wrestling for just over a year."
Leyton ranks the culmination of a long-running storyline with fellow wrestler Joe Hendry as another of his highlights.
It was a match that had been built for two years, seeing Hendry gradually turn on the youngster who had been his right hand man.
Eventually it blew up in a huge bout at the Shug's Hoose Party event in July, with Joe's ICW career on the line.
"It was just the perfect pay-off for such a good storyline, and for one that was that long," Leyton recalls.
"My mum and auntie watched me from the front row. They'd seen me wrestle before but it was on a smaller show and I was pretty rubbish!
"Getting to have them there to watch me win and send Joe packing from ICW was a really crazy moment."
A more recent ICW summed up nicely how far Leyton's come.
He wrestled Liam Thomson in the main event of the new ICW Gonzo event, which is held in the GPWA.
"It was the first time I main evented and it was also at the Asylum, which is where I train. To have that come full circle was a really crazy night."
Looking forward, Leyton has his heart set on lifting ICW's Zero G Championship, following in the footsteps of the likes of Kenny Williams and Noam Dar.
"Past that, my ambition to wrestle in Japan," he adds. "That's where some of the best wrestling in the world is and the training over there is just another level.
"That's been a goal of mine since I got into it, to live and train in Japan. That's the big long term goal."
While he's ticking off one dream opponent in Dar this weekend, there are a few others Leyton would like to step into the ring with.
"The big one would be Chris Jericho. He's my favourite wrestler of all time, I've been a fan of him and the way he reinvents himself since I was small.
"That would be a number one dream match, him or Rey Mysterio probably."
---
---
Leyton can't wait to test himself at ICW's Fear and Loathing event this weekend at Glasgow's SWG 3.
On night two of the weekend double header, he steps into the ring with fellow ICW rising star Kieran Kelly and WWE NXT UK star and homecoming hero Noam Dar.
"It's definitely the biggest match for me so far," Leyton says. "Me and Kieran have wrestled each other quite a few times in ICW so it's always a blast to get in with him.
"Noam I've never wrestled before but it's always been a goal of mine to do so, especially when I moved up to Glasgow watching guys like him and Kenny Williams, some of the smaller guys.
"That was really what attracted me to it, and made me a fan of the product in the first place. It's crazy now that, four years later, I'll be wrestling him on the biggest show of the year."
Leyton and Kieran are among a number of younger talents taking opportunities as some UK talents make the move to WWE's NXT UK.
"Established talent that have been putting the graft in over the years are getting their shot there," he says.
"It's great for them and it also gives younger and newer talent the opportunity to step up and make a name for themselves and maybe get a spot they might not have had before.
"We're getting the opportunity to step up and show what we're made of."
---
ICW: Fear & Loathing XII, SWG3 Glasgow, Saturday 2 and Sunday 3 November, Tickets at insanewrestling.co.uk