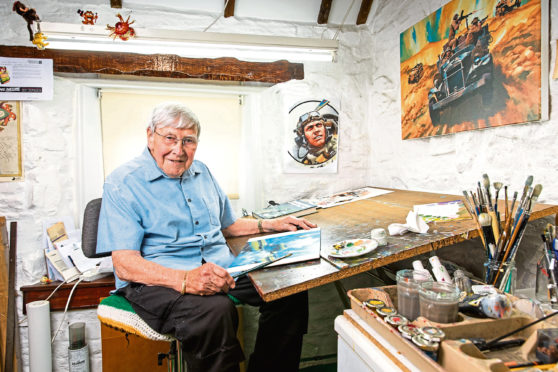 Its pages have, for 60 years now, famously told of comrades in arms, of loyalty, grace under pressure, can-do attitude and gung-ho spirit.
The same kind of attitude and spirit, in fact, that fuels the artist indelibly associated with the Commando comic book, still working as he prepares to celebrate his 89th birthday.
As Commando celebrates six decades of wartime derring-do, its longest-serving illustrator, Ian Kennedy, a legend among comic book fans, says he has no plans to step away from his drawing board.
"I'm very lucky to keep in pretty good health and to still be able to wield a pen and brush, and I'm only too happy to remain involved," he smiled.
"Fans will talk to me on Facebook about past covers I've done, many of which when I look at them I have to think twice about whether I did actually do them, because sometimes I'll say, 'Gee, I wish I could paint as well as that'. I think most writers and artists would agree when I say that while the money is handy, it's the sense of achievement that means everything."
He told how growing up during the war helped him bring the comic's military stories to life as they enthralled fans through the generations.
The artist was just a few days short of his seventh birthday when the Second World War began, and with airfields dotted all around Tayside, he says it felt like barely a moment passed by without aircraft flying overhead.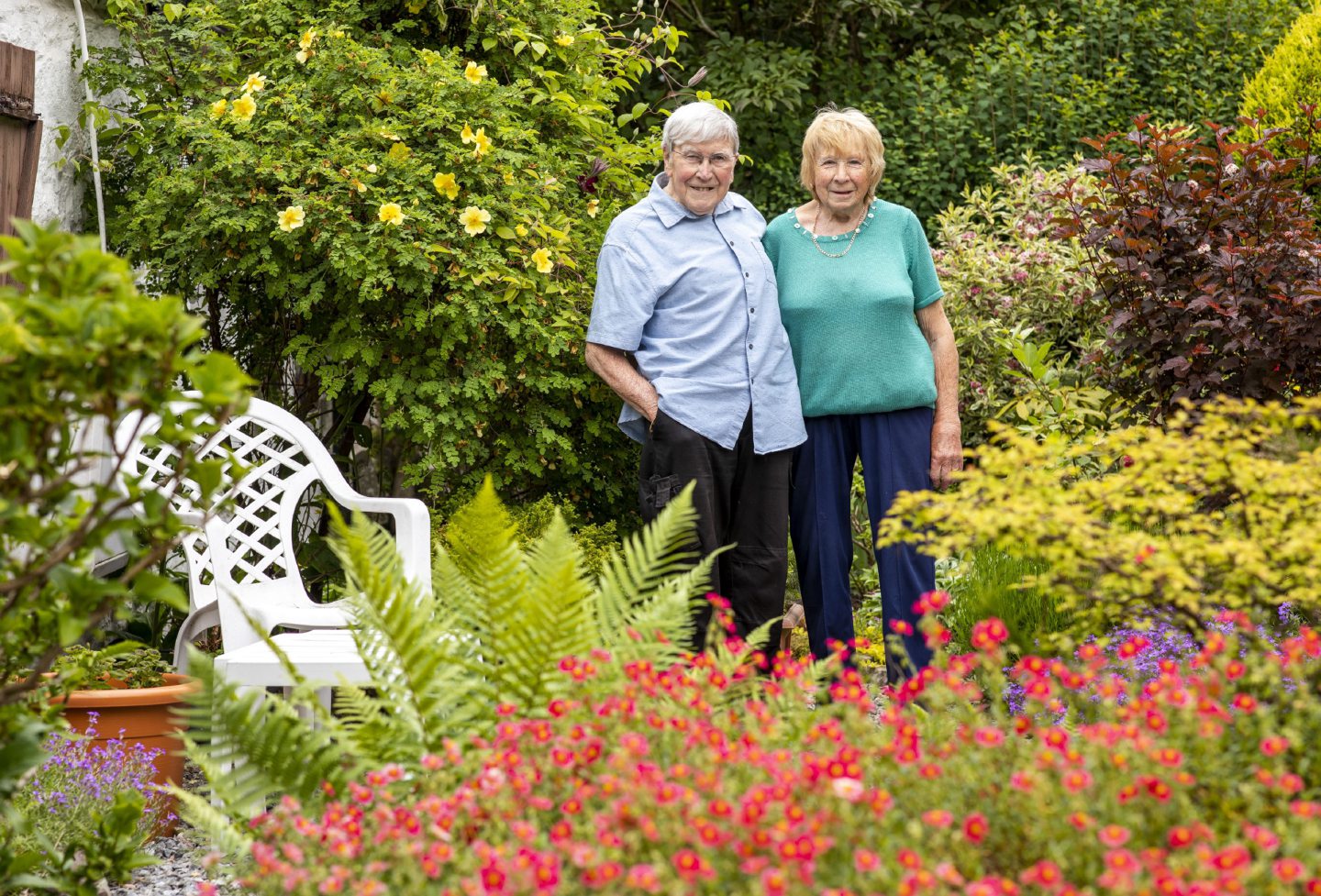 His childhood dream of becoming an RAF pilot might have ended thanks to an ear condition in his youth, but his passion for planes was not wasted.
While his eventual career as an illustrator kept him grounded, his head remained in the clouds and his detailed, dramatic drawings of military aircraft has made him one of the most revered comic book artists Britain has ever produced.
His career began four years after the war ended and, incredibly, is still going strong today – 72 years later. For 51 of those years he has drawn more than 1,600 covers for Commando. Now, to mark the title's landmark anniversary, Kennedy, 88, has produced a new cover for a reprint of the first-ever issue, Walk – Or Die.
"Dundee was surrounded by airfields," he said. "Of course, there is Leuchars, and Montrose was the UK's first airbase, but there were lots of others dotted all over the place training pilots. There was always something flying overhead. I'm a frustrated flier – I grew up wanting to be in the boys in blue, but ear trouble put paid to that.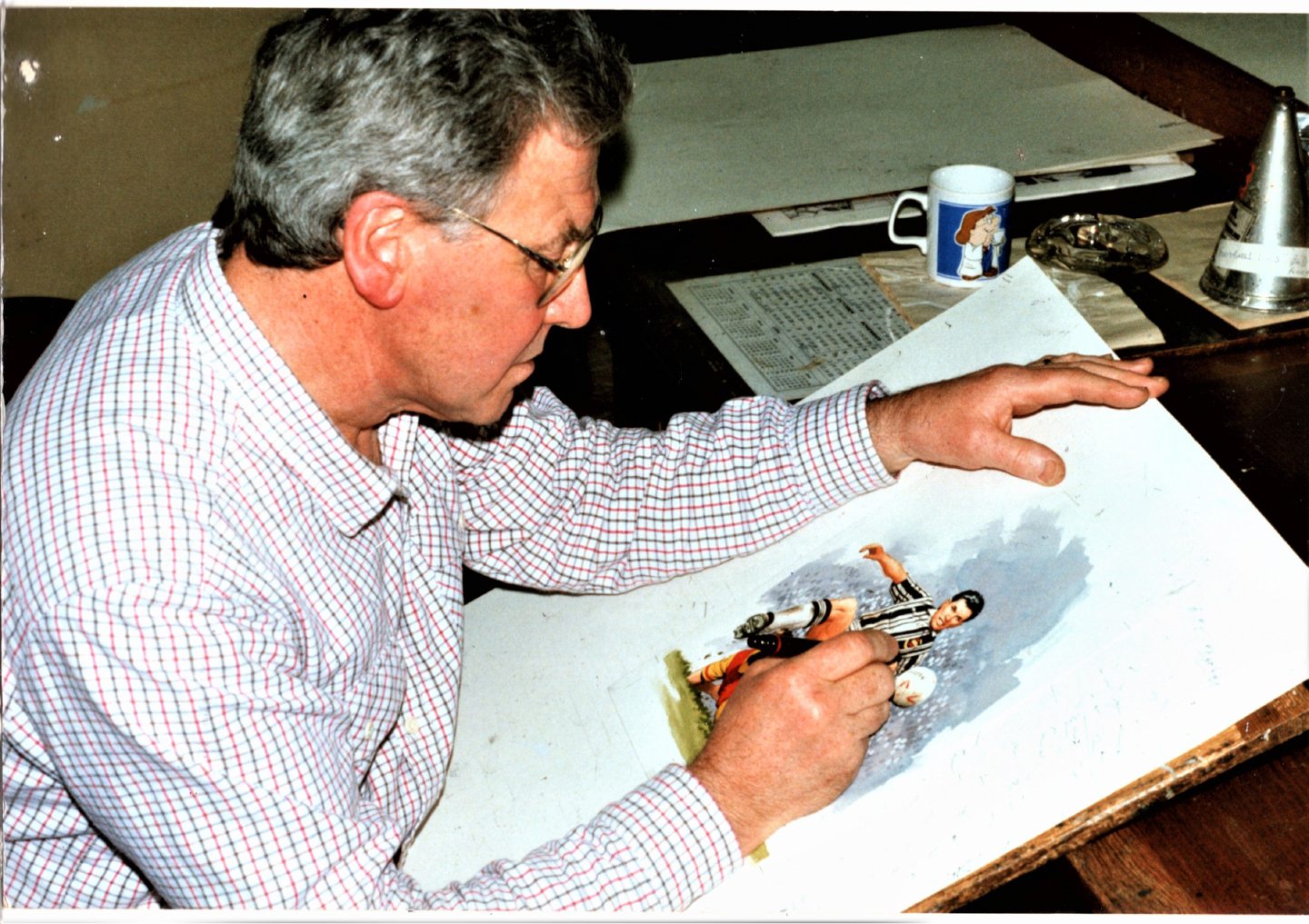 "I wasn't aware the atmosphere of the war would have such an effect on me when it came to my career, but I feel like what I saw and heard during that time has helped me to put over that atmosphere of war in my illustrations. I enjoy portraying aircraft in all their shapes, sizes and angles – and if you ever see the pilot in the aircraft, it's me. It helps me to do that, because when I imagine myself in the aircraft, I can see all the angles."
His earliest memory growing up in Dundee is of doodling, and he recalls his dad saying that if ever he wanted to keep his son quiet, he would give him a pencil and piece of paper. By the time he reached secondary school, his talent was obvious and a family friend in DC Thomson's art department, David Ogilvie, would give him old story headings and illustrations to copy to develop his skills.
"By the time I had passed my Higher art, Dave had talked to the head artists at the company and I was taken on as a trainee illustrator at 17," Kennedy said.
"It was very much on-the-job training and what I learned there was invaluable. Without that time with those talented people, I don't think I would have enjoyed the career I've had."
His first published artwork was the inking of the blank squares in The Sunday Post's crossword.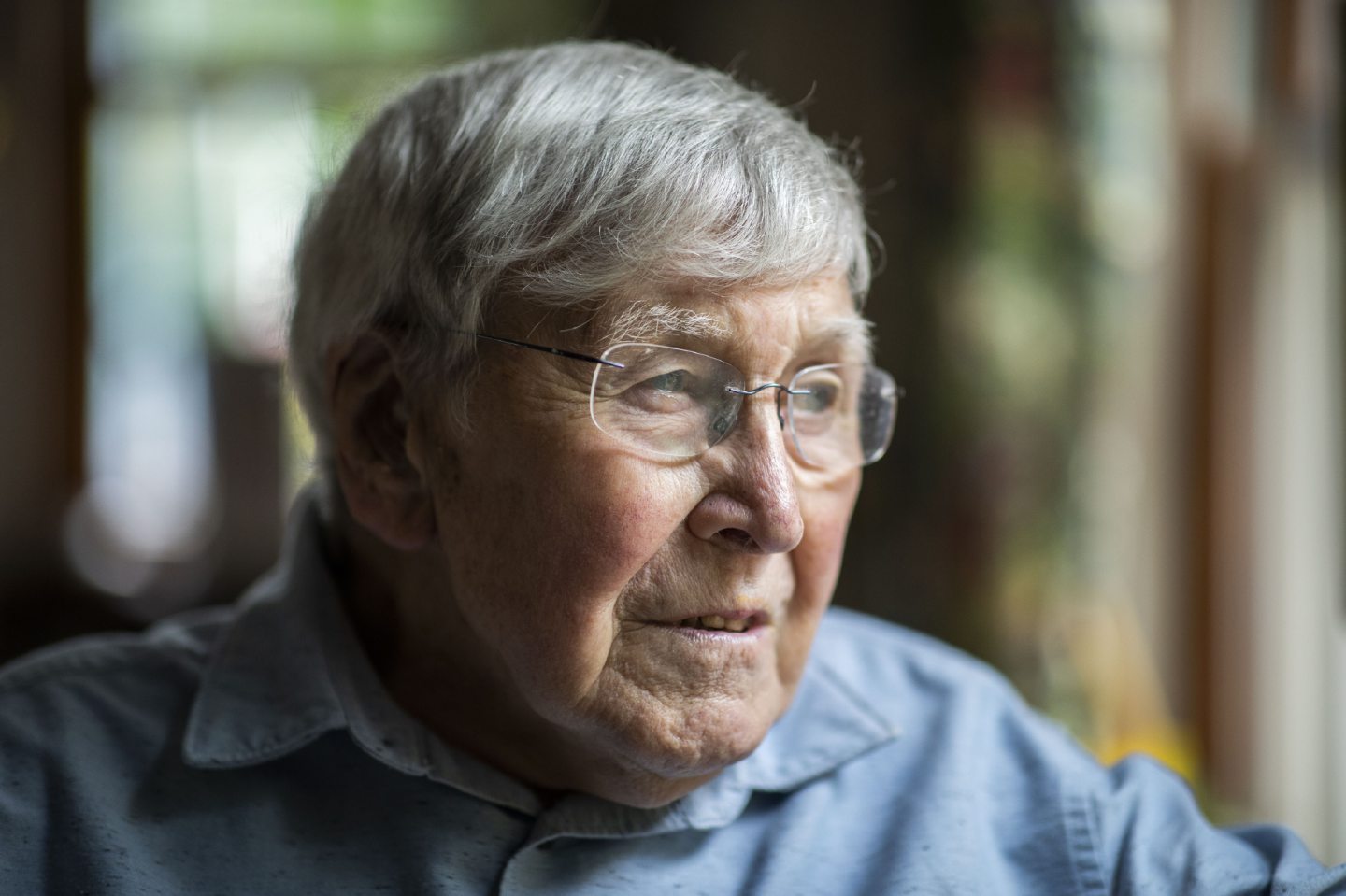 "It was a part of learning, to take on the most mundane of jobs and do it properly," he said. "I eventually graduated to The Wizard's half-page quiz, where each question had a thumbnail sketch, and from there I moved on to story headings."
Marriage to Gladys and the birth of his son led him to go freelance after five years, but he was still in demand from The Sunday Post publisher DC Thomson thanks to the company's burgeoning folio of comic titles, with Kennedy working on the likes of Hotspur, Adventure, Rover, Bunty and Judy.
His artwork for London-based Air Ace publications caught the eye of Commando editor Charles Checkley, who asked him if he would like to contribute.
That was 1970 and, while other projects like 2000AD and the '80s revamp of Dan Dare have come and gone, Commando remains a constant on his drawing board thanks to its enduring popularity with subscribers, which increased by 21.4% in the past year.
"I think what has led to Commando's long life is its emphasis on quality, storytelling and good illustrations," he said. "It must be terribly difficult to continue coming up with something fresh, so I admire the editor and writers to keep it going."
Kennedy contributes, on average, one cover a month these days. His favourite aircraft to draw remains the Hurricane which, he says, has a much more functional shape than the more popular Spitfire.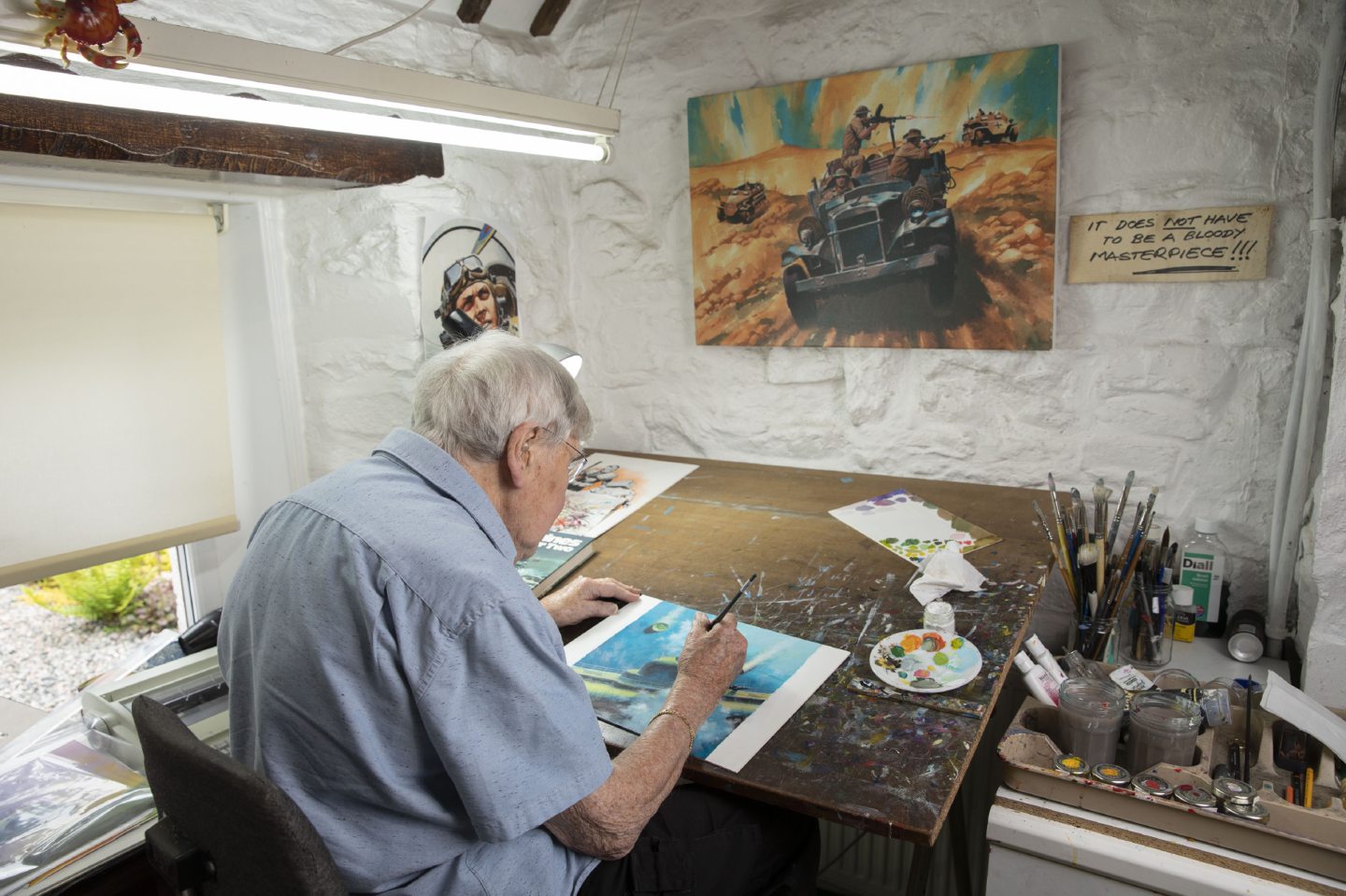 "To do a cover, it can take, depending on the subject matter, up to three days," he said.
"The aircraft stuff comes off fairly smoothly and without a problem, but I'm well known for my use of colour and there are times I'll play around with that, which adds to the time taken. With Commando being so small on the shop shelves, it's always been on my mind that it has to catch the eye and so the combinations of colour are extremely important.
"My time with Commando and my use of acrylics coincide – they had just come on the market when I started on Commando.
"I'd used colour inks and watercolours before, but I'd never been totally at ease with them as they wouldn't always reproduce on the finished cover the way I'd like them to, but when I tried acrylics I saw they were perfect for reproduction in any mixture I could devise.
"Before the pandemic, I went to the office in Dundee with my rough of the cover, it would be okayed, I'd go home and finish it, and then hand deliver it again to the office. Now, I use a good printer-scanner and I keep the original artwork."
Ian has a large family – his fourth great-grandchild is due in a few weeks – but so far none of them has shown aspirations to carry on in his footsteps.
"My eldest great-grandson is now 17, which makes me feel a bit old and decrepit," he said with a laugh.
"When he was younger, I remember him looking at his dad's computer and asking his gran, 'What's this about grandad being a legend?'. It was the first time I'd heard the term being used in connection with myself."
It wouldn't be the last time, though. Persuaded to attend a comic convention a few years ago, it was an eye-opener for Kennedy to experience the reverence in which he's held by comic book fans.
"Working from home all these years, one tends to become almost reclusive, and I needed my arm twisted to go along the first time," he admitted.
"But I discovered I enjoyed meeting the fans. From working at a drawing board doing something I enjoyed and making a living from it, I felt it was time to give something back."
---
Commando is releasing a series of special issues to mark the 60th anniversary, starting with a reprint of the first issue Walk – Or Die and a long-awaited sequel with new stories written by the Commando team and past editor Calum Laird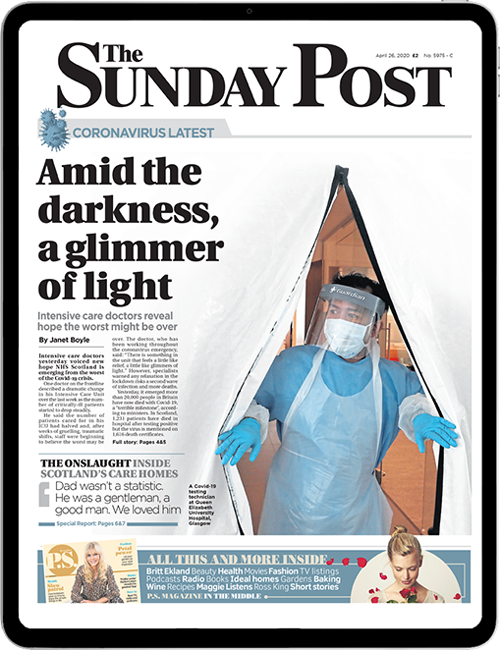 Enjoy the convenience of having The Sunday Post delivered as a digital ePaper straight to your smartphone, tablet or computer.
Subscribe for only £5.49 a month and enjoy all the benefits of the printed paper as a digital replica.
Subscribe