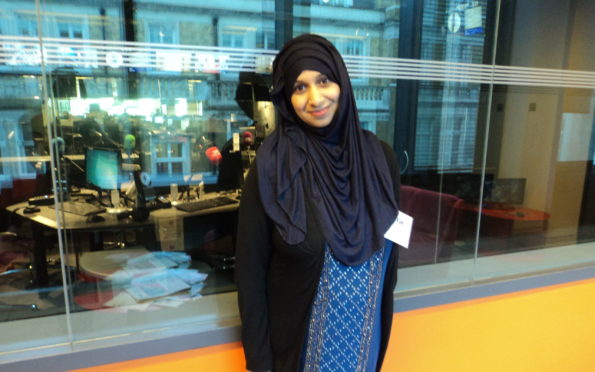 A freelance journalist thought to be the first reporter in Scotland to have appeared on-screen wearing a hijab is calling for greater diversity within the media industry.
Tasnim Nazeer, 34, who lives in Glasgow, was deemed to have made history when she reported on the need for support for bereaved families for STV news.
Afterwards, the mum-of-five's inbox was flooded with messages from current and aspiring journalists in Scotland speaking about their own experiences of being discriminated against within the industry.
Tasnim, who has a masters degree in international journalism, said: "I have been inundated with people contacting me with their own issues related to race, faith and disability.
"Someone said there was a lot of hidden discrimination within the media in Scotland, which is very worrying.
"That really made me think that I don't want people to have these experiences and go through what I've been through.
"I made sure to do my masters so employers wouldn't have a reason to knock me back, because I knew that I would face barriers as a Muslim woman.
"I have been told by people in the industry in Scotland to remove my hijab, or that I don't have the right 'look'.  For a while I just felt so low and I didn't know how to progress. I was on the brink of giving up."
Really pleased to have done my first TV report as a freelance journo for @STVNews at Six highlighting the need for more bereavement support in Scotland. I don't think a woman in hijab has ever anchored a news report in Scotland before. 1/3 pic.twitter.com/7hxqfniTEk

— Tasnim Nazeer (@TasnimNazeer1) July 30, 2020
Yet, the award-winning reporter said she "refused to compromise her identity", and through sheer perseverance she finally had her chance to appear in front of the camera. She said STV didn't judge her on her identity and accepted her "purely for the story [she] had to tell".
Tasnim, who is originally from London but has lived in Scotland for five years, said she was "overwhelmed" by the response her bulletin gained.
The journalist, who has reported for The Guardian and Al Jazeera, was inspired to set up a petition on Change.org, highlighting the need for better representation and more support for diverse people in the UK media as a whole.
"I want to see real change and all types of people reflected on our screens," she explained.
"I know there are a lot of media organisations in the UK that are now trying to help different communities be heard.
"I think it's all very well having funding, but what I'd really like is for organisations to introduce dedicated support services for people suffering any challenges based on discrimination.
"For example, if journalists feel like they're being dismissed purely on issues such as race or identity, there should be a reporting service.
"Often many people are scared to speak out because they feel they'll be reprimanded or they won't get any opportunities to progress.
"We can see that there is a real lack of representation on screen at the moment."
Tasnim highlighted that a lack of diversity within media broadcasts is not a new issue by any means, but it has perhaps been brought to the forefront due to the Black Lives Matter movement.
"I think because of the movement media organisations have taken a step back and reflected on their own newsrooms and employees.
"But the issue is still prevalent, and many people are still struggling. Some Black and Asian journalists haven't even been able to get a job within the media – let alone find ways to progress," she said.
"Whether someone is white or black, everyone should get a chance. We all have to go through the same processes within the media and have to get our education and our skills.
"Experience is vital, but if no one is willing to give a chance to certain groups of people… some people are even doing work experience for free and then being dismissed. What message does that send to people?
"I think it will better the society at large when we see different types of newsreaders and broadcasters on screen."
I have started a campaign to call for better representation in the UK media which reflects the national portrait of this country. Many people have contacted me with their experiences in the industry having faced challenges. #betterrepresentation https://t.co/ouWDnG5Swb

— Tasnim Nazeer (@TasnimNazeer1) August 4, 2020
Since her initial report, STV have asked Tasnim back to appear on-screen and she hopes to become a regular TV reporter – alongside juggling her busy family life.
She had dreamed of being a journalist from a young age, when she put cut out 'television' boxes over her head and asked her parents to film her.
Her first article was for an international Sri Lankan newspaper – where her parents are from – after the 2004 tsunami, when she drew attention to the victims of the disaster who had still not received government aid.
Despite receiving the FIPP Rising Stars in Media Award in 2018, Tasnim felt she only managed to "break the glass ceiling" she had been stuck under due to her identity after her STV report.
She said: "I just want to send a message that, by achieving this, I don't want people to ever feel like they have to compromise their identity, their beliefs or change anything to get ahead in life.
"I do hope media organisations will take heed of this campaign, and that it will really bring to light that a lot of work still needs to be done."
Sign Tasnim's petition here.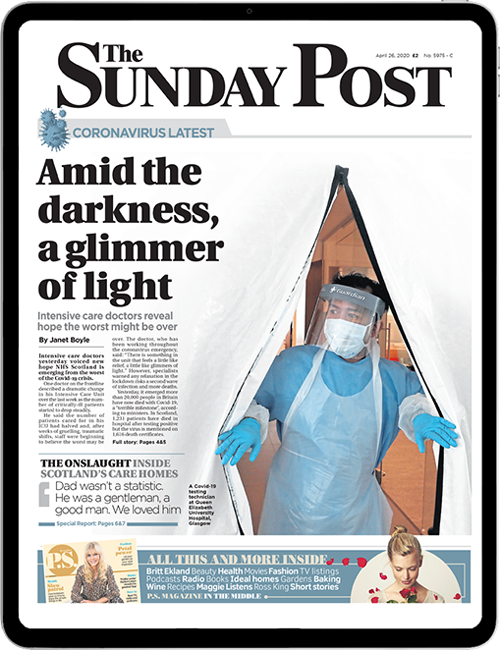 Enjoy the convenience of having The Sunday Post delivered as a digital ePaper straight to your smartphone, tablet or computer.
Subscribe for only £5.49 a month and enjoy all the benefits of the printed paper as a digital replica.
Subscribe