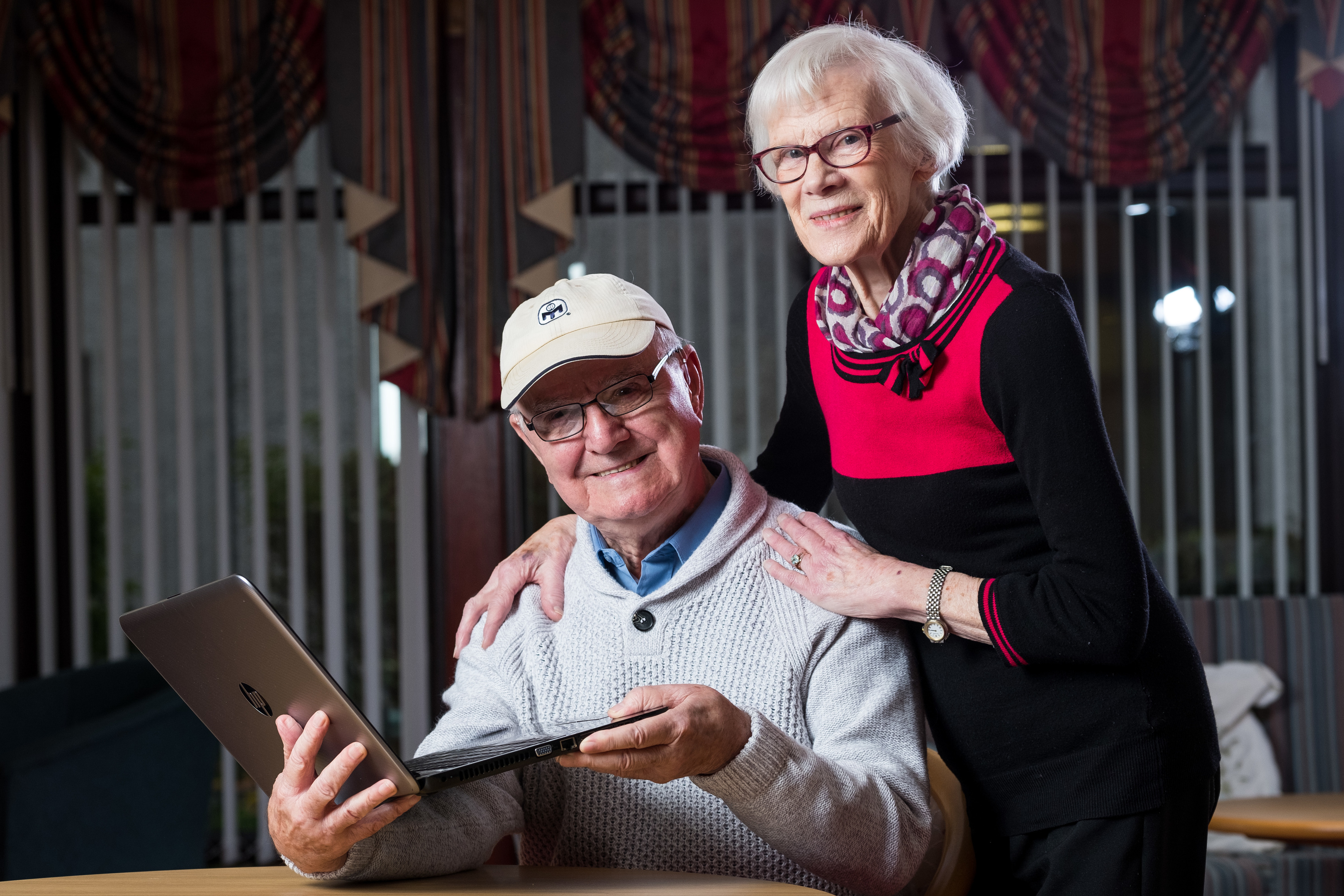 WHEN Charlie Gallacher's beloved wife Janie died, just after their golden wedding anniversary, his world collapsed around him.
Almost overnight, Charlie went from being an irrepressible 74-year-old to being withdrawn and silent.
For his family, it was distressing to see such a formidable man lose interest in all the things that gave him joy such as doing cryptic crosswords and his membership of high IQ club Mensa.
Then, just when it seemed the old Charlie had gone forever, he burst back into life – busier, brighter and chattier than ever.
And the reason for Charlie's transformation? The internet.
Charlie learned to love life again, thanks to the world wide web which he'd never bothered with before as he'd assumed it was just for young folk.
It happened after Charlie was coaxed by his daughter Liz into sending his first email – about funeral arrangements for Janie, who died after a long illness, aged 69.
Liz then taught Charlie the wonders of Google. Next it was digital shopping, thanks to Amazon and eBay, and then even how to Skype family living overseas.
Then, whisper it, as Charlie grew in confidence he even experimented with online dating and, thanks again to the internet, he has found a new partner to share his life.
Charlie, now aged 85, said: "I'd spent my whole life never having any interest in the internet.
"Like so many others, it was something I knew was happening, but it didn't touch my life until I needed to send an email and realised I knew nothing about the digital world."
Proudly sporting his Mensa baseball cap at his home in Grangemouth, Charlie beams with pride as he lists all the tasks he can now perform online and the world of facts and learning it's opened up.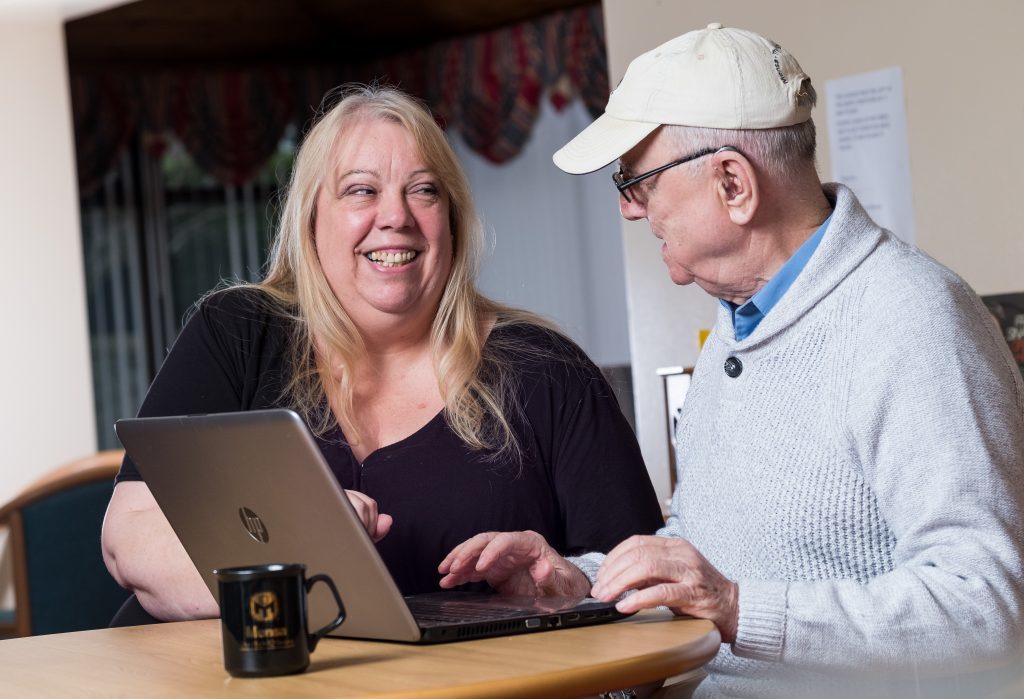 He added: "Despite my initial reservations, my daughter showed me how to open an email account and send messages.
"It was fascinating exploring a world that had, until then, been closed to me."
On the subject of online romance, he laughed: "The dating aspect didn't go so well.
"One lady inquired if I had a hairy chest and you couldn't see me for dust.
"I was heartened, however, when another relationship faltered because the lady, who was in her 70s, said she didn't have the energy to keep up with me."
Just when Charlie thought the internet would not provide love, he booked online for a bus tour to the north of Scotland and fate sat him next Marion Aikman, 85, a recently widowed former teacher.
The couple have been great companions ever since, enjoying lots of outings together, although she does not share his enthusiasm for computers.
Marion, from South Queensferry, said: "I do have one but it's still all of a bit of mystery."
For Charlie, there's no mystery about it. In fact he's become perhaps Scotland's most unlikely digital guru.
Such are his computer skills that daughter Liz, who works for the Scottish Qualifications Authority (SQA), has used Charlie to road test a series of 26 guides she's written to assist digital beginners to go online.
Liz, 56, said: "I took the view that if dad could understand it, then everyone would. And he just loves the fact that he's now an expert.
"I'd been fretting about what we could do to fill dad's days and give him an interest.
"Dad was a process operator for BP before he retired then decided retirement didn't suit him – so he went back to work as a watchman to keep busy.
"He had been such an engaged, clever man, and I could see him going downhill with mum no longer there. It was really upsetting.
"But showing him how the internet worked was like flicking a switch. Dad was suddenly really eager to learn something new.
"It's ironic that an email about mum has inadvertently played such a part in his recovery from her loss.
"He was at her bedside every day for nearly four years before she died.
"That's the kind of man he is. He just adored mum."
Charlie said: "I didn't know what to do with myself after Janie died. The internet has now become a major part of my life and it should be, regardless of age, part of everyone's life.
"No one, especially older people, should be afraid to have a go. Take my word for it, it changes lives!"
Liz said: "I'm enormously proud of his progress. Just the other day I heard him tell someone to 'just Google it'.
"There is, of course, another added benefit.
"Dad is a very smart man and now that he's computer literate, he saved himself a trip to Edinburgh where he had to go to renew his MENSA membership.
"Now he is able to do it online."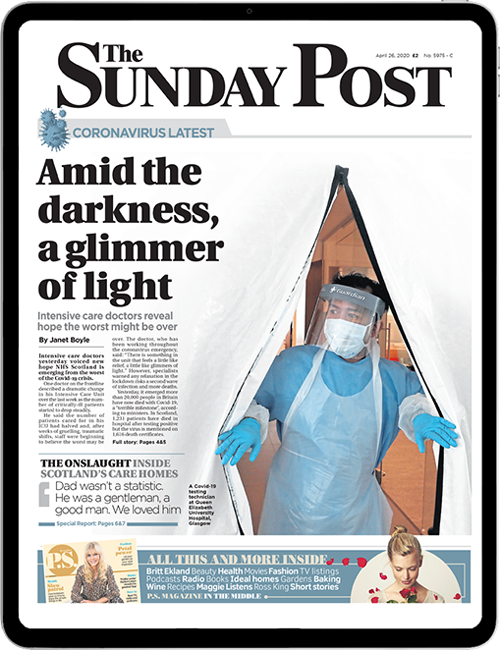 Enjoy the convenience of having The Sunday Post delivered as a digital ePaper straight to your smartphone, tablet or computer.
Subscribe for only £5.49 a month and enjoy all the benefits of the printed paper as a digital replica.
Subscribe