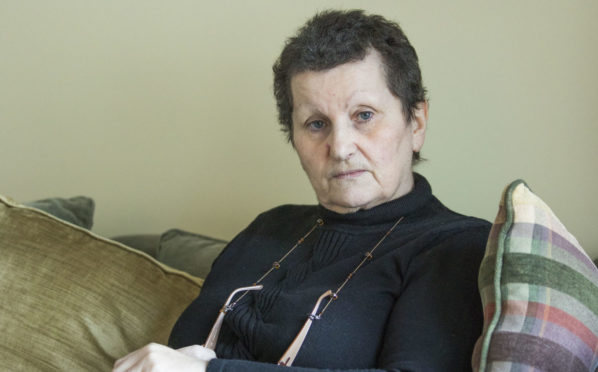 A dying mesh victim has been forced to spend money set aside for her funeral to give dignity to her final days.
Marion McMillan, 72, revealed her £6,000 funeral savings have gone on continence products and disability aids because she could not get them from the NHS.
And the former nursery nurse, who looked after hundreds of Scotland's most vulnerable children for more than 30 years, said the government's budget promise of a £1 million "mesh fund" announced last Thursday for more than 700 injured victims has come too late to help her.
She also accused the First Minister of using mesh victims for a "photo opportunity" and said Nicola Sturgeon had promised to visit her to see the impact mesh had on the lives of victims, but never did.
Marion said: "It took eight years for Nicola Sturgeon to even meet mesh injured women face-to-face. Even if it was shared between all the victims tomorrow, we would get £1,400 each. It's too little, too late for me.
"The government ignored our pleas for help for so long. I don't have a penny left to pay for my funeral and don't know what I'll do. All my savings were spent buying continence products that are fit for purpose because the NHS ones leaked and left me open to infection and skin sores."
Marion went through more than £10 worth of protection every day, as well as having to buy creams, sterile wipes, protective gloves, special refuse sacks, replacement clothing and cleaning products at the cost of almost £100 a week.
She said: "After four years battling with the NHS to get continence pads that actually do the job, we've now been told we're rationed to three a day, which is impossible given the physical state most of us have been left with because of mesh. My life was destroyed by an NHS cost-saving mesh procedure to treat bladder issues. Now I can't even die with dignity because of it."
Mother-of-four Mrs McMillan says she feels let down by the First Minister who had promised to personally come and see how she is forced to live.
Nicola Sturgeon met Marion, from Paisley, 10 weeks ago during a meeting in Glasgow, and comforted her as she begged: "Please don't let my death be in vain."
Marion said: "It was hard telling a room full of people that I was dying, but Nicola raised my spirits when she made that promise. I've sent her emails since then asking when she intends coming as I don't have long left, but all I get in return is an email acknowledging receipt of the correspondence. I feel stupid now because I believed the First Minister was being sincere. It's broken the last bit of fight I had left in me to realise that we were just being used as a photo opportunity."
Marion receives £756.88 a month in state pension and pension credit, and her husband George gets carer's allowance.
She went from being an active nursery nurse to being crippled in pain in 2006 after being treated for bladder issues with a mesh implant – a treatment which has now been suspended from use.
Marion was sent to see a psychiatrist after doctors repeatedly told her that her pain was "all in her head", before finally agreeing five years ago she needed mesh removal. She was told she had a "total removal" in 2015, but, like thousands of other victims, she developed serious auto-immune illnesses and believes she still has mesh inside her.
Marion, who has never smoked, was stunned to be told in July 2018 she has terminal lung cancer which has spread to her liver. She said: "I kept telling doctors that I was suffering because of mesh, but instead of believing me, I was sent to see a psychiatrist instead. Cancer specialists say if I'd only been taken seriously, they might have been able to save me. Instead of living with cancer I'm now dying from it."
Marion says after working all their days, she and her husband are broke.
She said: "Our retirement plans were ruined the day doctors put mesh inside me. It ended my career and my husband had to quit working to look after me.
"We've had to fund so much ourselves, we've nothing left. Every time it rains I stay in bed because it's the only room in which the rain doesn't come pouring through the leaky roof. Our heating bills are more than £50 a week because I feel the cold, and we spend almost £50 a week in petrol taking me to and from hospital appointments.
"All our seating, bed and carpets have been destroyed because my incontinence hasn't been managed, and we've nothing to replace them. I now pray to die quickly and end this nightmare existence."
MSP Neil Findlay, who championed the mesh fund appeal, said Marion's case is "heartbreaking and shameful".
He said: "What Marion, and the hundreds of other mesh victims are experiencing, is utterly appalling and should not be happening. No woman injured or disabled by mesh should have to pay for products to maintain their dignity and well being.
"While I'm delighted the government has agreed to make money available, I'm struggling to understand why Scotland is not pursuing manufacturers to help victims. California's Attorney General won almost £300 million for mesh victims last week. Why aren't we taking similar action?"
Health Secretary Jeane Freeman said: "We are grateful to Ms McMillan for her correspondence and a response will be sent to her shortly. The First Minister and I are absolutely determined to do everything possible to ensure that all women affected by transvaginal mesh problems get the treatment and the care that they need."
A spokeswoman for NHS Greater Glasgow &Clyde said: "We work closely with all of our patients to ensure they receive the support they require – whether in the form of care, treatment and advice, or via the supply of products suited to their clinical needs.
"Each patient's needs are regularly reviewed by our team, and if changes are required in any aspect of care we will implement them as soon as possible.
"We can confirm that this patient has received a full delivery and we continue to work closely with her as part of our ongoing tailored care provision."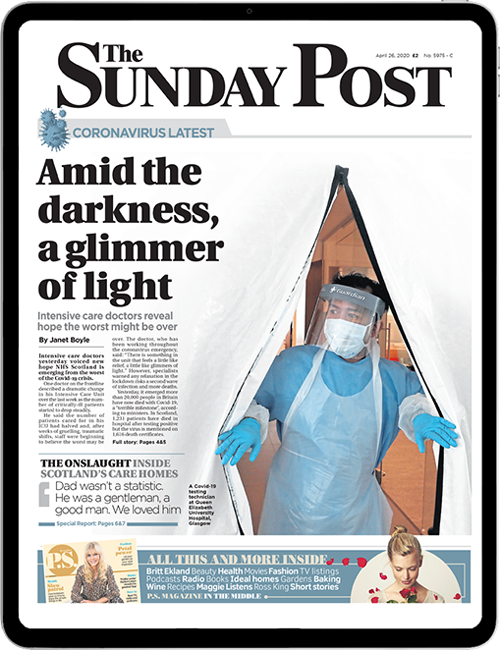 Enjoy the convenience of having The Sunday Post delivered as a digital ePaper straight to your smartphone, tablet or computer.
Subscribe for only £5.49 a month and enjoy all the benefits of the printed paper as a digital replica.
Subscribe