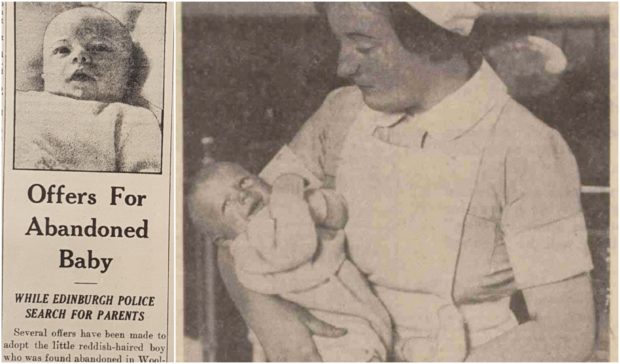 Wrapped in a blanket, sleeping peacefully in his pram abandoned in a deserted shop, the baby boy was quite alone.
The nurses at the children's shelter where he was first taken named him Peter but Scotland would come to know him as the Woolworths Foundling after the three-month-old baby, with reddish hair, was found abandoned in the store in Princes Street, Edinburgh.
Now, 80 years later, speaking publicly for the first time, he has told how he is now trying to find his lost family after, by chance, discovering his astonishing start to life.
He paid tribute to his adopted parents for the chance of a new life, but has a message of forgiveness and thanks for the mum he never met, a mother so desperate that she left her baby son, well-fed and cared for, according to police, to be found in the darkened store.
He said: "I would tell her that I never suffered, or knew any loss. I wish I could have told her that. Adoption by my amazing family was the very best thing you could have done for me. I wish I could have told you that."
It was only when the last of the day's customers had left that the manager found Peter in the store. The tale of The Woolworths' Foundling was reported in Scottish papers, including the Sunday Post, in September 1938 but his mother never came forward.
Peter, now 81, believes he is living proof of the power of adoption. "I always knew who my mother was, who my parents were," said Peter, who now lives in Colchester. "They were the people who picked me, who loved me and raised me as their own from the day they met me to the day they died. They loved me and cared for me.
"My only sadness is for my birth mother and the pain and suffering she must have endured – for me, there was only family and happiness."
As a foundling, Peter has never known his real birthday or even had a birth certificate.
Growing up in Edinburgh, his family never spoke of his unconventional start in life, never mentioning he was adopted.
"I had no idea," said Peter. "I grew up with loving parents, an older sister and a younger brother. My mum was an inspiration, she was a go-getter and gave me a determination to strive to be the very best I could be. I knew I looked nothing like my younger brother but never gave it a second thought," added Peter.
The family grew up in Polwarth in Edinburgh before moving to the city's Corstorphine area in 1945. As a curious boy at school, Peter came across the truth of his past.
"I was about 14, I think," he said. "I was poking around in an old bureau, where I probably shouldn't have been, and stumbled across my adoption certificate.
"You could have knocked me down with a feather. I had absolutely no idea that I was adopted. I put the certificate back where I'd found it and, unusually for me at that age, I didn't say anything about it.
"I was a typical teen and quite hot-headed at the time, but even then it struck me that as my parents had never mentioned it, why should I?
"I mulled it over for a couple of days and decided to follow my parent's lead and continue as normal – to be honest it made little difference to me."
---
The Woolworths store in Princes Street in 1933, and the site of the store today
---
Peter's family never revealed his adoption. He married his first wife and mother of his three daughters in 1964 before divorcing in 1985.
He's now happily married to his second wife of 30 years and the couple split time between their home in Essex and visiting family in Edinburgh.
Now retired, Peter never tried to trace his birth mother until after his adopted mum passed away in 1980.
It was during her final days when the truth about Peter being the Woolworths Foundling began to emerge.
"My mum developed dementia and before she died she rambled on with a garbled account of a baby abandoned in Woolworths. I wasn't really paying much attention," said Peter. "But it was obvious she was really trying to tell me something and, at the end of the story, she held on to my hand and said to me: 'You do know, don't you?'
"After all those years of secrecy the penny dropped and I realised what she was trying to say. I held her and told her I knew, and it was OK."
Several years after the death of his mum, Peter decided to research his mysterious past. Now retired, he was surprised to discover his mum's confused story of the Woolworths baby was true. Peter painstakingly copied out newspaper reports and proudly pointed out quotes that ran in The Sunday Post 80 years ago: "The child was discovered well clothed, well nourished and lying in a good-quality perambulator in blue leather valued at £5."
He is keen to point out he isn't bitter about his origins – and instead insists it is proof that adoption works.
"This is such a happy story, such a positive testament to the power of adoption – I just wish I could have told my birth mother that she did the right thing," he said. "As a father and a grandfather, I can't imagine what she must have been going through to leave me in Woolworths.
"She had given birth to me, clearly cared well for me, left me in a place of safety, well fed, with a hand-knitted shawl, and a blanket in a smart pram.
"I imagine she was desperate and was probably haunted for the rest of her life by that decision – I just wish she could have known what an inspired sacrifice she made – unwittingly she gave me the best life I could have hoped for."
Poring over photo albums in his sunlit lounge, while his wife made coffee and popped to the shops, Peter revealed: "Until that point I had no idea of my tragic beginnings.
"I imagine that many people who read my story at the time felt sorry for me and I think, although I shun publicity personally, I want to set the record straight. I was a blessed little boy and have led a very happy, fulfilled life."
Peter's heart-warming tale of happy-endings is cemented by the fact that when he finally found his birth certificate he discovered his parents had picked their wedding anniversary for his birthday as an annual double celebration.
Last year, Peter's daughters, intrigued by their dad's mysterious past, bought him a DNA kit for Christmas.
Realising their interest, doting dad Peter, decided to dig deeper to discover if he had any living relatives that may help to solve the riddle of the Woolworths Foundling.
Peter has now hired a genealogist who has already traced a cousin living in Scotland – and hopes more family members will come forward.
"Perhaps it's a family secret which has been passed down the generations."
Peter, who has asked not to be named for fear of upsetting any, as yet unknown, living relatives, said: "I realise it's very late to start this quest but wouldn't it be wonderful to finally solve the riddle of the Woolworths Foundling?"
---
Can you help? Call us on 01415672814 or email news@sundaypost.com
---
Furious but forgiving: Expert says foundling babies will often seek parents
Professor Lorraine Sherr, a clinical psychologist from the University College London, has studied foundlings and how abandonment can affect them.
While the mental health burden can last a lifetime, other factors can be more important when it comes to coping with the knowledge of their background.
"The circumstance of how the child is abandoned isn't as likely to have as much of an effect on psychology as whether it was subsequently adopted into a good home with a good family.
"We found that many people we spoke to want to look back to understand the motivation of their mother, and that can really make them feel quite wretched. How they were abandoned really matters, and they start to interpret that.
"A lot of people who participated in our studies think, 'my mother must have loved me at least a little bit because of where she left me and I was wrapped in a nice blanket'.
"They are trying to understand what happened to them. And many, although there is a bit of anger, are quite forgiving.
"Peter's attitude is quite common. I was overwhelmed at times by the attitudes of some of these people who have been abandoned as it tends to be forgiving."
Some foundlings fare better psychologically than others – and, according to professor Sherr, that may come down to when in life they discover their background.
"It tends to be the people with the least problems are those who are told quite early," she explained.
"Those who found out later often have a lot of anger, often they
have issues with their families and obviously there's a strong desire for reunification or resolution.
"What often doesn't help is the procedures in place aren't helpful – for example, police records are destroyed after a number of years. So when they go to hunt down their birth parents they're frustrated because it's very difficult, if not impossible.
"Thankfully, with DNA family technology and better communication, reunification is hopefully becoming easier."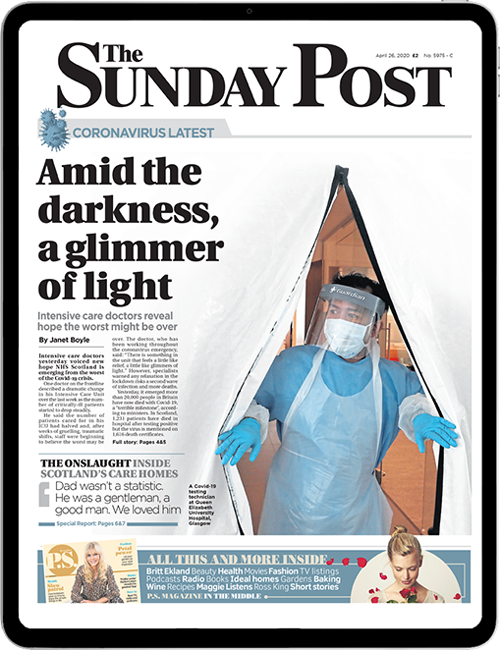 Enjoy the convenience of having The Sunday Post delivered as a digital ePaper straight to your smartphone, tablet or computer.
Subscribe for only £5.49 a month and enjoy all the benefits of the printed paper as a digital replica.
Subscribe