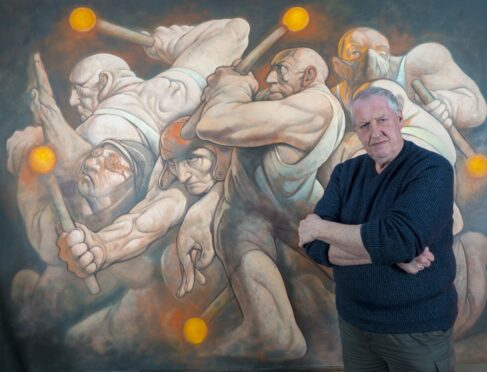 Peter Howson has survived war and addiction and, he admits, really ought to be dead.
That he is not, and very much still alive in his studio preparing for a major retrospective, he puts down to his faith. Howson, who has been sober for nearly a decade, doesn't attend church but has "a good relationship with God" and prays while walking his dog, miniature schnauzer Buster.
He said: "It can be peaceful but last night I was raging because I was trying to say my prayers and there were too many cars screaming about and noise. I thought, 'this isn't going to work' so sometimes I cancel it and say 'I'll talk to you later on' and I find a quiet time at night to say it."
After years of struggling with addiction and depression, Howson, 64, who will stage the biggest retrospective of his work to date in Edinburgh this summer, is now "content and at peace".
An official war artist during the Bosnian Civil War in the 1990s, he would later describe events he witnessed as "Hell on Earth" while his experiences led to a mental collapse and years of illness, as well as the break up of his family.
Diagnosed with Asperger's syndrome in 1999, Howson converted to Christianity in 2000. In his Glasgow studio, where he is preparing new work for the exhibition, he talked about how his faith had saved him and given him strength, adding: "It's made me think that I do have a role to play.
"I've been thinking about it a lot. I went to Bosnia twice and then I went to Kosovo and that was a kind of alcoholic haze when I went there.
"I had this kind of death wish at the time. I wasn't really concerned anyway for myself. It was like being in a kind of spiritual desert. I'd lost God, really, at that point.
"I'm kind of content now and at peace. It's very important to me and gives me hope. I think I'm that weak, if I didn't think there was anything there I wouldn't be able to do the work I do.
"I get my strength from a spiritual, from God. Lorraine (Howson's partner) always says to me, 'you shouldn't really be alive, you shouldn't be here, with the abuse you've put yourself through and what you've done to yourself'. She's seen me at my worst. I think Lorraine understands."
Howson still can't talk about some things he witnessed in Bosnia but reveals much through his art, which has often depicted monstrous figures and the horrors of war.
He said: "I saw a lot of stuff – not nearly as much as some of the soldiers but it was enough for me. I'm not a trained soldier. I was just there as a rather delicate individual who's gone over to a war zone and is totally unprepared for it.
"The only thing that saved me in a way was the self medication the second trip I went. I didn't drink at all the first trip whereas everyone else did and I wasn't able to relax.
"The second time, I was drinking and it helped me but there's always a price to pay because when I got back I had a problem again. I haven't had a drink now for a long time and I'll never go back to it. I know that in my heart. Having said that, I constantly pray and, God willing, I'll never do it again because it's always a disaster when I drink."
Howson was born in London in 1958 and moved to Scotland aged four. One of the New Glasgow Boys group, also including Ken Currie, Adrian Wiszniewski and Steven Campbell, who emerged from Glasgow School of Art in the 1980s, Howson is widely regarded as one of the UK's leading figurative painters, with a penetrating insight into the human condition.
He was commissioned by the Imperial War Museum to record the conflict in the former Yugoslavia in 1992 and a year later was appointed official British war artist for Bosnia. In 1999 he was an official war painter for The Times in Kosovo, for which he was made an OBE.
His paintings have been collected by celebrity fans including Madonna, Mick Jagger and Jack Nicholson, as well as the late David Bowie, while Harry Potter actor and comedian Robbie Coltrane, who passed away last year, was also a close friend.
Howson recalled: "I have very happy memories of early days being with Robbie going over for Sunday lunch with him in his house, with my daughter and my wife and having a nice time.
"Robbie was very, very funny, just off the cuff in private. I think he was funnier at home. When he was on television it kind of lost some of it. He was more relaxed when he was being funny for just a few people."
Howson spoke about other ways in which he has found peace in recent years. "I'm not really comfortable among a crowd any more. Probably since I got ill a few years ago," he said. "I had a bit of a rough time, I suppose, and after that I lost my confidence a wee bit. I don't have a mobile or a smartphone or a computer. I don't do anything like that now so in a way I've been left behind but I don't want these things.
"If I had a phone and I was constantly checking it, getting phone calls I wouldn't get any work done.
"I'm probably more balanced now than I've ever been and that's without phones and computers. The one thing I need is a landline to phone my daughter, twice a day."
The forthcoming exhibition, When The Apple Ripens: Peter Howson At 65: A Retrospective, will open this May at City Art Centre in Edinburgh following more than three years' planning.
It will bring together around 100 works spanning the artist's career, many never seen before in Scotland.He said: "This will be the biggest collection of my work to go on show. There will be a lot that people haven't seen before."
Howson will continue to paint for the rest of his life because – despite his fame – he's "never been able to keep money".
"In a way that's been a godsend because that's kept me working and it keeps me sane," he explained. "When I'm not working I'm in trouble so I have to keep on working but unfortunately there's a price to pay for that as well because I get really shattered sometimes with this constant working.
"The good thing is that it stops me from doing the mischievous stuff, the bad stuff."
When The Apple Ripens: Peter Howson At 65: A Retrospective opens at the City Art Centre in Edinburgh on May 27 and runs until October 1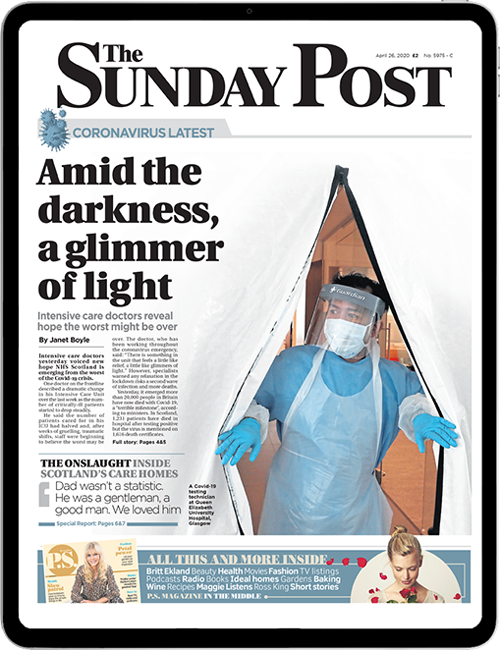 Enjoy the convenience of having The Sunday Post delivered as a digital ePaper straight to your smartphone, tablet or computer.
Subscribe for only £5.49 a month and enjoy all the benefits of the printed paper as a digital replica.
Subscribe