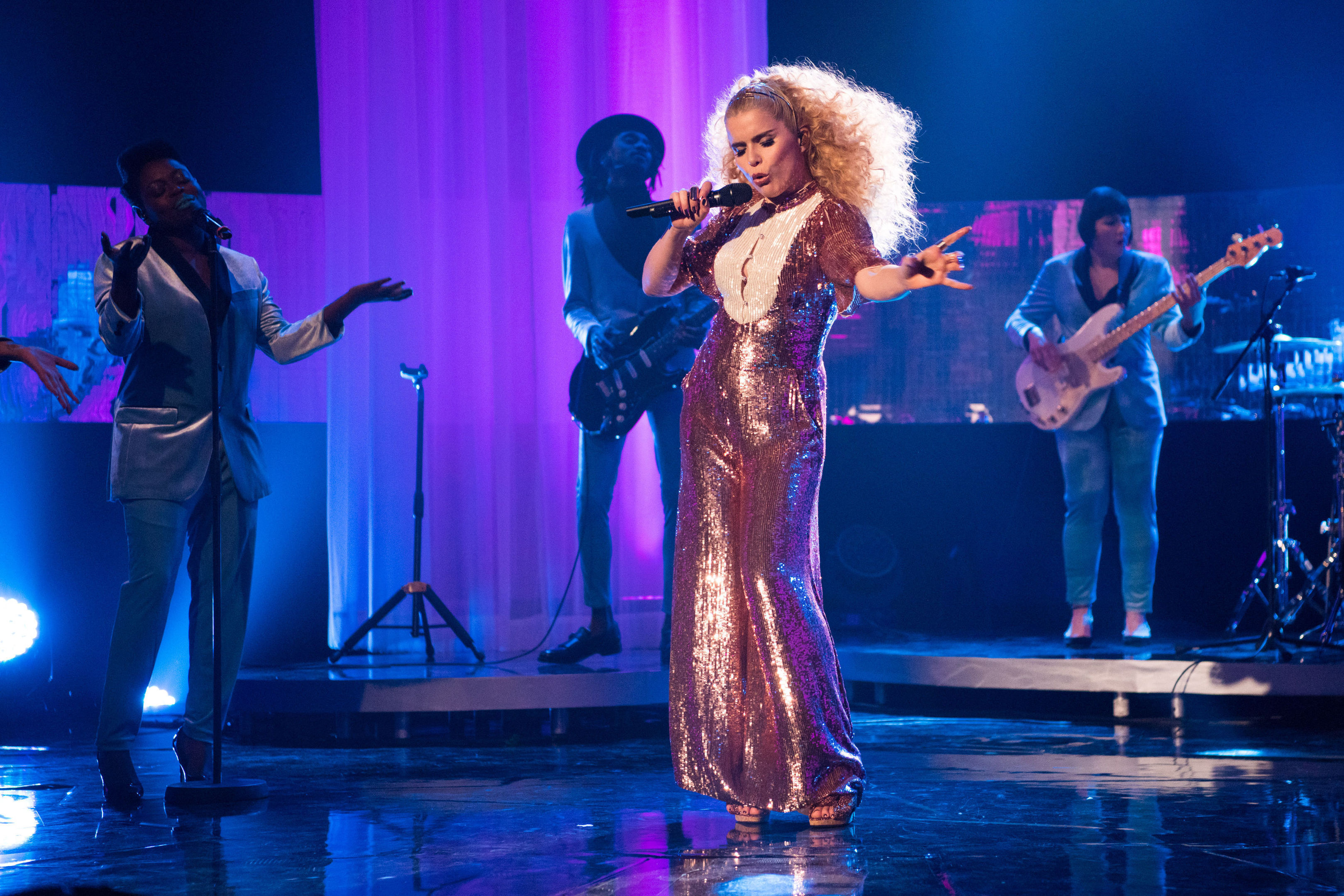 HAVING your life totally transformed by the arrival of a baby is something every first-time mum knows only too well.
But singer Paloma Faith has told iN10 how becoming a mum has inspired her to achieve even greater things – and why she's calling a halt after just one more child.
She and long-term partner Leyman Lahcine became parents in December 2016.
And Paloma, who is up for best British female solo artist at this week's BRITS and plays two Scottish arena dates next month as part of her The Architect tour, says the past 14 months have been like nothing she could have imagined.
"It's definitely different to what I thought it would be," confides Paloma, 36.
"It took adapting to on every level. How do you work again? How do you sustain your relationship when you were once two?
"I've come out the other side now and I feel like everything's possible. I feel much more ambitious than I've ever been.
"Now I've had a baby I feel I could do anything."
Paloma had said in the past that she could see herself having several more kids, but after the settling in period with her first arrival, she says her thoughts have now changed.
"I think maybe one more – then they can play together.
"I don't think loads. I think it would be difficult because I want to be very good at it and I want to be very present. It'd be difficult with the job I do to have more than two.
"I'd be concerned I wouldn't be giving them enough attention. I want to be a good mum and great at my job. So I think two is probably enough."
There was much debate after the birth when it was suggested that she was planning to raise her child gender-neutral and that she wasn't even saying whether she had a boy or a girl.
"I have to be stubborn," she insists. "I have to stand up and face all the misunderstandings.
"Lots of people misinterpreted my reasoning. But I feel that's petty and my main ambition is to give my child the best life I can and my decision to keep them out of the limelight is the best I can do.
"I don't want to invite that in because once you open the door, like do a shoot for Hello magazine, you're stuck with it.
"You can't reverse it, so I'm starting as I mean to go on."
London-born Paloma is an unabashed feminist, happily speaking out on women's issues. She has become even more inspired after meeting other mums and realising their remarkable potential.
"I feel even more brazen now that I've had a child. You meet other mums and I can't believe what they are capable of doing.
"A lot of women have great ideas around that time. Many women are dismissed or treated unfairly because of the fact we have children and we take a break to go and do it.
"It's almost like they're missing a trick because many women come out all guns blazing and feel super-focused. We should be praising our differences and seeing them just as important and valid.
"Women and men bring great attributes to high-powered positions. But it's disappointing that a lot of the women who achieve great power have almost had to dial down their femininity in order to be able to do it."
Being outspoken and prepared to throw her weight behind a cause is nothing new for Paloma.
After her parents split up when she was a toddler, she was raised by her mum whom she accompanied on political protests.
It's such an ingrained part of her psyche that getting involved is second nature.
"I don't consider myself to be particularly political. I just think I'm politically aware and we live in a culture where people aren't. People calling me political is weird to me as I don't think I am. When I was at school I wasn't standing on a soap box preaching. But I remember the protests I went on with my mum and I feel that everyone should be on marches.
"If something massive is going on in the world that affects the greater good of the people, I would go on a march by default. It's not an effort, it just seems normal to me that you'd have to go and speak about something that wasn't right.
"Everyone around me when I was growing up had a political opinion. I feel that's something that's dying. I guess what's more common now is to be relatively passive or non-committal. People often say, 'I don't watch the news' or 'I'm not interested in that'. To me, that's abnormal."
Paloma's latest album The Architect came out at the end of last year with an impressive number of high-profile collaborators, from Sia and John Legend to Hollywood star Samuel L. Jackson.
It followed the double-platinum success of her previous three with the last, A Perfect Contradiction, spending 29 weeks in the top 10.
Having released her debut album almost a decade ago, does she see herself as a musical veteran? "Four albums feels like not very much," she says reflectively. "But in the current climate where people are here today and gone tomorrow, I am.
"It's a fickle industry. When I look back at people I admired, they were forgiven for putting out the odd bad record. Or the odd experiment that backfired.
"There's no room for that in this current music. Everybody is so safe-sounding, which is terribly boring.
"We do have people that do exciting things creatively – but then they do it again and again and again."
Paloma won a BRIT for best female in 2015 and, although she had initial concerns about the paucity of females performing this year, her concerns have been addressed. "Now they've added a few more women and I feel like it's a good line-up."
While there's always a new kid on the block Paloma, who helped to find potential stars of tomorrow as a coach on talent show The Voice, has showed real staying power. And she has done so shrewdly.
"I choose my battles," says Paloma. "I don't think I'd be in this industry for as long as I have been if at times I hadn't bitten my tongue. I'm sensible about things, but if I vehemently feel about something I will say it intelligently and in an informed way. I'm not a stroppy teenager."
Paloma plays the arena dates in Aberdeen and Glasgow next month as well as coming back for the Belladrum Tartan Heart Festival in August.
Scots dates, she says, are always her best and she tries to have them scheduled near the start of tour to give her an opening boost of energy, or close to the end to finish it off in style.
She's a big fan of Nicola Sturgeon but is hoping that should the First Minister feel likewise about her, she keeps any possible visit to watch her hush-hush.
"I wouldn't mind but I think I'd be a bit starstruck. When I'm in awe of someone I wouldn't know what to say, so I hope she doesn't come – or if she does, she's quiet about it."
While we see Paloma as larger-than-life, colourful and a bit of a rock chick, she says there's definitely another side to her.
"The most surprising thing people find about me is that I'm quite level-headed, grounded and measured," she laughs.
"Obviously I like to have fun and a laugh on the surface. Beneath all that, I literally go to parties and say, 'I'm going to leave at 10.30pm'. I'm just not that rock and roll!"
l Paloma Faith The Architect tour: BHGE Arena Aberdeen March 5, SSE Hydro Glasgow March 6, Metro Radio Arena Newcastle March 9. palomafaith.com