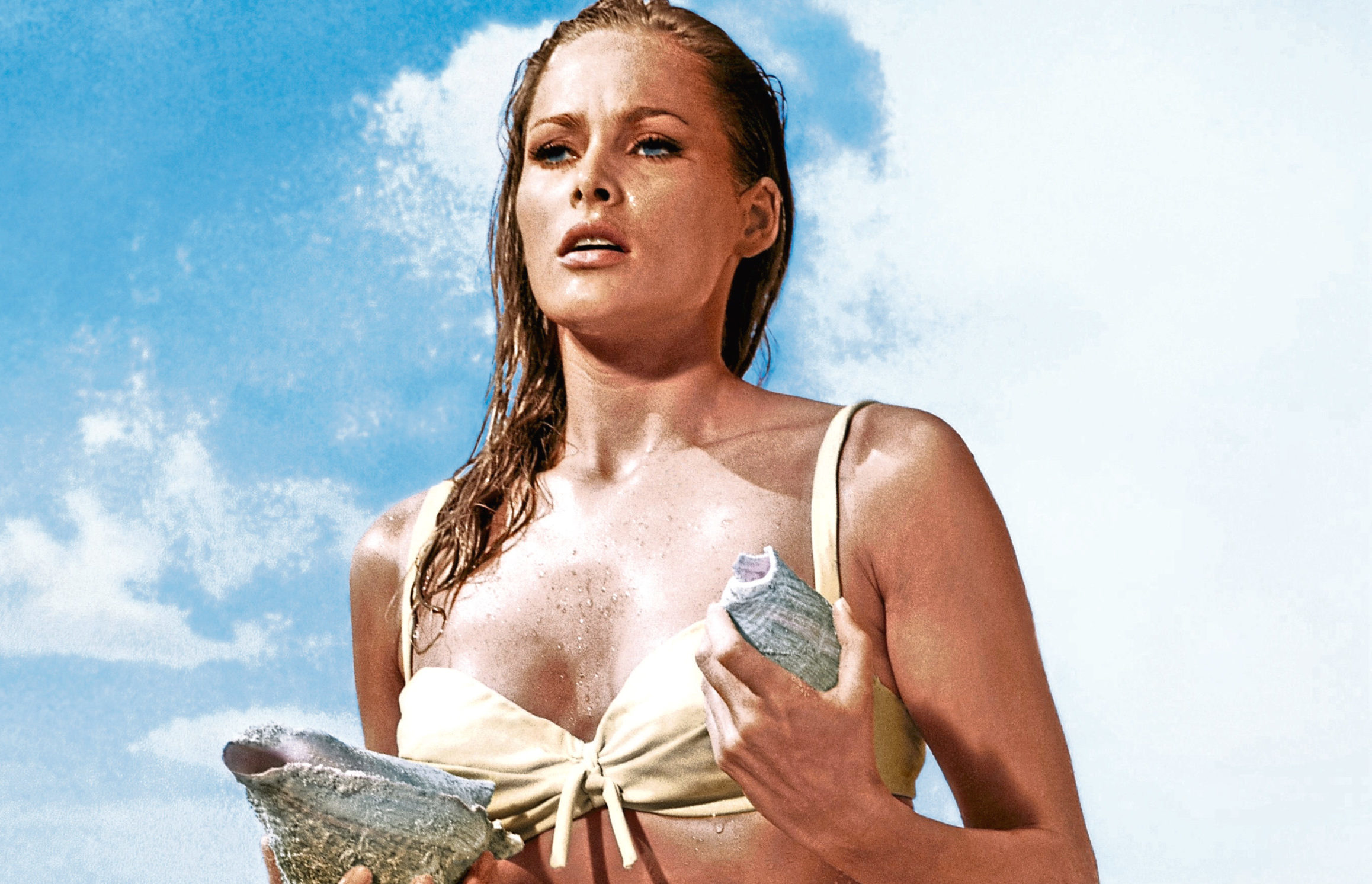 JAMES BOND has become an icon, the films have become a tradition in cinema-going and everyone has their favourite 007 movie moments.
One of the most popular is that very special scene in the Dr No film of 1962 when a glamorous shell diver appeared from the sea wearing a white bikini and a lethal-looking knife.
That shell diver is still with us and still looking glamorous at 82!
"It was a big moment for me," Ursula Andress recalled. "I think that simple bikini made a complete difference to my career. It made me into a success.
"I had made a few movies before then but nothing had the impact of that scene in Dr No.
"After being the first Bond girl, I had offer after offer and could take my pick of the roles that were around.
"It's a mystery. All I did was wear this bikini in Dr No – not even a small one – and whoosh! Overnight, I made it. It gave me financial independence and changed my life completely."
Swiss-born Ursula played Honey Rider in that Bond film and at the time there was some controversy because her voice had been dubbed as her English was considered to be not good enough.
"It bothered me at the time but I worked hard to improve my English for future roles and, looking back, it probably did me a favour," she said.
"I still have an accent, of course, and always will, but I did learn to speak English properly and, to be honest, in that film it was not about what the movie audience heard, it was what they saw."
The bikini was not only enhanced by the diver's knife but also a belt that was loaned by some sailors from HMS Troutbridge who were near the set at the time. It was a Royal Navy dress belt.
"They were very kind and the belt really added the finishing touch," said Ursula. "I kept the bikini for quite a few years until I decided to auction it. Well, I couldn't see myself wearing it again so there you go."
That bikini sold for £41,125, about seven times what she earned from her appearance in the film, which was the first Bond movie.
Ursula is not all about one great film, though. She has a whole string of movie successes to her credit and more than a few awards, too. She has enjoyed every minute of her career and still looks capable of starring again.
"I have retired, really, but do you ever retire?" she said.
"I still get offers and sometimes I am tempted but I have to recognise I am not a young girl any more – although I am in spirit.
"I am content with my life and enjoy every day but that has always been my approach to my life – enjoy every moment and do not get yourself stressed about things."
Ursula was born in a suburb of Berne in Switzerland in March 1936 and had German parents. Her mother was a professional gardener and her father a diplomat who disappeared during the Second World War and was never seen again.
"I enjoyed growing up in Switzerland," she said. "Like many young people there, I learned to speak French, German and Italian. English came much later because I did not think I would really need it.
"Of course, I had no plans to be an actress then. In fact, I had no real plans at all. I just waited to see what life would bring to me.
"I went to Paris for a while to study art and then I went to Rome to see what might be in store for me there. I used to work as a nanny and do other little jobs. One day I was at a party and I met a film producer. He offered me a screen test and then a part in a small film.
"That was the start and I made a few other small films, met another producer from Hollywood and he suggested that I should travel there because it would be good for my career. I took him at his word but I had to have courage because I hardly spoke any English at all.
"It was a struggle at first but then Dr No happened and after that all was well – very well."
Ursula starred in a great variety of films after that including The Blue Max with George Peppard, She, Fun In Acapulco, 4 For Texas, What's New Pussycat?, Casino Royale and many, many others. She proved that she could really act but, of course, she was primarily recruited for her looks.
She was also featured in Playboy magazine seven times, something of which she is still quite proud.
"I have never seen any problem with using what you have got," she said.
"Some people are cast because they are very tall or very short or because they have a particular kind of voice. I was considered to be beautiful and glamorous and I was not going to argue with that. I could act as well so it was a very good combination for me.
"As for appearing naked, well I never had a problem with nudity, either. I could look at myself in the mirror without quickly looking away and, at home, I liked walking around nude. It never bothered me.
"It has never bothered me to see other people naked, either. I have never had any sort of stigma about nakedness."
Even now Ursula Andress still has a magnetic appeal. She has some health issues but she still has a ready smile and a zest for life.
"Being in Hollywood was fun and that was always important to me. Acting in movies was never really about the money, although that is important because if you do not keep an eye on that side of things it is easy to be taken advantage of.
"I think it was the lifestyle that appealed most and the social life too. For me it was a great way to live.
"I loved London in the 1960s too, there was such a great atmosphere of fun and freedom. The music, the fashions, everything was so wonderful. London is still wonderful but where have the English people gone?
"I had a very strict upbringing in Switzerland. We were not allowed to talk at the table unless we had been asked something and I was not allowed anywhere near boys until I was 17. Perhaps when I went into movies I was making up for lost time."
Today Ursula mostly lives at home in Switzerland. She still has that certain head-turning magnetism and sense of fun.
"Yes, I am still alive. I am much more into art these days, it has always been a first love. I like photography too and my photographs have been published in a number of international magazines. I am very proud of that because I have always liked to be creative.
"I think it is quite funny, too, that although I am older now, I am still asked about Dr No and that must mean that, even at my age, I am still a Bond girl."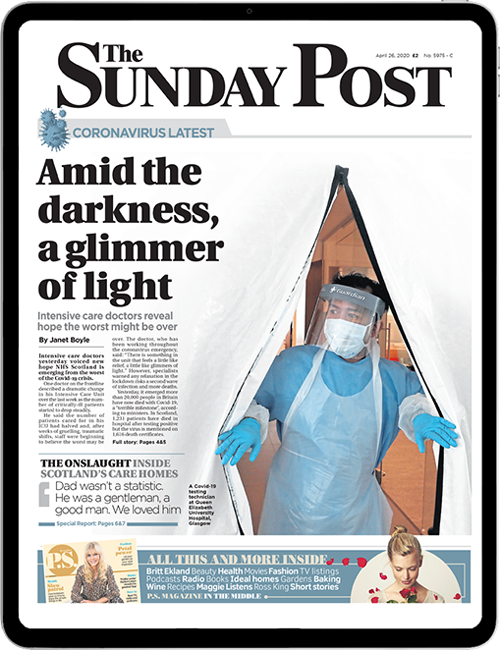 Enjoy the convenience of having The Sunday Post delivered as a digital ePaper straight to your smartphone, tablet or computer.
Subscribe for only £5.49 a month and enjoy all the benefits of the printed paper as a digital replica.
Subscribe