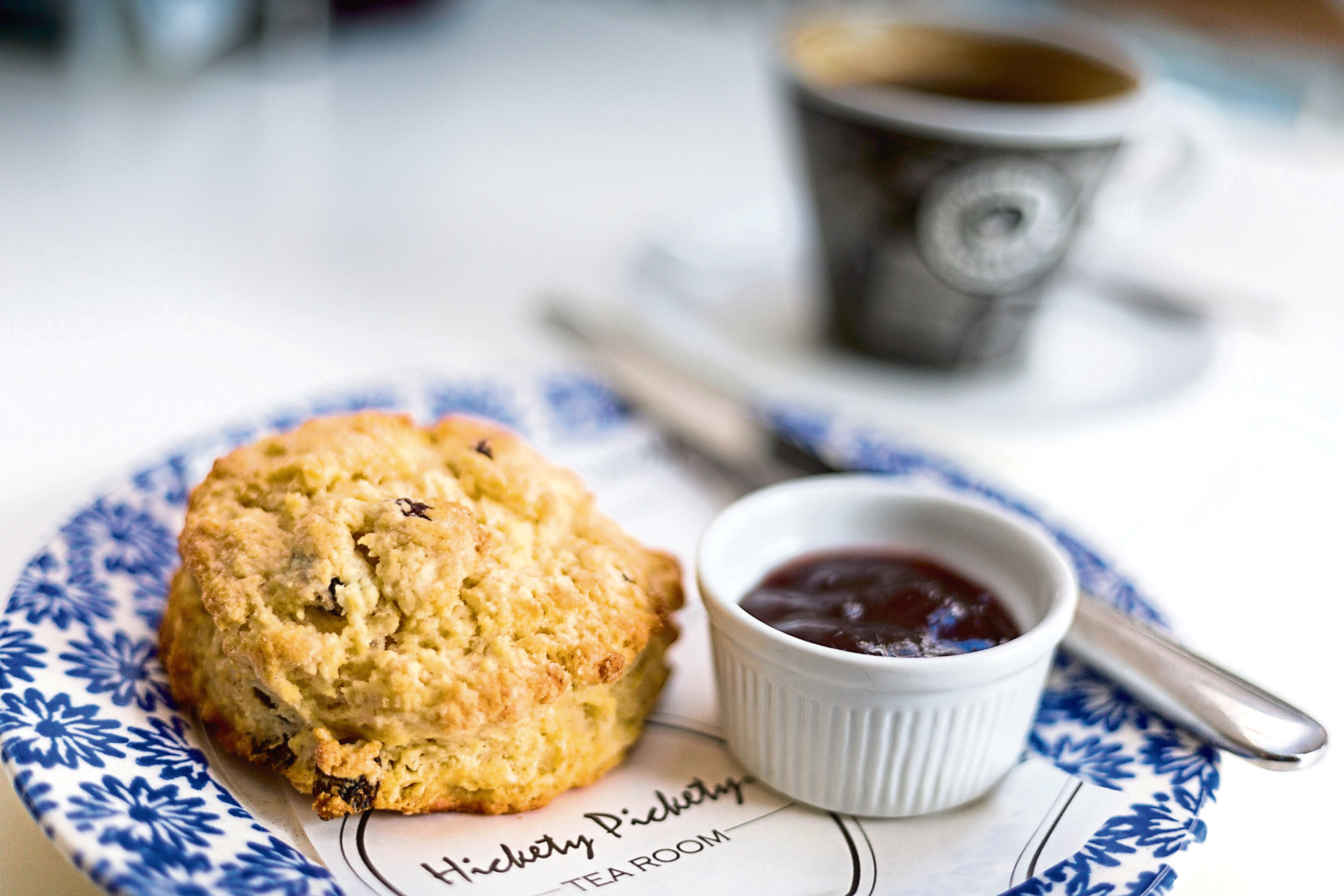 AS you know, I enjoy travelling far and wide in search of scone perfection.
And that includes heading off the slightly beaten track now and again… which happens more often when I'm navigating these days.
We were travelling along a country road winding along the south Lanarkshire valley, somewhere between Carstairs and Carluke. Not lost, just taking the scenic route.
And somehow we stumbled on Hickety Pickety, a fabulous tearoom housed in a converted barn beside Muirfoot Farm.
What can I say? I might not always find the right turn off but can be relied upon to locate a good scone spot any day of the week. Call it a sixth sense.
It's lovely and bright inside, with a mezzanine level upstairs. It only opened last year, but already it's very popular and has already won a bunch of food accolades.
But how will it fare in the ultimate test, Scone Spy?
We're seated immediately by one of many young, friendly servers buzzing about the open-plan kitchen at the rear of the café.
Every so often, one pops out to add another plate of freshly baked sweet treats to the cake counter.
It all looks delicious but there's some interesting options on the breakfast menu that require my attention first.
I go for the signature scrambled eggs, served with chorizo, potato chips and toast.
The potato chips are a bit like broken up McCoys, maybe they are. Seems an odd choice, but turns out to be quite tasty, though I'm not sure my eggs needed that extra crunch. At least it's not from some rogue egg shell!
But the eggs are the star of the show.
They taste so fresh and our server confirms they're from a nearby farm. Me and my driving companion, who quickly polished off his large plate of fried eggs, crispy bacon and toast, agree it makes all the difference.
Naturally, I soon gravitate towards the display of beautiful cakes, tempting tray bakes and a basket of cinnamon and apple scones that I can smell halfway across the café.
My scone is served warm and, even though it comes with a packet of jam, I enjoy it just slathered in butter.
It's light, soft and delicious with a lovely, sweet crust and stuffed with soft chunks of apple that go perfectly with the warm spice of cinnamon. Top marks!
The tearoom also does a nice afternoon tea and lunch menu I hear, and we're advised to book in advance on busy weekends as there's a limited number of tables.
After paying up and consulting Google Maps (how did I ever get anywhere without it?) we head off after our tasty detour.
Hickety Pickety is worth seeking out. We'll definitely be back, if I can accidentally find it again!
Verdict
WARM WELCOME 9/10
LOCATION, LOCATION 8/10
SCONE SCORE 10/10