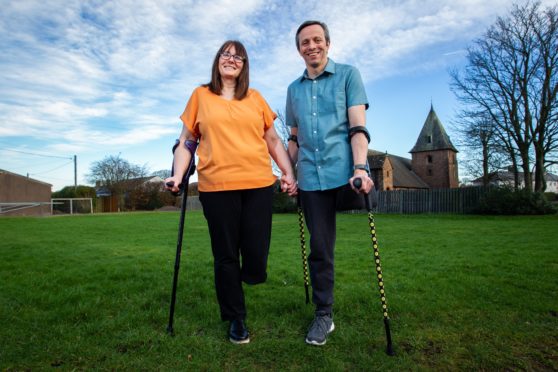 When Valerie Murray made the difficult decision to have her left foot amputated, she knew her husband Brian could support her on a level few others could.
Brian lost his left leg at the age of 11, just days after doctors discovered bone cancer in his knee.
And, if it wasn't for the support of his childhood sweetheart, he may never have found the courage to take up amputee football as an adult and open up to his family, friends and colleagues about his disability.
Now, in a strange twist of fate, Brian is helping Valerie adjust to life as an amputee.
"The whole situation is very bizarre," laughed Valerie, who has been with Brian for more than 30 years.
"It's quite hard to get my head around it but it's nice because we are there for each other and we know what each other is going through."
Valerie, 49, who worked as a gymnastics coach with her local council for 10 years, stepped awkwardly off a gym mat and severely broke her ankle six years ago.
Following several operations and an ankle replacement, Valerie developed complex regional pain syndrome. After living in intense and constant pain for two years, she chose to have her leg amputated below the knee in December 2018.
"There was constant, stabbing pain. It felt like my foot was on fire all the time," she said.
"There was no cure so I decided amputation was the way to go.
"It was a massive decision but an easy one in the end.
"Thanks to Brian, who by this time was playing amputee football and had really found his confidence, I knew that losing a limb wasn't the end of the world.
"There is lots you can still do. You are still the same person and still have a lot to give."
Initially, Valerie's operation was a success.
"I felt such a massive relief because the pain was finally gone," she added.
"Once I had my prosthetic, it was amazing to be walking pain-free. It gave me my life back."
But Valerie's joy was short-lived, as the tissue on her stump proved too soft to support her prosthetic. After further operations, the latest just three weeks ago, Valerie is hopeful she is back on the road to recovery.
And she says Brian's refusal to be held back continues to inspire her, whether he's playing amputee football, wheelchair rugby, wall climbing or training for a half-marathon on crutches.
"I look at what he's doing and it just amazes me. I think if he can do all that, surely I can learn to walk again."
The couple from Eastriggs, a small village near Annan in Dumfries and Galloway, met at a local dance when they were teenagers.
As their romance quickly blossomed, Brian was unsure how to mention the subject of his prosthetic leg.
But, luckily, he had nothing to fear from Valerie, who proved an emotional support for Brian as he navigated adulthood with his prosthetic.
"After being teased in high school, I was quite shy and self-conscious. I was very nervous about telling Valerie but it didn't faze her at all," said Brian, 50, who works as an accountant in Annan and also captains Scotland's national Amputee Football Team.
"No one really knew I'd lost my leg until I started playing amputee football. Colleagues I'd known for years just thought I had a bad limp. Even when family came over, I'd rush upstairs to put my leg on before I answered the door.
"Valerie always told me not to worry about what other people think and has encouraged me to be more confident."
Brian proposed to Valerie just three months after they met. And they were married at 21 in Annan and have two daughters, Leigh-ann, 25, and Shannon, 24.
While her family has been a huge support, Valerie says meeting recent amputees through the Scottish charity Finding Your Feet has been inspirational.
"There was a while where I thought I wasn't strong enough to go through another operation but I received some lovely messages from the people at Finding Your Feet that gave me the strength to carry on."
Brian will undertake the Meadows Half Marathon in Edinburgh on March 1 to raise money for Finding Your Feet, alongside the charity's founder, quadruple-amputee, Corrine Hutton. "It's going to be my biggest challenge yet as an amputee but I'm really determined," said Brian.
"I've never really let this hold me back from doing anything. I'll keep on pushing until I succeed."
And Valerie will be cheering him on at the finish line, supporting him as always.
---
You can donate to Brian's fundraiser here.