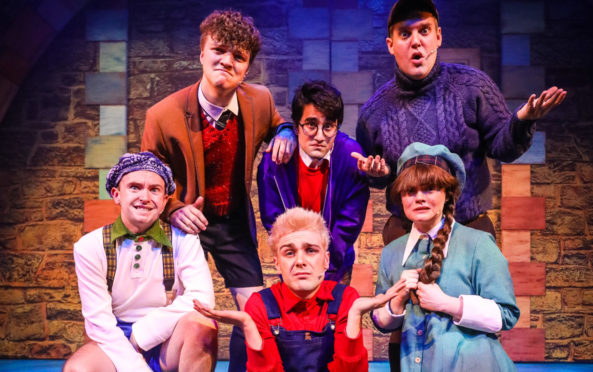 Indian actor Eklavey Kashyap has revealed how watching episodes of Still Game helped him perfect his Scots accent for his role in the hit Oor Wullie musical.
The 25-year-old plays new character, Wahid, in the acclaimed stage production currently touring the country.
Eklavey only moved to Scotland from India 18 months ago, whereas his character in the show is a Scot of Indian heritage, which meant having to adopt the local dialect. So he turned to Jack and Victor for a helping hand.
"It was daunting to read the script in a Scottish accent, because that's not something I trained to do, but Dundee Rep hired a dialect coach for me," Eklavey explained.
"I also watched episodes of Still Game and Limmy's Show over and over to get a sense of how and what the sounds are, and those shows are fun to watch too, so that made it easier.
"I wasn't aware of Oor Wullie before I auditioned, in fact I would say I didnae have a scoobie, but our director said that was a good thing, because that's exactly how much Wahid would know about Wullie too. As we rehearsed, I began to read the annuals, because I wanted to see what the people of Scotland had grown up with, and I found the stories were so simple, innocent and beautiful."
Eklavey's casting in the musical came as he was preparing to return to India, having completed his Master's degree at the Royal Scottish Conservatoire (RSC) in Glasgow.
He explained: "I've done a lot of acting work in India – TV shows, a film, adverts, web content – but I really wanted to train and I was living in Mumbai with someone from Scotland, who told me to look up the RSC.
"It just so happened the Conservatoire was holding auditions in Mumbai, so I auditioned and was offered a spot.
"It was amazing – there were people from 13 different countries in the class, which meant there were so many stories and so much to learn.
"As I was finishing the course, I got the call to audition for Oor Wullie. I did a few rounds but when I didn't hear anything I wasn't sure what to do. I was preparing to go home when I got the call."
Eklavey is looking forward to performing the show to his parents, who are coming over especially next month.
"I haven't seen my mum and dad for 18 months," he continued. "Now they are coming over to see the final show of the tour and I'll go back to India with them a few days later. It will be their first visit to Scotland.
"It will be the perfect ending to this leg of my stay in Scotland and a very proud moment.
"They haven't seen me on stage for four or five years, but I had to make sure they saw me in this huge production.
"I think they'll have a little trouble catching the accent initially, but the narrative is so relatable and simple that they'll understand."
The character of Wahid is a schoolboy who feels like he struggles to belong. The school librarian gives him an Oor Wullie annual and the pages come alive as Wullie and the gang search for his lost bucket out in the real world, with help from Wahid.
"The narrative is about trying to find Wullie's bucket but during the journey Wahid also finds his identity and finds himself, because he felt a little lost initially.
"Everyone who feels like an outsider will relate to this character. I did some research and talked to people here who might have felt a little excluded, because that wasn't the case for me when I came to Scotland.
"Inclusiveness is very much a part of the country and I felt that when I arrived, I really do feel like people make Glasgow.
"At the start, I had some nerves about being part of such an iconic comic strip that is part of the collective consciousness in Scotland, but what took the pressure off is it being a new character and I had some freedom with it."
Eklavey hopes this will be his first acting job of many in the UK.
"I hope to come back," he said. "There is such casting diversity throughout the UK, which is so refreshing to see new faces from all different races and identities.
" It makes it all so much richer, so I would definitely like to come back here and do more work."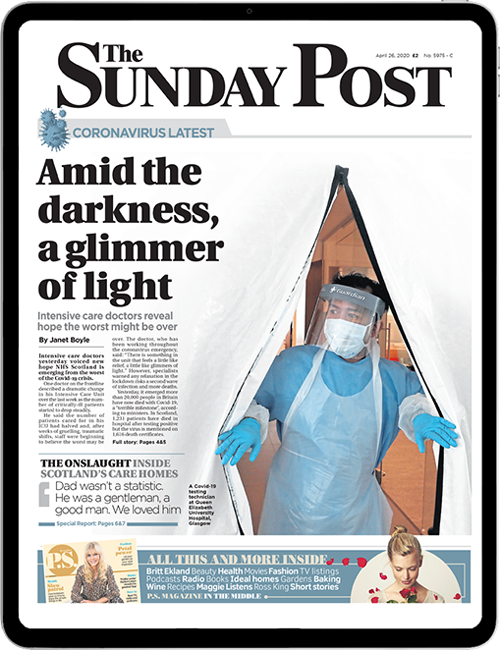 Enjoy the convenience of having The Sunday Post delivered as a digital ePaper straight to your smartphone, tablet or computer.
Subscribe for only £5.49 a month and enjoy all the benefits of the printed paper as a digital replica.
Subscribe